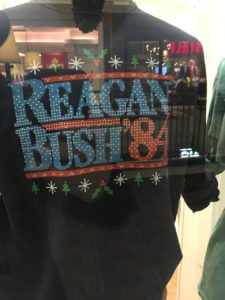 President Ronald Reagan represents the high-water mark of Republican presidencies within living memory. Eisenhower's quiet leadership and managerial style are, much like Calvin Coolidge's, largely forgotten. Nixon's presidency was marked by an expansion of federal power, followed by a scandal and implosion. Ford is hardly worth mentioning. Bush 41 tried to tack away from Reagan on domestic matters and lasted only a single term. Bush 43 will be long associated with scandals and a collapsed economy, in spite of whatever good he did (and he did do a lot more than we normally acknowledge, but so much was temporary, and the rest is tainted).
Above all of the rest, Reagan stands as a colossus, casting a shadow on every candidacy and campaign. He is invoked as a totem, and, in a way, even prayed to as a saint. I spotted this sweater the other night at a clothing store aimed at ironic younger shoppers. All too often today, in conservative discussions on policy, tactics, or personality, you will eventually hear the phrase "What would Reagan do?"
Invocations of "Reagan" or "The Party of Reagan" or "Saint Ronaldus, Pray for Us" make as little sense to the party today as the Democrats' constant invocation of JFK in the 1990s. We are now as far from Reagan's presidency as JFK was from Herbert Hoover's, or as Reagan himself was from the end of the Truman years. We are well past the time to recognize that even if we were to somehow revive the "Reagan Coalition" many, many of those voters are now beyond our reach (save in Chicago).
I was four when Reagan was elected and cherish those happy years coming to political awareness under his leadership. But people born after about 1984 would have little memory of his presidency, and those people are now 33/34 at the oldest. My youngest sister was born in 1990, so the earliest president she remembers is Bill Clinton. My eldest daughter will be able to vote in her first presidential election in 2020. The first president she remembers dimly is GWB, and the only one she remembers well is Obama.
All she has known is Obama's relentless trolling, abuse of power, and personal attacks on conservatives. How would invoking Reagan's appeal in any way to her? It would be like my parents trying to persuade me how to vote in the 1996 primary (my first) by invoking the Eisenhower years as a benchmark. Moreover, what my daughter implicitly understands of presidential power and its potential for misuse stems entirely from how much damage Obama did. For her, Obama and Trump are the new benchmarks for what a president could do, both for good or ill.
Time marches onward with a relentless pace and, as EJ Hill details, the benchmarks and touchstones of prior generations are ever and always sloughing off their mortal coils to be replaced by younger people. Our frame of reference, our collective living memory, always moves.
By 2020, the youngest people with any living memory of Reagan's presidency will be 36, and most will be older. In 2020, the youngest voters will be 18, having been born in 2002, with their formative memories being the financial collapse of 2007-2009, and the eight years of Obama openly denigrating and mocking half the American populace on a regular basis.
The concerns of what drove people to vote for a Reagan type, the boom years of the '80s and '90s and 9/11, all happened before they were born. The War on Terror will have been continuous for their entire lives, assuming Trump doesn't declare victory and pull back. We will have been in Afghanistan and Iraq for their entire collective memories. The Cold War will have been compressed to a paragraph or two at the back ends of their history textbooks, just one more footnote in what one professor of mine called "The motorcycle ride through the museum of history," assuming that their teachers even get to that point in their classes by the end of the term.
Let us stop invoking the totem of Reagan as we address the strengths and weaknesses of the party over these next three years. We cannot summon him back to lead the party and even if we could (and if we could I think there is a painter in New Jersey we could tap to illustrate the possibilities), he would find this world a different place, and we and he would be estranged. Instead, let us take the world as we find it now. Let us continue to take Trump as we find him now. Let the past be the past, ironic Christmas sweaters aside.
---
This post is an expansion of a comment I made on @garyrobbins recent post.