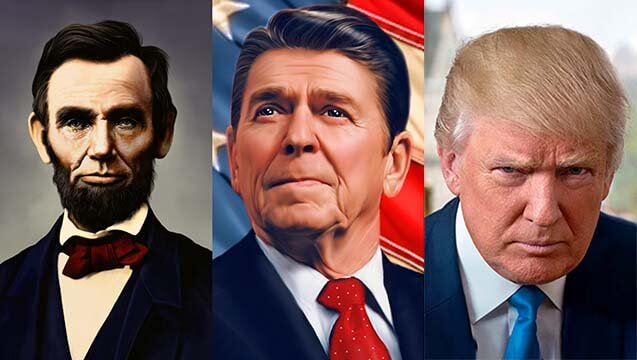 On the eve of Super Tuesday, Republicans face a grave decision: Are we the party of Lincoln and of Reagan, or are we the Party of Donald Trump?
I came of age during the Reagan Revolution. One of my earliest political memories was watching his speech at the 1976 Republican National Convention — one of millions of little kids hungry for optimism and a winsome smile in that unrelentingly bleak era. I didn't reach voting age until after his re-election, but in high school, Reagan's ideas inspired me to start reading National Review, argue individual freedom with my liberal civics teacher, and even join the US Navy.
The Republican Party was the home of bold, new ideas rooted in a love for our ancient founding documents. We viewed our nation as a shining city on a hill and invited all our fellow citizens to join us in perfecting this great American experiment.
In 2016, the mood is again bleak. After years of economic stagnation and ethnic strife punctuated by terror attacks, the American people want an easy way out. We don't trust the feckless political class that has presided over our current malaise, or the economic elites who have been enriched by it. All of us feel angry, betrayed, and fed up.
"The American Dream is dead!" Donald Trump thunders at his angry rallies. "We don't have victories anymore. The US has become a dumping ground for everyone else's problems." His solution is seductively simple: "If I get elected president, I will bring it back bigger and better and stronger than ever before, and we will make America great again!" The smile has been replaced with a scowl.
How will Trump usher in this utopia? He just will. He'll build a wall and make Mexico pay for it. He'll start a trade war with China, which will somehow lower prices and create jobs. He'll pull out of the Middle East, while bombing it and taking their oil. He'll give everyone government health care, make the economy grow like you wouldn't believe, and change the First Amendment so people won't say mean things about him.
The Strong Man on the white horse will save us — not through Congress, the courts, or the Constitution, but merely by willing it. And the price is cheap: All we have to do is admit that the American Experiment is dead. Our Founding Fathers were wrong about that individual liberty nonsense and we should bow to our new king. America will be so great your head will spin.
Trump praises the strength of Vladimir Putin and the Chinese communists who crushed the Tiananmen Square protestors. He approvingly retweets Mussolini fan accounts, neo-Nazis, and white supremacists. He refuses to denounce David Duke and the Ku Klux Klan, bizarrely assuming that will help him with voters in the Deep South.
I still hope, and pray, that Republicans won't fall for this Democratic demagogue. But if Trump were to win the nomination, it would prove that the Party of Lincoln and Reagan was dead.
Political parties are created to serve us, not the other way around. The GOP has been a flawed vehicle to promote individual liberty, a sound national defense, and a dynamic economy. I had to swallow hard to vote for moderates like Romney and McCain. But voting for a big-government liberal is a bridge too far.
If the keys are handed to a would-be strongman, I have no choice but to step out of the car and walk my own way. Unlike many in the GOP establishment, for me principle is always more important than power. My conscience can have it no other way.
I joined the Party of Lincoln and the Party of Reagan. I will leave the Party of Trump.
If that makes me a bad Republican, so be it. I seek to be a good American.