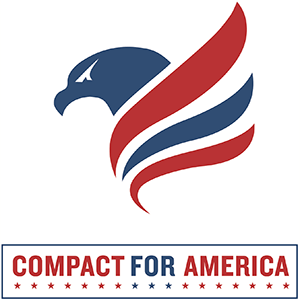 By Paulette Rakestraw and Mead Treadwell
A month ago, the editorial board of USA Today issued a warning urging the states to resist the call by Sen. Marco Rubio for a "constitutional convention" to draft amendments to balance the federal budget and impose term limits on judges and members of Congress. As the two current commissioners of the Compact for a Balanced Budget, we agree with the editorial board (and its reference to remarks that the late Justice Antonin Scalia had given years ago): a "constitutional convention" conducted outside the scope of Article V of the US Constitution would be inappropriate.
But there's a big difference between conducting a constitutional convention of the kind that took place in Philadelphia in 1787 versus offering a single amendment as provided for in Article V. Currently, Congress can propose a constitutional amendment when two-thirds of both the House and Senate approve it. And the states can propose an amendment too, when at least two-thirds of them (34) submit a common application to Congress that details the amendment to be proposed. Once Congress receives the completed application, it is then required to call a convention where the states will formally consider the amendment. The vote of a majority of states at this convention would send the proposed amendment out for ratification, which requires the approval of three-quarters of state legislatures (38).
While the late Justice Scalia correctly warned against an open constitutional convention, he also offered a way of addressing structural political issues that Congress is either unable or unwilling to address. As then-Professor Scalia said in 1978, "There is no reason not to interpret [Article V] to allow a limited call, if that is what the states desire."
Because it ensures such a laser-focused Article V convention, just as Justice Scalia wanted, we are proud to support the Compact for a Balanced Budget. The Compact is a binding agreement among the states to advance and ratify a specific federal Balanced Budget Amendment by April 12, 2021. This agreement settles all questions about the convention in advance. It limits delegates to no more than three per state. It limits the debate to a specific amendment that is voted up or down. And it limits the convention to no more than 24 hours in duration.
The strictly limited, fully defined Article V convention organized by the Compact for a Balanced Budget is the farthest thing from the runaway "constitutional convention" feared by USA Today's editorial board and many others. It is also the surest bet for fixing the runaway federal debt.
Nothing short of a constitutional amendment will tie the hands of Congress when it comes to debt spending. That is because the political benefits of debt-spending outweigh the political costs of sending the bill to our kids.
Four states have already joined the Compact — Alaska, Georgia, Mississippi, and North Dakota — so with the support of just 34 more states and simple majorities of Congress, this turnkey mechanism will deliver a powerful federal Balanced Budget Amendment. This amendment enforces a glide path to balanced budgets by limiting Washington's borrowing capacity.
We have no choice but to look to state leadership to advance this crucial constitutional reform because it is not plausible that two-thirds of each house of Congress will ever propose any such amendment on their own. We urge readers to find out more about our powerful amendment proposal, which many more states are poised to join in their upcoming 2016 legislative sessions. Let's honor Justice Scalia's wisdom that the states should use their Article V amendment power responsibly.
---
Paulette Rakestraw is a member of the Georgia House of Representatives. Mead Treadwell is the former lieutenant governor of Alaska. They are commissioners of the Compact for a Balanced Budget.