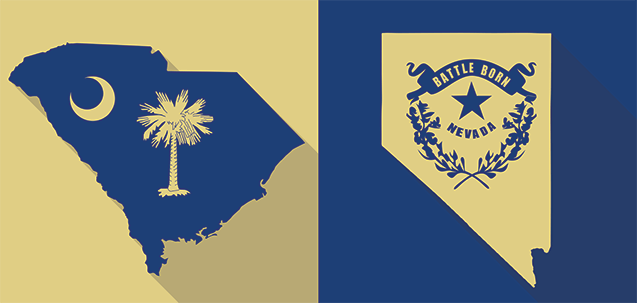 As campaign suspensions, political fallout, and bitter recriminations rain down after the New Hampshire vote, what is the state of the race? I'll handle the circus on the left first.
Cirque du Socialisme: After the near even split of Iowa followed by Bernie Sanders's 22-point trouncing of Hillary in New Hampshire, the red diaper pensioner should be in great shape, right? Not so fast. This being the Democratic Party, Feel the Berners have good reason to complain about rich, powerful interests gaming the system to keep them down.
New Hampshire has 24 pledged delegates, allotted based on the popular vote. Sanders has 15, Clinton has nine, and the last two are uncommitted. So far, so good. But there are also eight unpledged delegates, or "superdelegates" — party officials who can support whomever they wish. Surprise, surprise, six of these are firmly in Hillary's pantsuit pocket, while the other two are uncommitted. So, despite the historic shellacking, Clinton and Sanders both leave the Granite State with 15 delegates. Wait, it gets worse, Team Bernie!
The squeaker in Iowa left Hillary with 29 delegates to Bernie's 21. Superdelegates made the difference there as well. But then you need to factor in the superdelegates all over the country. Before a single vote was cast, Hillary already secured the support of a whopping 300 while Bernie had only eight.
Democratic Party Delegate Count
Hillary Clinton: 394
Bernie Sanders: 44
Really, can you blame the little socialists for claiming the game is rigged?
GOP Jack-knifed Across the Moderate Lane: Compared to the donkey rodeo on the left, the GOP delegate picture is straightforward. After the votes in Iowa and New Hampshire, here's the breakdown.
Republican Party Delegate Count
Donald Trump: 17
Ted Cruz: 11
Marco Rubio: 10
John Kasich: 5
Jeb Bush: 4
Ben Carson: 3
Carly Fiorina: 1
Rand Paul: 1
Perhaps if Rubio handled Saturday's debate a bit better, he might have pulled a delegate each from Bush, Kasich, and Cruz. This would have set up a 17-13 split between Trump and Rubio, with Cruz at 10. That (or something close) would have comforted Team Marco heading in to the Palmetto State and whatever it is they call Nevada. But, fate being a fickle mistress, the so-called "moderate lane" is now a full-on traffic jam with Kasich playing bumper car in a mail truck and an reinvigorated Jeb jack-knifed across I-26.
The public polls in South Carolina and Nevada are fairly useless since all were taken well before the Iowa Caucus. New Hampshire reset the terms of the debate; but given the rough-and-tumble history of the Carolina politics, expect a knife fight.
Gentlemen, Start Your Calendars: In Iowa and New Hampshire, both parties voted on the same day. Not so in South Carolina and Nevada.
Saturday, Feb.20: Republicans vote in South Carolina.
Saturday, Feb. 20: Democrats vote in Nevada.
Tuesday, Feb. 23: Republicans vote in Nevada.
Saturday, Feb. 27: Democrats vote in South Carolina.
Then, on Tuesday, March 1, you have Super Tuesday, in which 15 states/territories will vote. Perhaps after that, we'll finally have a clearer picture on who will win the party nominations.