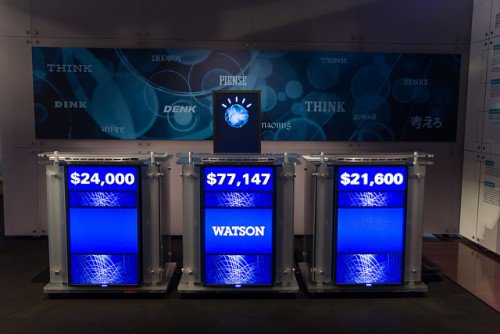 There's now a website, Twitter account, and Facebook page devoted to "advocacy of the artificial intelligence known as Watson to run for President of the United States of America."
I mean, I get it. Wouldn't it be great if our politicians could dispassionately review the evidence and pick which ideas and policies are best? And since humans can't do that so well, obviously, maybe machine intelligence could. From the site:
Watson will be able to analyze trends in employment, markets, interest rates, education, poverty, crime, taxes, and policy to assess what actions are most suitable to accelerate investment in the nation's future.
Of course this assumes the ethics and evidence and trade-offs for optimal public policy are clear. But that aside, it seems that the "Watson 2016 Foundation" really doesn't need even a primitive AI since it has already chosen which policies are best, all by its carbon-based-life-form lonesome. Among the preferred polices of the "Watson 2016 Foundation": "Single-payer national health care, free university level education, legalizing and regulating personal recreational drug use … shift bulk of electrical generation to solar, wind, hydroelectric, and wave farm … a minimum-wage that meets a reasonable cost of living."
Hey, this almost sounds like the "Watson 2016 Foundation" pretty much cut-and-pasted the guts of the Bernie Sanders progressive policy agenda. (This does not surprise me since some leftists these days dreamily hope that AI can efficiently perform the sort of economic central planning that communist humans never quite could. And still can't.)
What would be left for Watson do, exactly? Even weirder, the evidence supposedly supporting the above policies — such as "free college" for instance — is hardly clear. Watson may be pretty smart, but as for the "Watson 2016 Foundation" … I dunno. And just to push this concept a bit further, isn't "Watson for President" really "IBM for President"?