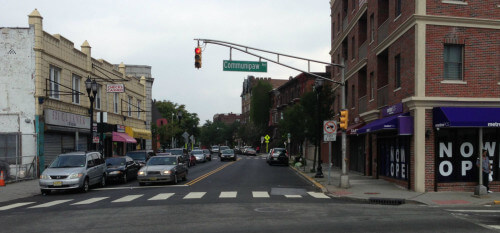 Jersey City is a long way from Iowa, and in a sense even further from Manhattan, certainly if you travel way up the hill away from the river. And yes, record buyers have political opinions, too, even if collecting things is just an excellent distraction from tedious reality, one that doesn't destroy your health. Around here, we stay away from the talking heads of Fox and MSNBC and just go out on the street and talk to the peeps. Like the guy who sells me my paper on Communipaw Avenue, far from the Wall Street crowd that's rapidly taking over Jersey City.
"Steve, Donald Trump ain't gonna run for nuttin," says Rickie in his African-American twang as he hands me a paper through the car window. Sixty-something, skinny and a bit cramped-looking, he continues: "He don't wanna lose. And he will lose big-time to Miss Hillary. Get it? Trump knows what folk will do when they get into that votin' booth." Rickie squints his eyes and crunches up his face to make a point. "Steve, you'll see. You heard right here from Rickie."
Rickie, like too many people, doesn't vote. (He doesn't use his real name either, because, "Hmm, it's bit risky out here on the street.") But he may have a point. I'm not sure that Donald Trump wants to go down in history as the biggest lout ever to lose in a landslide. And I really think it could happen, regardless of the polls. No one talks about it because there's too much advertising money at stake. Would you breath a word about this probability if it took campaign money out of his rivals' pockets?
My guess has always been that he'll drop out and say, "I could have won if I wanted to, but [fill in the blank]," taking a cue from the bullies from my high school. (Yes, still on my mind after 35-plus years and tons of therapy.) I haven't heard this speculation in many places, but my Wall Street years taught me to look for excesses, and there's an extreme excess of belief that Trump actually wants to be president and that people would actually vote for him in November. I'm not sure either of these things are true. I think he could wake up in the middle of the night and realize — even Donald Trump can have these moments — that he's in way over his inflated head.
Enjoy tonight's results, folks.