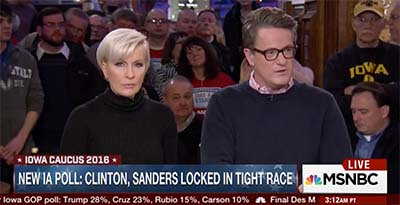 Conservatives often complain about media bias. While it's true that the press often skews the news of the day to promote their own ideology, a far more damaging practice is when they decide not to report the news in the first place. On Monday's "Morning Joe," the panel finally pulled back the curtain on what is being discussed in newsrooms across the country.
While analyzing the Democratic primary, panelist Mike Barnicle said, "There's an undefined element in the campaign that will impact the campaign sooner or later and that's what's going to happen in the Justice Department. I mean, you can just sense among Democrats … they're right on the edge of their seats trying to figure out what will happen and what determining factor that's going to play in the nomination process."
The Justice Department? Whatever could he be referring to?
Mark Halperin of Bloomberg Politics agreed, saying that even if Bernie Sanders loses the Iowa caucus he "can go forward with lots of money, with debates on the schedule and see are there are developments in the legal front that allow him to start to win even after tonight if he doesn't win."
The legal front? Wait — is he referring to Hillary Clinton's email scandal? But we've been assured by Democratic flacks that Hillary has little to worry about.
That's when host Joe Scarborough let in the audience on the conversation among elites. "A couple people held their breath when we talked about it the other day," he said. "Everybody in the government, everybody in the media, everybody that runs anything is talking about how advanced this investigation is. And nobody's telling the American people about it. So I had an executive at another network ask 'is it safe to talk about it now?'"
Barnicle agreed, saying, "There's just too much buzz around it from all different levels of government, media, and everything to ignore it, and Bernie is no longer ignoring it."
You can watch the video here.