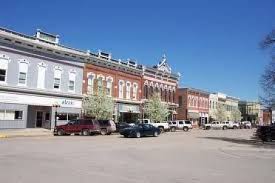 So, sort of feels like the 300,000-odd folks who are apt to caucus in Iowa tomorrow hold the fate of seven billion people in their hands, doesn't it?
Come on, Iowa, don't blow this!
I figure this is one of those rare days when it makes perfect sense for me to spend the whole day thinking about Iowan politics. After all, tomorrow we'll know: Has our country formally gone insane? Or maybe everyone's just been bored and yanking our chain? Is Ann Selzer, the best pollster in the world, going to emerge from this with her reputation unscathed?
I figure the world doesn't need another pundit trying to guess what's going on in Iowa from her armchair in Paris right now. So I went to have a look at Iowa for myself. That's the thing about the Internet: I can sort of poke around and visit places I've never been to before without even getting out of my armchair. It's not as good as the real thing, but it's better than not being able to visit at all.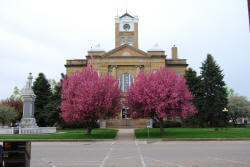 So I spent the day going for a virtual walk in Albia, Iowa. I chose it because it's name begins with an A, so it was the first Iowa town I found. That's the only reason. I've never been there in real life, but it sounds lovely. Population 3,766. Some beautiful old architecture. I think it looks exactly the way a small town in Iowa should look. Has anyone on Ricochet been there? Does it really look like that? Is it representative of an Iowa small town?
Albia community schools look safe and pleasant in the video, but I'm figuring if I live in Albia, I'd do pretty much anything to get rid of the people who saddled me with this nonsense:
… A student, or a parent of a student, with a complaint of discrimination based upon their gender, race, national origin, socio-economic status, creed, religion, marital and parental status, sexual orientation, gender identity or disability are encouraged to discuss it with the instructor, counselor, supervisor, building administrator, program administrator or personnel contact person directly involved. … If the grievance is not resolved at Level One and the grievant wishes to pursue the grievance, the grievant may formalize it by filing a complaint in writing on a Grievance Filing Form, which may be obtained from the Compliance Officer …
It goes on, as you'd expect. (Population 3,766, everyone.)
I've been reading the Albia Newspaper. (I think it used to be the Albia Union, slogan, "Republican Since 1862.") It's a little thin, because as far as I can tell, there hasn't been a newsworthy event there since November 18, when there was a hoax bomb threat at the Lincoln Center. They caught the caller. "Officers secured a confession from a juvenile," they report, and "charges are pending."
Other news. RIP, Mrs. Opal Blumer: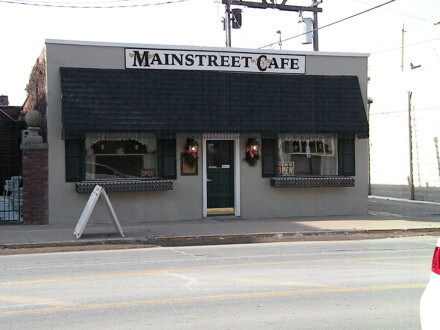 Opal Blumer, age 99 of Moravia, passed away Sunday, Jan. 10, 2016 at the Monroe Care Center in Albia.

She was born Jan. 3, 1917 in Appanoose County, the daughter of Olin B. and Nannie (More) Swaim. She graduated from Unionville High School in 1935. She was united in marriage to Clell Blumer on Oct. 28, 1939.

Opal enjoyed making quilts, gardening and canning vegetables, going for rides around Unionville, doing black walnuts and most of all spending time with her family and friends. …
Dave Paxton, I'm guessing, is a local columnist. He sounds to me like he's sizing things up about the way I do: "The Iowa Caucuses and upcoming New Hampshire primary can't get any screwier."
The most entertaining of The Donald this week was his going off on Ted Cruz, saying that Cruz was a nasty man and everybody in Washington, D.C. hated him. Which at some level was a little odd because he could have read what he said off a Cruz ad. Cruz is running on being a nasty, hated Washington, D.C. outsider.

On the other hand, it was bizarre to have The Donald call anybody nasty, unless he uses himself as a measurement of all things nasty. There was a kid in my junior high who sucker-punched me in the lunch line and ran to the teacher complaining to her that I hurt his hand with my head. And I ended up spending recess inside. (I bided my time and as a senior in high school nearly separated his sternum playing pick-up basketball. I told our PE teacher he hurt my elbow with his chest.)

The Trump campaign got ever weirder when former Alaskan Gov. Sarah Palin endorsed him and said all kinds of wonderful things about his faith and conservatism, clearly never considering that The Donald is neither conservative nor particularly religious. She called The Donald a hero and a patriot, even though he cleverly dodged the draft during the Vietnam War. The Donald also visited Liberty University, home of the original Moral Majority movement of Jerry Falwell, who Donald probably laughed at when he was simply a billionaire New York liberal in another life. Jerry Falwell Jr. fawned all over Trump, even when students snickered when The Donald attempted to quote scripture and ridiculously referred to a verse in Second Corinthians as "Two Corinthians." He did give a shout out to God when he placed the Bible as the only book more important than the one he wrote. It was a joke. I think.

Now we move to Iowa Gov. Terry Branstad who told a gathering of renewal fuels (read ethanol) supporters that they should not vote for Ted Cruz because he doesn't support ethanol and is a shill for Big Oil. The fact that Gov. Branstad's son works for a renewable fuels company and the Gov. Branstad is a shill for Big Ag was clearly lost in the moment because Big Ag is Iowa and Big Oil is Texas. That's fair, I guess, but government money is government money whether it's being paid to farmers and ethanol producers or to companies pumping oil out of the ground in Texas. …
I didn't know that about Branstad's son, did you? That's why it always helps to speak to the locals.
I also liked Richard Grimes' column. Here's another guy who doesn't sound completely insane:
There can be no question that this year in light of world events, economic downturn and societal problems, we are at a crucial juncture. If ever we need a godly leader, it is now. Many people are fed up with the ineptitude of our government and are downright angry. But before your anger clouds your judgement, consider that whomever you support will go a long way into who will be the leader of the free world, that they will have literally the world's largest nuclear arsenal at their disposal, that our nation is so polarized that someone who can bring us together is needed, that whoever is elected this year will deal with leaders of all stripes and colors who do not — even if we do — see America as an exceptional nation, and that you are going to be working with 535 congressional leaders who do not feel they have to cave on every issue to the president. Being President is the most powerful job on the planet and one that requires, in my opinion, a person of sound judgement and temperament and humility, a person of faith — real faith.

We are told that Lincoln and Roosevelt and Reagan and more, regularly prayed for wisdom in their job. Only God can give that kind of wisdom. Godly leaders do not just happen. They first of all recognize the nature of the task and realize that without God's help, they are not up to the job. Their humility shines through. They will make mistakes. They are people of strength and people who are willing to listen and process with an open mind.

It is so interesting to note that Lincoln and Roosevelt and Washington and Truman and many others considered great were surrounded by people who often did not agree with them. In fact, the presidents at the bottom rung historically were those who were surrounded by "yes men" that felt compelled to fall in lock step on everything. (How about Haldeman and Erlichman and Colson for Nixon?)

Sometimes despite your ideology, pragmatism is not appealing but yet it is essential to avoid the gridlock that too often happens and hurts everyone. Is it not better to get some of the pie rather than none??

Good presidents realize that they are president of all the people, not factions. They seek to use, as Theodore Roosevelt said, "the bully pulpit" to convince others of their views rather than pound some into submission. That takes moral strength. Proverbs 28:2 says, "When there is moral rot in a nation, its government topples easily, but with honest sensible leaders, there is stability." It is essential that godly and good leaders are not polarizing. That does not mean it all comes together but it does mean that there is always the effort to pull people together.
Has anyone here spent time in Albia for real? Because my virtual visit to Albia made me come away thinking that Albians have not gone insane. Am I right to think so?
Typical of Iowa? No idea. But I did choose it at random.
There you go, that's my methodology. I picked a town in Iowa and spent the day visiting it on the Internet. And after going there for myself, I just don't see Iowa going nuts for the Donald. The voters who for some reason are never turned off by anything he says aren't in Albia, anyway. I'm thinking Trump comes out at 20 percent, at best? And I'm feeling a much stronger-than-expected turnout for Cruz and Marco. Maybe 28-32 percent for Cruz? Marco at maybe 24-28? Who knows, maybe even Jeb even picks up some momentum.
Let's see how well my polling method stacks up against Ann Selzer's. Mine's definitely not as fancy, and I've never tried it before, so I probably won't do as well, but I'm curious. She's got Trump at 28 percent, Cruz 23 percent, and Marco 15 percent.
If I get it right, I'll keep testing the Claire Polling Method throughout the primary season. If not, I'll fold and let Ann Selzer call the shots.