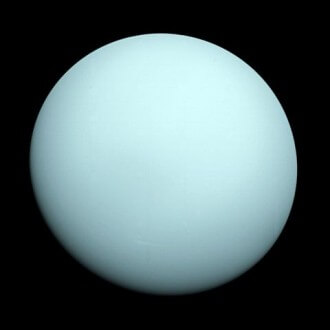 Today is the 30th anniversary of the Challenger Disaster, in which we lost an entire Space Shuttle crew during launch. It's getting plenty of media attention, and for perfectly good reasons: It was the worst space-related disaster to that point (it's now tied for that honor with the loss of Columbia) and it happened on live TV. But there are two other space-related anniversaries this week that deserve attention.
The first is happened only a few days before Challenger, when Voyager II made its closest approach to the planet Uranus. This 5.5-hour flyby was humanity's first good look at what we now call an "ice giant" planet. In some ways, it was disappointing: Uranus was rather featureless at the time and — beyond discovering a few new moons — we didn't find too many surprises (Neptune and its system would turn out to be much more interesting… and beautiful). Regardless, it was both an impressive technical achievement and a fascinating philosophical one: Up to that point, we'd been learning about things that had been studied and dreamed about since antiquity; with Uranus we were exploring something wholly modern that had only existed in our imaginations for a scant two centuries.

Whereas the Uranus flyby is temporally connected to Challenger, the second anniversary shares its grim nature: Yesterday was the 49th (!) anniversary of the fire that destroyed the Apollo 1 capsule on its launchpad, killing astronauts Gus Grissom (the second American in space and the first to return to it), Ed White, and Roger Chaffee. The details are horrific and — to my mind — much more disturbing than what happened to Challenger. You can read the details for yourself, but the incident shows what happens when you combine an ambitious program with a number of design misjudgments in a sealed, pure-oxygen environment… atop tens of thousands of gallons of rocket fuel.* The only good news is that it's unlikely the three of them survived for very long before they died.
It's been speculated that, if there is no other intelligence out there, the entire universe may be Mankind's eventual inheritance (a thought I believe our own John Walker has offered in these pages). If so, these three anniversaries — which now seem so long ago — may seem like a toddler with his whole life in front of him reminiscing on his first steps and falls.
* Correction: the Saturn 1B rocket was empty at the time of the accident, though the ground crew was concerned that a nearby solid booster might explode in the fire. No rocket fuel was involved in the incident.