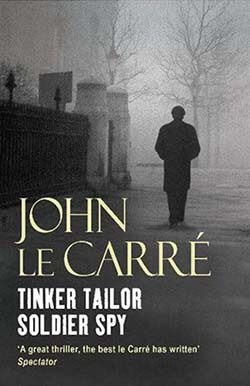 At the conclusion of John le Carré's famous spy novel, Tinker, Tailor, Soldier, Spy, British intelligence officer George Smiley recounts his questioning of Bill Haydon, an agent whose character in the book is loosely based on the exploits of one of Britain's most notorious traitors during the early days of the Cold War, Kim Philby. Smiley managed to pry several nuggets of information from Haydon's confession, including his contempt for Britain and rejecting his country for "aesthetic" reasons, only partly informed by morality.
In the annals of the world's second oldest profession, why should Bill Haydon's motives matter to the rest of us? After all, the Cold War has long been over, and one supposes that the huge corpus of espionage literature has moved on to juicier, more current topics. Still, this character's reasons for switching sides retain their grip on our judgments, because Western educational systems have created breeding grounds for reaching similar kinds of conclusions. In fact, the contemporary relevance of Haydon's thoughts is frightening.
However, it certainly is not necessary to throw oneself into a full-blown, Ann Coulter-like (Treason!), "loose lips sink ships" mode, and I am far from having any expertise in the sordid and convoluted realm of spying and national betrayal. Still, some back-of-the-envelope musing about this complex subject may generate some useful hypotheses about different ways of giving aid and comfort to the enemy, a phrase found in the Constitution. Here are a few to consider.
Materialistic Treason: Perhaps the oldest practice in history, since it is based on attempts to derive some kind of material gain from one's activities, usually money, but also sexual favors, or anything else that is considered materially beneficial or desperately needed. The despoilations of Aldrich Ames and the Walker family traitors, all of whom profited monetarily from their treason and were in dire financial straits, fall into this category.
Ideological Treason: In this case, a traitor simply opts for the opposing side for political reasons, concluding that one's own country is wrong and the other side is right. Naturally, relinquishing secrets to an evil regime because you share its philosophy is abhorrent, regardless of a whiff of misguided principles behind such decisions. Alger Hiss is an example, as are a number of post World War Two British turncoats — the notorious Cambridge Five — who sympathized with Stalin's regime.
Narcissistic Advancement: A person afflicted with narcissistic personality disorder is grotesquely self-infatuated, and regards national interests (or anything else) as subordinate to achieving personal goals. Benedict Arnold, who concluded that he was not sufficiently recognized for his service under George Washington and betrayed the American cause by joining the British, is an example. Probably the most sensitive case involves our current President, whose narcissism oozes from every pore, propelling him to advance policies that often ignite frenzies of incredulity and shock among his critics. "Reckless," "delusional," "unconstitutional," "lawless," and similar epithets leap from pages of criticism about Obama's policies, but never (to my knowledge) the "T" word. Still, it is almost amusing to watch Charles Krauthammer, for instance, grope for the right expressions to describe Obama's decisions on such matters as his Iran policy, Gitmo releases, border security, or terrorism; the strongest epithets I've ever heard him utter are "astonishing" and "incomprehensible."
Nihilistic Indifference: Very similar to the previous category, a nihilist's price is open to the highest bidder and subject to the most convenient circumstance. Though political beliefs may lurk in the background, they can be nudged, ignored, or reformulated to fit mercurial exigencies and restated with considerable passion and conviction. Aaron Burr, a self-serving politician justly accused by Alexander Hamilton of being egregiously unprincipled and opportunistic, practically defines the category.
As does, one might argue, Hillary Clinton. True, Hillary seems to have her causes—equal pay, women's rights, fighting ISIS, for instance—none of which have prevented her from paying women on her staff less than men, ignoring her feminist facade when dealing with countries that treat women abominably, or embracing the Obama program when it suits her purposes. Certainly the continuous controversy involving her use of emails reeks of a nihilist's indifference to America's interests; Aaron Burr would have understood her perfectly. In short, Hillary just didn't care about what might ensue from her behavior; she wanted to avoid accountability and keep her options open.
The fact that those who give aid and comfort to the enemy are detestable does not mean that many are bereft of appeal; indeed, treasonous sociopaths can exude charm, a circumstance that makes them especially dangerous in public life. Even more dangerous is the fact that their motives are based on narcissism, nihilism, and contempt for or indifference to one's country, traits that practically define much of our non-science professoriate today. In fact, it is only a slight exaggeration to suggest that American universities produce legions of citizens perfectly attuned to the reasoning of Bill Haydon, who scorned his native land and rejected it on "aesthetic" grounds.
There is one other characteristic that defines persons who engage in treasonous behavior or at least are indifferent to it, and again we have the incomparable John le Carré to enlighten us. Near the end of his interview, George Smiley noted that Haydon "began speaking about himself, and already, to Smiley's eye, he seemed quite visibly to be shrinking to something quite small and mean." And of course John le Carré through the voice of George Smiley was right, and is right. Indeed, there is no better way to describe those who give aid and comfort to our enemies.