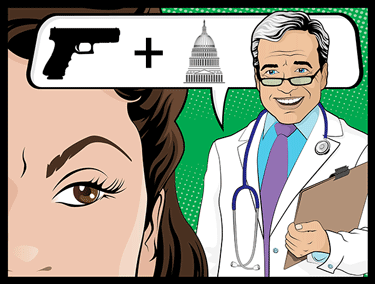 Several years ago, the American Medical Association instituted a new policy of recommending that doctors enquire about their patients' firearms. This was pitched as a matter of household and child safety and — while the policy stressed "education" — its language makes it pretty clear that this is not something Eddie Eagle would endorse. Despite not having kids, I've been asked about my guns at least twice at the doctor's. The first time, I wasn't expecting it and simply answered the nice nurse's question. The second time, I said something to the effect of, "Thank you, but I don't think that's a medical question." The nurse shrugged and the appointment proceeded as before.
Unsurprisingly, stories soon emerged about doctors dropping patients who refused to answer the question, as well as others who (chillingly) tried to talk to children about it behind their parents' backs. In response, several states, including Florida, passed legislation that forbade doctors and other medical professionals to bring up the subject of guns under most circumstances.
Much has been written about this: I came across a discussion of it on Science-Based Medicine earlier this week, which made reference to a recent post on the Volokh Conspiracy that I'd missed. We've also talked about it on Ricochet. The most recent news is that the Florida law has again been found constitutional, this time on First Amendment grounds subject to strict scrutiny. That seems like a bad decision to me, but I'll recommend you read others' takes to form a legal opinion.
I do, however, have a political opinion on the matter: This sort of high-temper, confrontational situation is a direct consequence of progressive big government. The more entangled the medical profession becomes with the state, the more its practitioners will find themselves on the receiving end of the I'm-calling-my-lawyer and show-me-the-warrant attitude that Americans have long harbored toward their government. This is especially so when its executive praises the idea of abridging their natural rights while his party flirts with a candidate who advocates a single-payer system.
Doctors have long held a special place of trust in our culture, and doctor-patient confidentiality enjoys a respect exceeded only by that of spouses, clergy, and attorneys. If you want to damage that trust, you'd be hard-pressed to find a better way than to invite the government in.