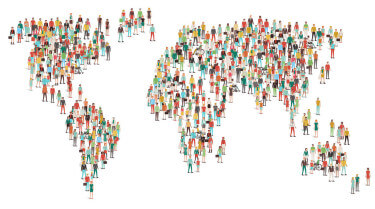 When did demographics get so depressing? It really has replaced economics as the "dismal science." But at least with economics, you get market-based prices and (often) a tax cut. Demographics, as this recent study shows, is pretty much endless bad news:
People who are religiously unaffiliated (including self-identifying atheists and agnostics, as well as those who say their religion is "nothing in particular") made up 16.4% of the world's population in 2010. Unaffiliated populations have been growing in North America and Europe, leading some to expect that this group will grow as a share of the world's population. However, such forecasts overlook the impact of demographic factors, such as fertility and the large, aging unaffiliated population in Asia.
Meaning: People in North American and Europe — in other words, us — are gradually becoming less "affiliated" with a religion. People everywhere else — in other words, them — are going in the opposite direction:
By 2050, the unaffiliated share of the world population is projected to decrease because the unaffiliated population has the twin demographic disadvantages of low fertility and an old age structure. Current demographic trends suggest that the religiously affiliated share of the world's population will increase unless there is significant change in the fertility patterns of the unaffiliated or a major change in switching patterns [i.e., switching from being "religiously affiliated" to "unaffiliated" or vice versa].

In our main scenario, the unaffiliated are projected to increase in absolute numbers by nearly 100 million people (9% growth between 2010 and 2050). However, the world's overall population is expected to grow much faster (35% between 2010 and 2050), adding 2.4 billion people during the 40-year period. Because that growth is driven disproportionately by births to affiliated women, the unaffiliated share of the world's population is projected to decline from 16.4% in 2010 to 13.2% in 2050. Even in the scenario with an additional 50% increase in switching patterns favoring the unaffiliated, the unaffiliated share of the world's population would still decline to 14.3%. If switching patterns favoring the affiliated increase by 50%, the unaffliated share of the world would decline even further, to 12.2%.
That's, as we say, a whole lotta words. But what they mean, I think, is that the prevailing Judeo-Christian culture — even the essentially secular one — is dying out. And I think we all know what that means, but here it is in fancy language:
Our projections show a growing divergence between highly affiliated, rapidly growing regions (sub-Saharan Africa and the Middle East-North Africa) and increasingly unaffiliated regions with more modest population change (Europe and the Americas). The divergence in religious affiliation between these regions may make communication across cultures more difficult and heighten geopolitical tensions as the unaffiliated and affiliated struggle to understand one another's worldview.
Small ray of hope? China:
These projections do not model any switching in China, where reliable information about switching patterns is unavailable. However, observers such as Fenggang Yang (2015) believe religious groups, including Christians, are growing in China because of switching. China is home to the majority of the world's unaffiliated population (62% in 2010), so if religious switching enlarges China's affiliated population in coming decades this could lead to an even greater decline in the unaffiliated share of the world's population.
There are a lot of Muslim Chinese in the western part of that country, but there are also a lot of newly-converted (again, "switched" in the language of this study) Christians in China.
Possible conclusions: 1) Religious persecution of Christians worldwide is a real problem that is only going to get worse; 2) Childless North American/European couples are contributing to the problem, for whatever reason; and 3) If our part of the world is getting less "affiliated," we'd better figure out how to "communicate" with the part that's getting more "affiliated," either with diplomacy or with military power or with both, combined.