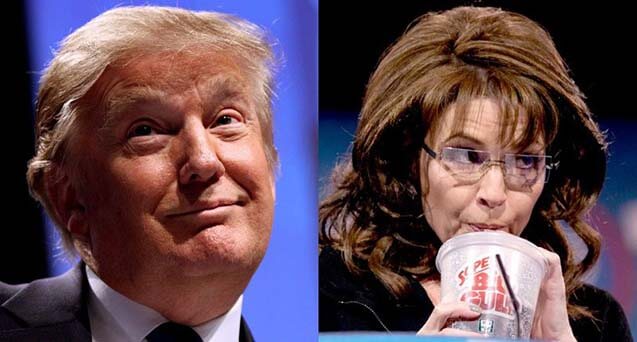 Sarah Palin, the host of "Sarah Palin's Alaska" and "Amazing America with Sarah Palin," has endorsed the star of "The Apprentice" and "The Celebrity Apprentice":
"I'm proud to endorse Donald J. Trump for president," Ms. Palin said in a statement provided by his campaign.

"I am greatly honored to receive Sarah's endorsement," Mr. Trump said in a statement trumpeting Mrs. Palin's decision. "She is a friend, and a high-quality person whom I have great respect for. I am proud to have her support."

In Iowa, where Ms. Palin spent years developing support, the endorsement could be especially helpful.

"Over the years Palin has actually cultivated a number of relationships in Iowa," said Craig Robinson, the former executive director of the Republican Party of Iowa and publisher of the website The Iowa Republican. "There are the Tea Party activists who still think she's great and a breath of fresh air, but she also did a good job of courting Republican donors in the state," he added.
Ralph Reed, chairman of the Faith and Freedom Coalition, added, "Palin's brand among evangelicals is as gold as the faucets in Trump tower." It is equally as gold at that calf below Mount Sinai, I presume.
The convergence of Wasilla values and New York values shows just how hard Trump is wooing the religious right. Monday he spoke at Liberty University, where he was given a glowing introduction by Jerry Falwell Jr., who spoke of Trump's Christlike life:
Falwell lauded Trump's generosity and worldly success; he called him "a breath of fresh air." He compared Trump to his father and to Martin Luther King Jr., who also "spoke the truth, no matter how unpopular." Trump, he said, "cannot be bought—he is not a puppet on a string like many other candidates." Though Falwell's comments were, he said, not an endorsement, he repeatedly imagined a Trump presidency as a boon to America. "In my opinion," he said, "Donald Trump lives a life of loving and helping others, as Jesus taught in the great commandment."
For his part, Trump boasted about his polls, boasted about his business success, and boasted about his bestsellers, much like Jesus would have done:
TRUMP: I wrote The Art of the Deal, I wrote many best-sellers, like The Art of the Deal, everybody read the — who has read The Art of the Deal in this room? Everybody. I always say — (laughter) — I always say, a deep, deep second to the Bible. The Bible is the best, the Bible. The Bible blows it away. There's nothing like the Bible.

But The Art of the Deal was about — in fact, there are a few of them right over there. But The Art of the Deal was the best-selling business book, and Obama didn't read it and Kerry didn't read it. But we can do things with our country that will be so good. But I've always used that word, incompetent, they're incompetent. Now I don't care anymore. I don't care.

We're going to protect Christianity — and I can say that. I don't have to be politically correct or…

AUDIENCE: (applause, whistles)

TRUMP: We're going to protect them, you know? And I — I asked Jerry and I asked some of the folks because I hear this is a major theme right here. But Two Corinthians, right?
A few in the crowd shouted that Paul's epistle is called Second Corinthians, but forget it, he's rolling…
TRUMP: Two Corinthians 3:17, that's the whole ball game. "Where the Spirit of the Lord…" Right? "Where the Spirit of the Lord is, there is liberty," and here there is Liberty College, but … Liberty University. But it is so true … I'm a Protestant; I'm very proud of it. Presbyterian, to be exact. But I'm very proud of it. Very, very proud of it.
Pride is a sin, but forget it, he's rolling…
TRUMP: And we've gotta protect, because bad things are happening. Very bad things are happening. And we don't … I don't know what it is. We don't band together, maybe? Other religions, frankly, they're banding together and they're using it…

If I'm president, you're going to see "Merry Christmas" in department stores, believe me.
St. Donald of Mar-a-Lago was thrilled to get Palin's endorsement since in 2012 the former Alaska governor, former VP candidate, and former Tea Party darling had endorsed Ted Cruz in his 2012 Senate race.
Over the weekend, a spokesman for Cruz argued that it was in Palin's interest to endorse the Texas conservative. "I think it [would] be a blow to Sarah Palin, because Sarah Palin has been a champion for the conservative cause, and if she was going to endorse Donald Trump, sadly, she would be endorsing someone who's held progressive views all their life on the sanctity of life, on marriage, on partial-birth abortion," he said.
This rather meek advice prompted an ugly response from Bristol Palin that mom dutifully promoted to her millions of followers on Facebook and Twitter:
After hearing what Cruz is now saying about my mom, in a negative knee-jerk reaction, makes me hope my mom does endorse Trump. Cruz's flip-flop, turning against my mom who's done nothing but support and help him when others sure didn't, shows he's a typical politician. How rude to [sic] that he's setting up a false narrative about her!

…The audacity to suggest that because she chooses one over the other will somehow "damage" her just shows arrogance.

You've also said, "She can pick winners!" I hope you're right, and that she endorses Donald Trump today for President.
Bristol's furious response closed with a boldface pitch for readers to buy her mom's devotional. And the piqued will inherit the earth…
In response to the personal and political slight, Ted Cruz was exceedingly polite:
I love @SarahPalinUSA Without her support, I wouldn't be in the Senate. Regardless of what she does in 2016, I will always be a big fan.

— Ted Cruz (@tedcruz) January 19, 2016
Humility and grace. What a concept.