Anti-poverty group Oxfam has published a report making some flashy claims about global inequality. Among them: Just 62 individuals had the same wealth as 3.6 billion people — "the bottom half of humanity" — an estimated $1.76 trillion. Also, the richest of the rich are hiding $7.6 trillion in a "global network of tax havens."
Now apparently one of Oxfam's main data sources was a wealth report from the bank Credit Suisse. Note this chart from the report showing which regions have what share of rich and poor and in between: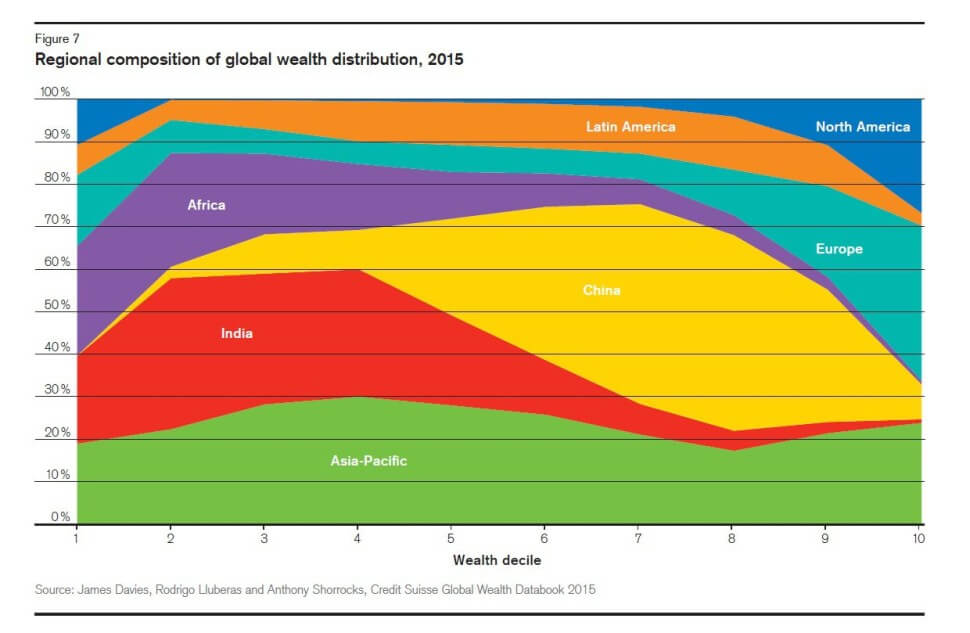 Now, look at that bit of blue at the top left-hand corner, which suggests North Americans (Europeans, too, in aqua) represent a big chunk of the the poorest 10% of people in the world. China on the other hand, has virtually none of the world's poorest. That, even though the US and Canada have a per capita GDP of about $70,000 a year versus less than $10,000 for China. Really?
Well, it all makes more sense when you realize "wealth" is defined as the present value of all assets minus debts. So, as the CapX blog pithily points out, "A young investment banker with student debts is deemed one of the poorest people in the world. However, a rural farmer in India with minimal savings is considered richer than the young investment banker." Likewise this from the Adam Smith Institute:
By Oxfam's measures, the poorest people in the world are recent Harvard graduates with student debt piles. The bottom 2bn don't have zero wealth, but rather about $500bn of negative wealth. The poorest person in the world is richer than the next 30% put together. Having negative wealth may actually be a sign of prosperity, since only people with prospects can secure loans. But there is a bigger issue with the narrative: more meaningful measures show greater equality. Those in the middle and bottom of the world income distribution have all got pay rises of around 40% between 1988-2008. Global inequality of life expectancy and height are narrowing too—showing better nutrition and better healthcare where it matters most.
And this from Felix Salmon of Reuters:
Some poor people have modest savings; some poor people are deeply in debt; some poor people have nothing at all. (Also, some rich people are deeply in debt, which helps to throw off the statistics.) By lumping them all together and aggregating all those positive and negative ledger balances, you arrive at a number which is inevitably going to be low, but which is also largely meaningless. The Chinese tend to have large personal savings as a percentage of household income, but that doesn't make them richer than Americans who have negative household savings — not in the way that we commonly understand the terms "rich" and "poor". Wealth, and net worth, are useful metrics when you're talking about the rich. But they tend to conceal more than they reveal when you're talking about the poor.
It's also very much worth mentioning that global extreme poverty — defined as $1.90 a day by the World Bank — has fallen to 700 million, or 9.6% of the world's population, from nearly 2 billion, or 37.1% of the worlds population in 1990. Did this happen through a global wealth confiscation and the closing of tax havens? No. It's due to faster economic growth in Asia. And how do nations achieve that? From The Economist:
The world now knows how to reduce poverty. A lot of targeted policies—basic social safety nets and cash-transfer schemes, such as Brazil's Bolsa Família—help. So does binning policies like fuel subsidies to Indonesia's middle class and China's hukou household-registration system (see article) that boost inequality. But the biggest poverty-reduction measure of all is liberalising markets to let poor people get richer.