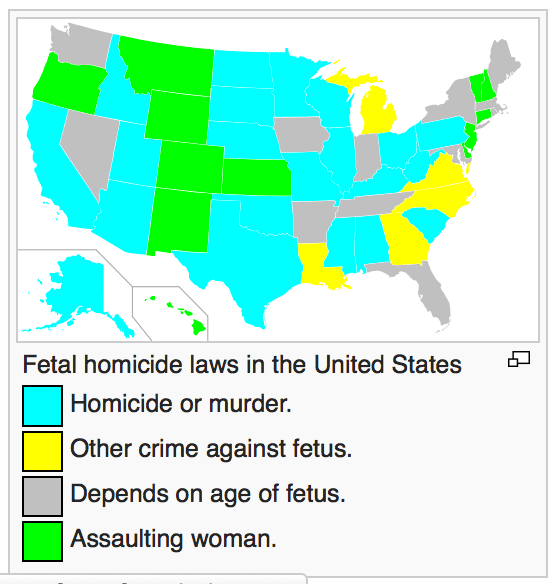 While abortion is legal throughout the US — with some restrictions varying state-by-state — fetal homicide (feticide) is not. In most states, it is treated as murder. How are the two different? Presumably, if the woman carrying the fetus consents to the feticide, then she's just exercising choice. If she doesn't consent, people go to jail.
Thirty-eight (38) states currently recognize the "unborn child" (the term usually used) or fetus as a homicide victim, and twenty-three (23) of those states apply this principle throughout the period of pre-natal development.
Yet, paradoxically:
These laws do not apply to legally induced abortions. Federal and state courts have consistently held that these laws do not contradict the U.S. Supreme Court's rulings on abortion.
The National Conference of State Legislatures has a handy compendium of state laws and rulings on the matter. For example, my home state of California defines murder as "the unlawful killing of a human being, or a fetus, with malice aforethought," with explicit exceptions made for doctors attempting to save the life of the mother during childbirth or if "the act was solicited, aided, abetted, or consented to by the mother of the fetus." So … that's clear.
Furthermore:
Fetal homicide laws, as well as ordinary murder statutes, are increasingly used to prosecute pregnant women accused of intentionally or recklessly causing miscarriages or stillbirths.
Many of you may already be aware of this. Nevertheless, it's worth repeating this point to pro-choice folks' claim that a fetus is just a clump of cells and not a person. If so, how can anyone be prosecuted for destroying a clump of cells like a wart? If not, and the pregnant woman can exercise life-or-death control over another person, isn't that akin to slavery or tyranny?
There are some fundamental internal contradictions in the law that will have to be resolved in favor of life or in favor of death. I can only hope we make the right choice.
Ethics is nothing other than Reverence for Life. Reverence for Life affords me my fundamental principle of morality, namely, that good consists in maintaining, assisting and enhancing life, and to destroy, to harm or to hinder life is evil.

— Albert Schweitzer