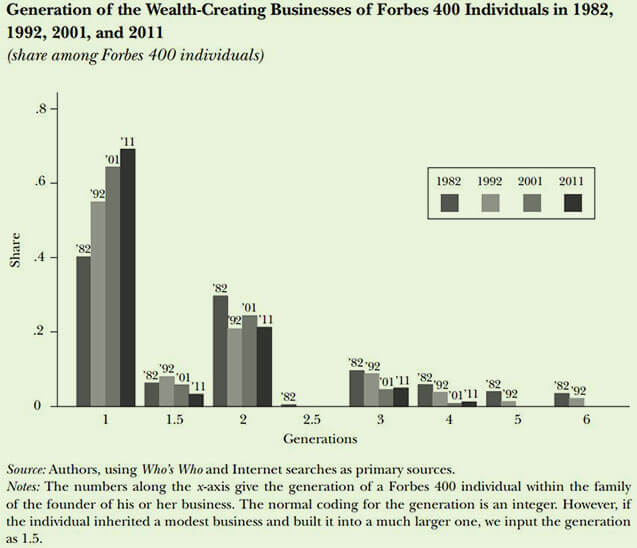 In a 2014 a16z podcast from the Andreessen Horowitz venture capital firm, economist Larry Summers clearly analyzed the inequality theories of Thomas Piketty, author of the best-selling Capital in the Twenty-First Century. While Summers thinks Piketty's description of "what" is happening is important, he is skeptical of the "why" of perpetually rising wealth inequality — particularly Piketty's assertions about rates of return on capital and savings. These are criticisms which many other economists have since offered and expanded upon.
So rather than highlight that bit of the chat, here is Summers on Piketty's fundamental misunderstanding about how American capitalism works:
His is a theory of accumulation by the fortunate, but what is striking — and you certainly see it out here [in Silicon Valley] in particularly dramatic form is how dynamic the process of wealth accumulation is. Forbes looked in 2012 at its 1982 Forbes 400 and found that less than 10 percent of those who were on the 1982 Forbes 400 were still part of the 2012 Forbes 400.

Now in part [because] 30 years is a long time and people die, and their fortunes get split up several ways. But Mark Zuckerberg had not been born in 1982. So there are all kinds of fortunes being created, and I think a better way to think about the sources of large fortunes is in terms of the economic processes that take all the middlemen out and allow the creator, director, designer to capture a larger part of the benefits.

And that's what's behind entrepreneurial fortunes. In a different sense, with much better information systems, much greater capacity to execute, the judgments that a CEO makes as to broad strategy and direction become a larger part of business success than they once were. So entrepreneurial CEOs are rewarded heavily, not just in new companies but in traditional companies. And in a world of this kind of ferment there's enormous gains to be had by being able to judge the ways in which things are moving and judge who's doing the best job of taking advantage of the opportunities — and that contributes to the fortunes that are made in the financial sector. So I think it is much better to analyze inequality in terms of the fundamental forces of technology and globalization than in terms of any kind of inherent cultural contradiction of capitalism.
Summers's intuition and observation is supported by the work of economists Steven Kaplan and Joshua Rauh. In their 2013 paper, "It's the Market: The Broad-Based Rise in the Return to Top Talent," they conclude the increase in high-end "inequality has been driven by economic factors that have altered the marginal productivity of certain kinds of labor." Shorter: The economy is not a rigged game that only benefits those born wealthy or CEOs who manipulate pliant corporate boards.
Likewise, their analysis of the Forbes data shows a trend "away from people who grew up wealthy and inherited businesses towards those who grew up with more who grew up wealthy and inherited businesses towards those who grew up with more modest wealth in the family and started their own businesses." While it is important to note the rich are getting richer, it is equally important to understand why.