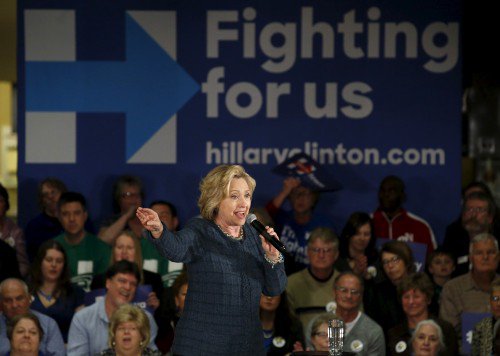 In my new The Week column, I highlight the weakness of three key policies — tax increases, raising the minimum wage, and universal preschool — in Hillary Clinton's anti-inequality agenda. But the bigger point is that Clinton should focus more intently on policies to boost economic growth, rather than redistribute it. After all, it looks like the US economy (again) didn't grow much more than 2 percent last year, according to official stats — with 2016 looking like more of the same. Even worse, right now it looks like a recession is more likely than a growth spurt.
William Galston makes a similar point in the WSJ, arguing that early in the Clinton campaign, "she delivered a well-crafted speech outlining her strategy for creating strong, sustained and inclusive growth. … Since then, however, she has been busy immunizing herself against attacks from the left, pursuing transactional politics with the Democratic Party base." In short, blame Bernie.
But things aren't much better on the GOP side. The Republican presidential contest has been dominated by immigration — but not, unfortunately, on how to increase immigration to boost growth. What mostly passes for pro-growth policies are unaffordable. across-the-board tax cuts. Indeed, many plans lose the most revenue on the bits that would theoretically produce the least amount of GDP growth.
Even if you believe that GDP growth and productivity are better than official numbers suggest — and I sort of suspect this is true — we could be doing far more to increase America's growth potential. Economist Robert Gordon has been a doom-and-gloomer about America's future growth prospects, for example in his must-read new book, The Rise and Fall of American Growth: The US Standard of Living Since the Civil War. Yet Gordon highlights some pro-growth ideas. Here are two, as summed up by David Wessel in the WSJ: "Roll back regulations that hurt the economy and the less affluent, including copyright and patent laws (which have gone too far), occupational licensing (which is a barrier to entry and employment), and zoning and land-use regulations (which boost housing costs). … Reform immigration laws to encourage high-skilled workers, including those trained at U.S. graduate schools."
We should be concerned, as I write in The Week, "that America's changing economy may be less adept at providing shared prosperity than in the past." Likewise, less-skilled immigration poses both fiscal and governing challenges. But tackling the Two Percent Economy should top policy agendas in both parties.