On Tuesday, President Obama gave a speech outlining his new gun control program. As is typical for him, the speech was fatuous, disingenuous, and replete with factual errors. It was also warmly received by three group: Democrats, the media, and the shareholders of gun manufacturers.
Shares of Sturm, Ruger & Co. and Smith & Wesson jumped by double digits earlier in the week (though they've since retreated) in anticipation of a spike in sales. Since Obama assumed office and the end of last year, their stock has yielded compounded annualized total returns of 43 and 38 percent, respectively, compared to 16 percent for the S&P 500 Index. Every time the president tries to advance his gun control agenda, gun manufacturers reap a windfall.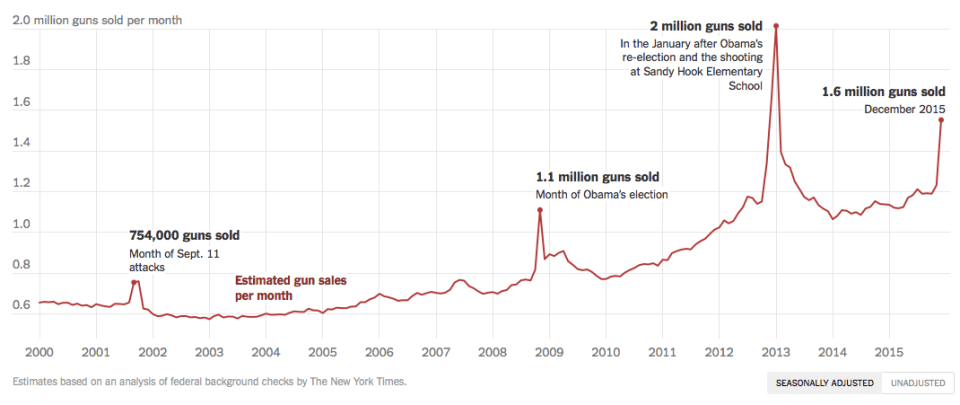 A desire to complete purchases before new restrictions take effect would explain a sales spike among existing gun owners; i.e., people already in the "gun culture." However, what we are seeing is much more broad-based. This is not just a matter of purchasing behavior. Since 2009, support for gun control has generally fallen as support for gun rights has risen.
Across the country, people are newly showing interest in learning to shoot, buying their first gun, and enrolling in training courses. In other words, under Obama, more and more people are becoming motivated to acquire the skills and means to defend themselves, their families, and their communities.
Why now? I think this phenomenon is driven by a fundamental paradox of gun control: In their push to restrict access to firearms, the president and his allies are unintentionally highlighting the government's failure to maintain public safety.
The case for gun control is an emotional one. It is based on a fear of gun violence, and Obama and his allies do their utmost to feed a perception that the world has become more dangerous. For example, consider the following tweet from the White House:
Fort Hood
Binghamton
Aurora
Oak Creek
Newtown
The Navy Yard
Santa Barbara
Charleston
San Bernardino#StopGunViolencehttps://t.co/yVdTuvMF2T

— White House Archived (@ObamaWhiteHouse) January 6, 2016
Ironically, the more the White House insists we are unsafe, the more apparent it becomes that we are exposed. If our leaders are unable (or unwilling) to distinguish the obvious sources of recent gun violence — terrorism, mental illness, gang violence, inner-city lawlessness — then there is no way the government can effectively protect us from those threats. Indeed, the White House's obsession with guns raises legitimate questions about governmental competence. A government distracted by red herrings will be incapable of fulfilling its mission to protect its citizenry from real threats.
So, as our government falls down on the job, the mature and rational course of action is to take responsibility for one's own self-protection. In no small part, that means buying a gun and learning how to use it.
If the president wanted to improve support for gun control, his best strategy would be to avoid discussing the subject entirely, and to take steps to actually make us safer. That would include actively fighting Islamist terrorism and avoiding its importation; reforming our country's dysfunctional approach to serious mental illness; sending police into high-crime neighborhoods, stoping & frisking gang suspects, and prosecuting gun crimes.
But these policies are hard. They take sustained concentration, political courage, and a willingness to set aside progressive theory in favor of hard reality, all of which means that the president will not pursue them. Rather, we get more cowbell, as Obama extends his record as the best firearms salesman this country has ever seen.