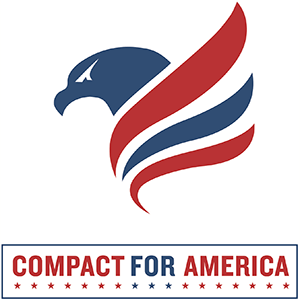 As we've seen during Republican administrations and Democrat administrations, and with Republican congresses and Democrat congresses, Washington, DC refuses to fix its addiction to spending. During "conservative" George W. Bush's two terms, the debt jumped by $4.9 trillion, and during "progressive" Barack Obama's term (so far), it has jumped $8.2 trillion.
Looking at our nearly $19 trillion hole and with no end in sight to deficit spending, many limited government fans have decided that any solution to the Beltway can't come from the Beltway. So, Marco Rubio caused a minor stir last week when he floated an idea that has been circulating in the right-leaning policy community for the past few years: Having the states leverage the power given to them by the Constitution.
"One of the things I'm going to do on my first day in office: I will announce that I am a supporter, and as president I will put the weight of the presidency behind a constitutional convention of the states," Rubio said, "so we can pass term limits on members of Congress and the Supreme Court and so we can pass a balanced budget amendment."
In theory, a convention of the states is an excellent idea. And the Constitution allows the states to check and balance the power of the Federal government, just like the White House and Congress were designed to check each others' power. But many observers are understandably skeptical about calling a convention. Not only would it be exceedingly difficult and time-consuming, it also opens the door to all kinds of changes to our nation's founding document:
Help me with the math here. To call a convention, you need 34 states to agree; to ratify new amendments at that convention, you need 38 states. Mitt Romney won 24 states in 2012. Even in a best-case scenario in 2016 for the GOP, you're probably looking at 20 solidly blue states, which means you're four short of what you need to call the convention and eight short of what you need to actually get things passed. On the one hand, that daunting math should calm fears of liberals going nuts at a convention and repealing the Second Amendment, carving out exceptions to the First, and so on. Even if they can find 30 blue states to support that, they'd still need eight red ones to join them in order to enact the proposals. Not going to happen. The only ideas that stand a chance of passing are procedural reforms that enjoy broad bipartisan support, like term limits for Congress.

On the other hand, apart from term limits, how many other reforms enjoy such sweeping cross-partisan enthusiasm that blue states would not only agree to join a constitutional convention aimed at them but to help conservatives pass them? If you think the left is going to go for a balanced-budget amendment, I fear you're kidding yourself. The BBA may poll well in the abstract, but wait until the media starts digging into it and Democrats start shrieking about conservatives' "evil scheme" to destroy Medicare by capping federal expenditures at revenue levels. A balanced-budget amendment is about restraining the power of the federal government to grease special interests by spending beyond its means. Why on earth would the modern Democratic Party agree to something like that?
These criticisms are sound. Thankfully, there's a far better way for the states to fix Washington's excesses: the Compact for America. I had the opportunity to visit a conference last month on this effort and learned that it's a sensible, safe, and effective method to get the DC political class back under the control of We the People.
Nick Dranias, the President and Executive Director of Compact for America, explains how it works:
The Compact for a Balanced Budget is an agreement among the states that advances and ratifies a federal Balanced Budget Amendment in a single state legislative bill. It is activated by a single congressional resolution. In essence, the Compact pre-commits 38 states (the ratification number) to the entire constitutional amendment process in advance, so that a specific, pre-drafted federal Balanced Budget Amendment is voted up or down within 24 hours at the convention it organizes. The Compact's amendment process is set in motion by a congressional resolution, which can be passed with simple majorities and no presidential signature. The congressional resolution both calls the 24-hour convention contemplated by the Compact and pre-selects legislative ratification, avoiding a second trip to Congress.
The compact's singular focus on balancing the budget prevents any chance of a "runaway" convention in which lawmakers try to undermine our most precious constitutional rights. And by limiting the consideration time to just 24 hours, it will be a quick up or down vote: Do you stand with the people or with the political class?
The text of the balanced budget amendment itself is brief and to-the-point; no thousand-page omnibus here. The concise text will 1) limit the federal government's borrowing capacity; 2) require state legislative approval for any increase in federal borrowing capacity; and 3) restrain the federal government's taxing authority.
The amendment also includes three "release valves" for national emergencies: (1) the ability to pay down the national debt to free up borrowing capacity; (2) a referendum initiated by Congress requesting a simple majority of state legislatures to approve a proposed increase in the debt limit within 60 days; and (3) an impoundment process requiring the President to designate necessary spending delays and reprioritizations when a "red zone" of borrowing capacity is reached, subject to simple majority override by Congress.
Four states have already signed on to the document (Alaska, Georgia, Mississippi, and North Dakota) and others are considering legislation.
It's good that Sen. Rubio drew attention to the convention process, but it is crucial that it be done in the best way. If Americans want to get Washington spending under control in a smooth, timely, and safe manner, the Compact for America is the best choice.