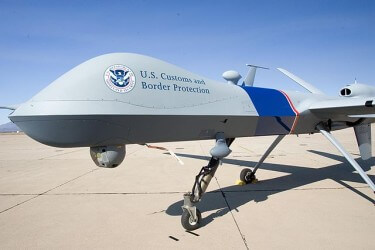 In this series, I'm looking at the changes made since Reagan took power and since Obama lost his supermajority. I'm breaking immigration down to three posts: border security, internal enforcement, and amnesty. I start with border security, because it is the most misunderstood.
Unless one's concern with immigration focuses on East Asians, Jews, or Italians — in which case things have certainly become more liberal over the last century (but not the last half century) — the initial entry point of immigration is more secure than it has ever been. That's not to say that there are not valid immigration-related concerns, but they really tend to fall into two categories: immigration concerns that are not about border security and concerns that the improved border security has not improved enough. The third category of "border security is less effective" is a null set.
Background
The first real efforts at border security came under Teddy Roosevelt, because of course they did. He created the "Mounted Watchmen" — a grand total of 75 at their height — mostly operating out of El Paso. Wilson took the next step: the "Immigrant Inspectors" got motor vehicles and a couple of boats and the number of boats would not significantly increase until George W. Bush. They also got offices, broadly setting up the system for the 20th Century. Saint Calvin Coolidge created the Border Patrol in 1924 and increased its personnel to 450, largely in response to prohibition era smuggling (notably absent from Amity Schlaes' account). Eisenhower started a practice of tracking flights across the border.
Since there was no quota on Mexican immigration until 1964 (you could still immigrate illegally, but the incentives were more about avoiding the paperwork than about entering the country), the Border Patrol was pretty heavily focused on law enforcement of more traditional kinds. As such, Nixon's war on drugs was something of a boon to border enforcement.
Reagan
As any libertarian will tell you, Reagan militarized the border. For the first time, helicopter gunships and airplanes with TV cameras and infrared sensors were deployed, along with seismic, magnetic, and acoustic sensors. There was even a fence, of sorts (they used a small amount of chain link fencing). If you care to sample some liberal tears on the subject, this 1997 book is a pretty good place to start. Imagine the misery of the author as every concern he has becomes stronger, as every issue he fights for turns out to be one that he loses. Reagan supported amnesty but supporting amnesty does not mean being weak on the border, and Reagan most certainly was not weak on the border. Just how transformative he was can be seen in the chart on page 97 of this book. You will also see that Reagan's expansions were just a foretaste of what was to come.
The most obvious thing you will see in the chart is the enormous difference made by the Immigration Reform and Control Act of 1986, which conservatives often deride as having delivered amnesty without delivering the accompanying promised security. It did provide the amnesty, and a worse amnesty than was anticipated (many later immigrants were able to fraudulently backdate their entry), but it really did increase security as well. I'll return to that in my post on internal enforcement, because E-Verify is also authorized under the IRCA, although that obviously took a long time to come to fruition.
After Reagan, Aside from the Fence
The Atlantic has quite a nice chart describing the increase of border patrol agents from 1992 to 2011.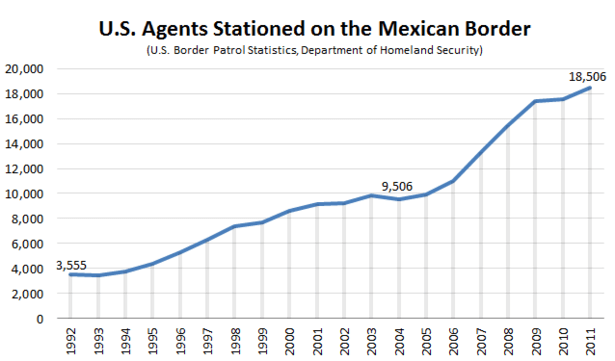 As you can see, the numbers of agents on the border has not merely increased, but exploded, and on a bipartisan basis. They've done this during a period when federal employees in general have shrunk from a little over 3 million people to a little under 2.7. In case you're concerned by those numbers still appearing a little low, rest assured that the number of border patrol agents for 2016 is set to be 21,370 in the DHS budget, and the Omnibus funds that fully. Employment numbers are not the data that changes the most, though. Agents are also dramatically better equipped and supported than their predecessors, as this chart I made from this data shows.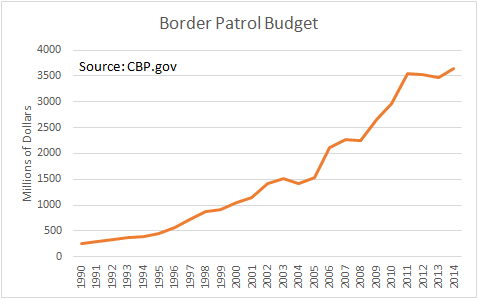 ​Since I've repeatedly claimed that nominal dollars are not a meaningful statistic over the long term, here's that chart again as a percentage of GDP.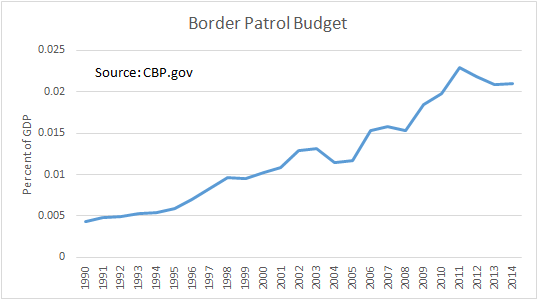 Border Patrol agents now have a vast array of muscle behind them. They have drones, sophisticated sensors, boats (a whole lot more than they used to), remote cameras. They have vehicles that allow them to easily move additional monitoring capabilities to any place they choose, with electro-optical, infrared, radar, and laser, sensors alongside a host of command and control gadgetry. It should go without saying that the latest in aircraft for these things also have a terrific variety of different tools to track, monitor, and record illegal border crossers such that they can be easily arrested and can be swiftly convicted. Their sensors are smarter than they used to be, and better at working out what the agents need to be alerted to. They have sophisticated biometric field equipment so that they can identify people they run into without documents. And, of course, they have the fence.
The Fence
There are a lot of misconceptions about the fence; many think of it as some kind of analog to the Berlin Wall. As a result, claims are made about a fifteen-foot fence being defeated by a sixteen-foot ladder. In fact, the fence is not designed to be impossible to scale. There are two chief functions to the fence. Firstly, although it is possible to drive from Mexico City to the border, get out, put your stuff in a rucksack, climb over the fence, and have your buddy from LA pick you up on the other side, that's an awful lot more hassle than simply driving yourself; stopping vehicles is valuable. To analogize, it is more or less impossible to make your home secure against people who would break in, but you're likely to reduce the rate at which that happens in neighborhoods with many budding criminals if you have a door that locks.
More importantly, the fence makes it easy to see when people are crossing the border. When the Border Patrol guys talk about their high tech mobile stations being able to operate on a twelve mile radius, that's only because of the fence. The fence is not a substitute for agents, but a force multiplier for them, like the sensors, the planes, and all the other things that are dramatically more useful because of the fence.
There was a time when speculation about whether the fence was useful had a place. That was before 1993, before Clinton's efforts in Operation Hold The Line around El Paso, and more so before 1994's Operation Gatekeeper at the San Diego border. After that, there was a decade in which it was incontrovertible that the fence worked in built up areas, but one could make the sixteen-foot ladder claim about the rural areas. Now we have the fence built along most of the border, and there is no longer any respectable claim to be made about its efficiency. It's partly for that reason that Obama (and Clinton) voted for the Secure Fence Act when they were in the Senate and continued building the fence after taking power. He's mostly stopped now; 2016 should see a sector of fence in Arizona be rebuilt, better than before. This is mostly because the fence is just about complete outside Texas. America's borders are simply enormous: when I lived in Iraq and Mrs. Of England was in the UK, we were in a shorter-distance relationship than some Americans are who live within the lower 48 states.
There's a good basic map of the fence below, although weirdly it suggests that there isn't fence around San Diego, where some of the first fencing was built, and it doesn't include Obama's completion of the Secure Fence Act's remit, since it dates to 2009. Still, it gives a sense of things. In particular, it helps you see why, although the chief point of entry for illegal immigrants used to be San Diego, it's now the Rio Grande Valley. For some reason, Rick Perry and a large number of other Texan Republicans have been simply terrible on the wall.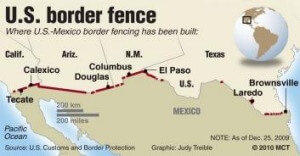 Border Arrests
When I was riding along with the Border Patrol a decade back, the complaints about "catch-and-release" had merits. You could talk to would-be immigrants who would be open about having failed to cross one day, but planning to try again tomorrow. The Bush Administration responded by shifting towards a greater emphasis on "removals," in which people are more likely to be taken into custody, tried, and punished (generally, with a minimum of being excluded from the country on a fairly long term basis being issued, rather than "returns" in which they were simply deposited back on their own side of the border).
This was stepped up yet further with Obama's "consequence delivery mechanism" and numerous reforms streamlining the immigration judicial system, so that now up to forty people can have a hearing together. Additionally, the Mexico Interior Repatriation Program does what Trump likes about Ike's immigration enforcement: it deposits Mexicans in the south of the country, rather than back at the border. Similarly, the Alien Transfer Exit program transports Mexicans to a different part of the country than the part they would like to return to. Additionally, courts have access to a variety of other punishments — major and minor — including jail sentences, fines, and such.
This — combined with the fence, the extra guards, the superior monitoring, and gradually improving, if grudging and inconsistent cooperation from the Mexican government — means that the number of people crossing plummeted. Discouraging frequent visiting means that the minority of illegal immigrants who previously made up a substantial portion of returns made a significant impact on its own. Although a number of Republican candidates strongly condemn the Obama and Bush administrations falling rates of "deportations" (by which they mostly mean the catch-and-release stuff), almost all of them would pursue the same policies that lead to that reduction; they, therefore, would be likely to have their own statistics look even worse by the flawed metric being used. As a result, most illegal immigration now takes the form of visa overstays, which cannot be prevented at the border, but which I will address in my post on internal enforcement. The reduction in border crossings has been particularly pronounced in the West. As I mentioned earlier, California used to lead the nation this way, but it's the Rio Grande Valley and the South East portion of the Texas border that outperform the rest of the nation in letting immigrants through. Immigrant deaths are lower in areas with a fence, too.
There are numerous judicial reforms that allow processing to be conducted more quickly for those who ought to leave. Operation Streamline is the highest profile and has caused many tears on the Left — while remaining almost unknown on the Right — while the numbers of categorized trusted travelers who can pass through the border with quick biometric tests has gone from zero to many in the last decade or so. Today, visa waivers are evaluated before people fly in, meaning that they can be turned away with less hassle than before and that there is plenty of time to examine the cases without being too much of a jerk about it. Anyone who has traveled through, say, Dulles airport internationally and who knows where to look will have noticed that the speed through which one can travel through immigration has greatly improved when there is no cause for concern, but there is more attention paid to screening the difficult cases. The recidivism rate for illegal entry appears to have almost halved (fig. 7; the whole report is pretty interesting).
There was a concern in 2014 that children deliberately getting arrested represented a tremendous loophole in effective security; there's really no way of stopping people from crossing and surrendering to the authorities. Thankfully, collaboration with Mexican and other authorities seems to have worked as numbers appear to have dropped off in 2015 and that awful debate ought not to become the new normal. Since I wrote this, I've been alerted to a spike in the last couple of reported months, suggesting that fiscal 2016 may be above 2015 in unaccompanied children, although it's still below the average for 2014.
2016
Of the key actors in the upcoming Presidential election, Obama, Clinton, Trump, Bush, Carson, Rubio, and Cruz support the wall and approve of there being an ever growing border patrol. Unless a miracle occurs and Fiorina, Christie, or Sanders wins the nomination, we will have a general election between two fence and border protection advocates. There is a widespread confusion among conservatives that says that x cannot be trusted to improve border security because they support amnesty. It is hard to overstate how incorrect a hermeneutic this is. The most extreme amnesty supporter in the Republican Primary, Jeb Bush, is also the guy who has done the most to improve border security, working with the Coast Guard and other agencies to integrate Florida's border security systems with each other. In the 2008 Democratic primary, both candidates supported a stronger defense of the border while also both supporting amnesty. There was a concern last year that we would see endless waves of children, but the response seems to have been effective enough that we did not see a wave this year.
If your concern is about a nation needing secure borders to be a real country, then you really need not worry about the US, which has a more fortified and militarized border than almost any country in history. It's a long border, so the Patrol sometimes takes a while to catch people who cross, but they generally do, and they're getting better at it all the time, and seem likely to do so for the foreseeable future. Obviously, it's far from perfect, and one should still worry about a nuke or other horror being smuggled across, but illegal border crossing from Mexico is no longer the sort of demographic threat that it once was.
There is disagreement on the Republican side about how much to grow the immigration bureaucracy, but all of the leading candidates want to do so. Bush hasn't given figures, but is clear in his book, Immigration Wars, that adding to the force is a priority. Carson is similar. Rubio would double the number of Border Patrol agents, Cruz promises to triple their ranks, Trump would triple the number of ICE agents and, I think, have them take a greater degree of responsibility for the border. Since the actual details will come from Congress, it seems to me that we have a near universal Republican consensus on the conservative position, with the Democrats not being that far behind.
Obviously, as one moves to other areas of immigration policy this stops being the case, but we should not suggest that our borders are unusually weak, too weak to allow ourselves to count as a country; if America doesn't qualify, just about nowhere in history does. When Trump does it, it's understandable ignorance. When better informed candidates, lobbyists, and hacks do, it's because they believe it to be in their interest to mislead you. Instead, we should internalize and celebrate our victory on this issue.