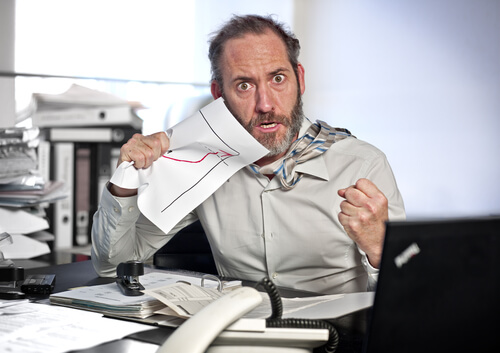 At least that's how I interpreted Thursday's panicked WonkBlog article, "Guns are now killing as many people as cars in the U.S." Earnest gun control fans are passing around the headline on social media — especially those in other countries — tut-tutting those cousin-kissing, gravy-swilling rednecks who shoot first and ask questions never.
For the first time in more than 60 years, firearms and automobiles are killing Americans at an identical rate, according to new mortality data released this month by the CDC. In 2014, the age-adjusted death rate for both firearms (including homicides, suicides and accidental deaths) and motor vehicle events (car crashes, collisions between cars and pedestrians, etc) stood at 10.3 deaths per 100,000 people.
It's shocking that gun deaths have increased so rapidly, isn't it? Actually, that's not what happened at all:
The convergence of the trend lines above is driven primarily by a sharp drop in the rate of motor vehicle fatalities since 1950. In the late 1960s, for instance, there were well over 25 motor vehicle deaths for every 100,000 people in the U.S. Since then, that rate has fallen by more than half.

Over the same period gun deaths rose, but by a considerably smaller amount. Gun homicide rates have actually fallen in recent years, but those gains have been offset by rising gun suicide rates. Today, suicides account for roughly two out of every three gun deaths.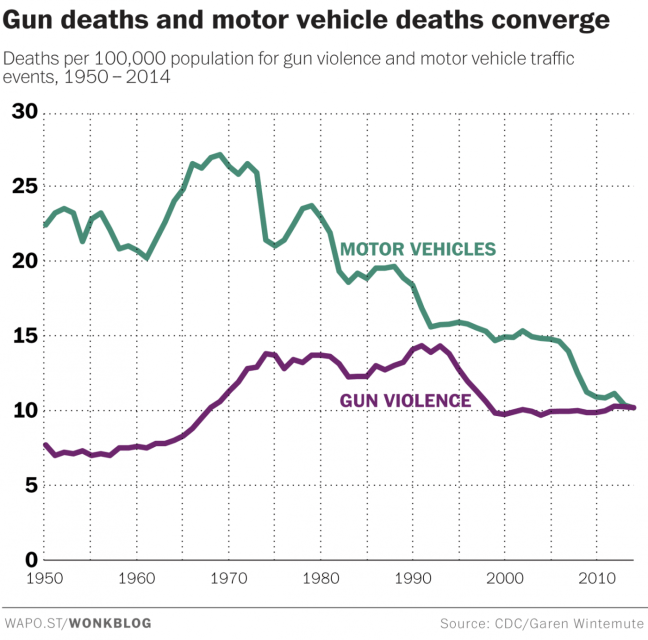 As you can see, gun violence plummeted in the '90s and has remained fairly stable since. The only reason gun deaths equal motor vehicle deaths (age-adjusted, by the way) is because cars are safer than they've ever been.
But a headline like "Car deaths at an all-time low" wouldn't give our media betters a chance to push a partisan agenda. If the Washington Post is so desperate to reverse this trend, perhaps they should insist Americans only drive Fiat 500s.