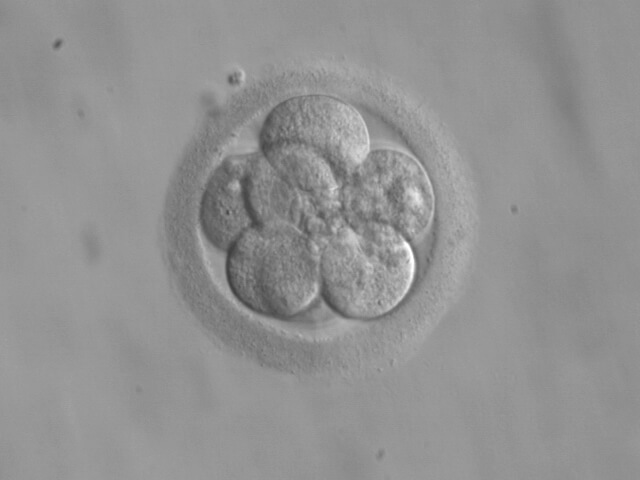 In following the trajectory of the new CRISPR technology, I found myself digging into data that is relevant to the periodic Ricochet debates on artificial reproductive technologies (ART), specifically in vitro fertilization (IVF). I'll get to both tech and politics shortly, but I'm going to start with numbers: specifically, using market sizes as a proxy for demand, and an indirect indication of social and political impact. (All of these are public numbers that are "rough order of magnitude," and I have done some mixing of products and services totals.)
IVF of all kinds is about a $10 billion/year market worldwide. When I compare that to other categories that are somehow connected to fertility, it's larger than I expected: The total worldwide market for contraceptives is about the same size; Infertility drugs are a bit short of $5 billion world wide; The total global market for erectile disfunction (ED) drugs – Viagra and kin – is $2 to 2.5 billion per year; and Abortion and related services are about the same size (US only). I also looked for figures on surrogacy — the other bete noir here — but they are scarce. The best I could find suggests that surrogacy makes for, at most, a couple of percent of all IVFs in the US, but there are no reliable numbers for elsewhere.
Combining the above categories, about $30 billion a year is spent on the technologies derived from the Sexual Revolution, about $17.5 billion of which goes toward trying to become a parent, and about $12.5 billion spent trying to avoid it. IVF is about a third of the total, so — much to my surprise — it's something of a whale in the category.
But compared to the overall medical market, reproductive technology is a minnow. One blockbuster drug — Humira, an anti-inflammatory — clocks in at $10 billion a year. The pharmaceutical industry in total is a trillion dollar a year market, before we even get into medical services and devices. If even a few percent of that total medical spending were diverted into ART in general (or IVF in particular), it would cause a revolution in that market and its social impact.
What could cause that to happen? Genomics. Here I'll steal a chart from George Church: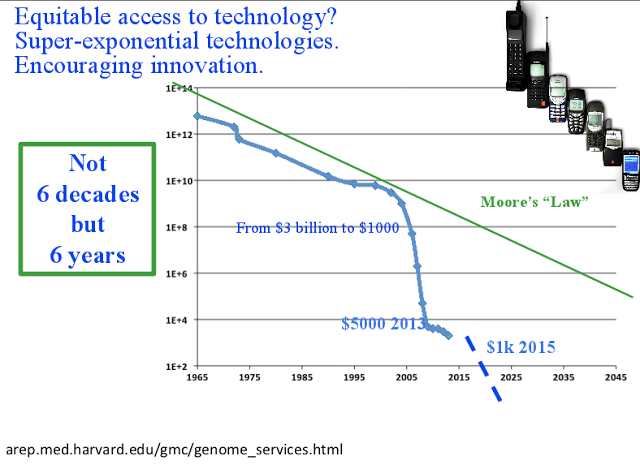 This plots technical capability over time on a logarithmic scale. The straight, green line at the top shows Moore's Law, the trend in semiconductor capability that has changed computers from room-filling monsters, to PCs, to throw-away gadgets within the lifetime of many of the people reading this. Consider all the social change that wave caused, swirl it around in your mind, and savor.
The blue curve, however, is the advance of genomics, as proxied by the cost to sequence a single complete human genome. It's running much faster than Moore's Law, at a greater than exponential rate: sequencing the first human genome cost roughly $3 billion dollars; today, there's limited availability of genome sequencing at $1,000 per person. As technology drivers go, this is a blockbuster, and it's coming faster than computing did.
How does this drive IVF? Despite the buzz, it's not in "designer babies." Most phenotype traits that you might want to select for — appearance, intelligence, etc., — seem to be the results of multiple genes working in combination, as well as complexes of regulators and environmental factors, all of which is poorly understood at this point. Having masses of raw genome data gives us a tool to start picking away at the complexity, but we're neither there yet, nor likely to be so for a while.
Most IVF today is the result of a couple's infertility, and comes after a long period of failure and trials with fertility drugs, and those numbers are unlikely to increase much in the foreseeable future, and doesn't involve genomic technology at all. However, a small fraction — about 3 percent — is subject to pre-implantation genetic diagnosis (PGD). This process is used by parents who know in advance that they are carriers for genetic abnormalities, and who have embryos created, tested, and screened for that abnormality in vitro before implantation.
What happens when our knowledge of genetic risk expands by orders of magnitude, and when we focus on looking for a handful of point mutations, rather than sequencing an entire genome? Massive change. Given the long-term costs of supporting many who are born with abnormalities, the economics of mass screening will be overwhelming. Even at the current $10,000 – $20,000 cost of PGD screening, the economic positives are vastly favorable to long term care costs of those born with defects.
You don't need designer babies or understanding of development biology to blow up the IVF market: just cheap genetic diagnostics. The less the cost of those tests and the more PGD expands, the further down the list of severity we can screen.
PGD itself is an imprecise method: you fertilize a lot of eggs and try to find a few that pass screening. And this is where I actually entered the story: CRISPR is a fairly new genetic technique that allows site-specific genome editing with precision, eliminating the need for creating so many embryos in the hopes of finding only those who pass. If PGD is a shotgun, CRISPR is a scoped rifle.
To date, CRISPR has not been applied successfully to a human germ cell. There was a recent, bally-hooed Human Gene Editing Summit in DC, that purports to have handed down rules against the practice. Don't you believe it. It's already been tried in China, an initial failure. But that is the country that is building an industrial scale cow cloning facility, and has a whole generation of single-child families wanting to make sure each birth preserves their line. It's coming. And remember, you don't even need CRISPR to get started down this line: diagnostics and PGD will get you going.
And finally, as to the political debates, both here on Ricochet and elsewhere: to the extent there is a general awareness of the issue, it's another stick to beat the religious right, as indifferent to those who draw the genetic short straw. That's unlikely to improve as the technology advances.
As of now, IVF is largely an alternative to barren misery for a small minority of couples. With plummeting prices in gene sequencing/screening and the likely arrival of CRISPR in humans, we're looking at a shift that will turn it into a way to avoid creating individuals who may endure a miserable lifetime at great social cost, and a way to eliminate specific genetic diseases within within families and, ultimately, populations. The emotional, political, and market appeal of that is difficult to overestimate.