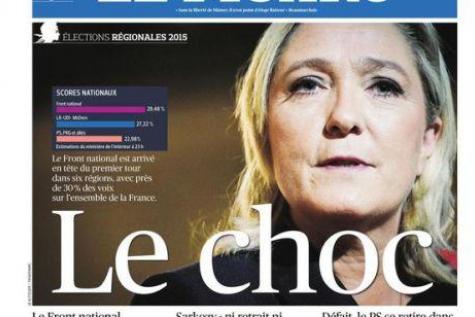 "Choc" means shock. I'm not sure why France is so shocked, because a surge in support for the National Front looked entirely predictable to me.
This was the first election ever held in France during a State of Emergency. There were 8,800 troops in the streets in Paris and what was reportedly a "quadrupled" number of police, with polling stations, in the words of the Police Commissioner, "dynamically controlled." I trust that the "quadrupled" figure is correct and that my sense of it was simply exaggerated; but had you asked me, I would have put it at seven or eight times higher. Perhaps this was the intended effect, and perhaps this is what "dynamic control" means — I'm not sufficiently expert in policing to know whether there are strategies for making a given number of police look like twice the number. I'm also wondering where all the police, the police cars, and motorcycles came from: Obviously, they existed before, but where were they? Parked in some discreet garage?
To visualize what it looked like, first imagine all the quaint movies you've seen about Paris — like Amélie:
Now superimpose 8,800 French troops in camouflage, like this, but sans helmets:
And add a quadrupled amount of this:
And you'll have it about right, visually.
The good news is that the election was conducted safely. The bad news is that the National Front received about 30 percent of the vote.
A point to stress, and stress with vigor: When people call the FN a "far-right" party, they're not talking about "a party whose supporters would feel right at home taking tea with Margaret Thatcher." Their platform — nationalizing banks, re-nationalizing of the transport and energy industries, raising protectionist trade barriers, handing out cash to low-paid workers — puts them well to the left of the Socialist Party, if we're using the Anglo-American understanding of the terms "left" and "right."
And don't even get me started on Marine Le Pen's views on foreign policy.
The vote was for French regional councils, something like a midterm poll, except that the councils have no legislative power. France has many kinds of elections — presidential, legislative, senatorial, European, regional. Most (not all) work on the two-round system, which is the same as run-off voting in America. My friend Arun Kapil explains an important part of this well:
There are 13 regions in France; until this year there were 22 but François Hollande and his Socialists decided, for reasons that don't make a lot of sense, that 22 was too many and that the apparently too-small regions needed to be larger. So Hollande had his Socialists push through a stupid, half-baked law earlier this year—that only graduates of ENA, of which Hollande is one, could cook up—to force through a merger of a few—but that absolutely no one in the affected regions understood or wanted—to bring the number down to 13. For those interested, the old map is here, the new one here.

The regional councils don't have a lot of power—considerably less so than state legislatures in the US—though they have some responsibilities—mostly technical—and the budget to go along with them. But most people don't think about the councils too much, so the participation rate in regional elections is relatively low (46% in the last ones, in 2010). The mode de scrutin (electoral system) is proportional list in two rounds. It used to be in one round, through the 1998 elections, thereby allowing for the theoretical possibility of ad hoc coalitions. When the political system was bipolarized—with a left and right pole—coalitions didn't need to happen, but with the Front National's breakthrough that year, the then Socialist-led government decided to modify the electoral system, with a majority bonus awarded to the list arriving in first place in the second round, the idea being that this would prevent the FN from holding the balance of seats in a hung council.

Brilliant Socialists. Now that we have a tripolar system in France—with the FN being one of the poles—Marine Le Pen & Co. could well take control of three—or even more—of the regional councils after the second round next Sunday. This didn't need to happen but, with the current mode de scrutin, most likely will. Electoral systems matter.
No party took an absolute majority in any of the regions, but the FN topped the list in six out of 13 regions. So now we'll do it all again next Sunday.
In the past, voters have tended to register their displeasure by voting for the FN in the first round; then they recover their senses in the second round. But by virtue of numbers and the changes to the electoral system, this time might be different.
The Socialists proposed an anti-FN alliance with Les Républicains — running on a joint ticket in the second round. Sarkozy rejected this on the grounds that the French voters had sent a message to which politicians were obliged to listen: "The verdict of the French voters is clear," he said. "It is a new sign of a profound aspiration of the French people to see things change in this country. They clearly signalled their profound exasperation." And it seems to me he's correct: An alliance would be essentially undemocratic, and would signal to voters that they can vote all they like, but they can't have what they want.
The Socialist Party Chief, Jean-Christophe Cambadélis, responded with outrage: "History will be severe against those who say 'better the extreme right than the left'. This shows that the left is the last defence against the extreme right." And in this, sadly, it seems to me he's also correct. How strange for me, of all people, to find that the Socialists are standing between me and the demos — and that I'm grateful for it. I think.
The Socialists then announced that they would unilaterally pull their candidates out of the second-round runoffs in the regions where National Front victory is more likely. In other words, they would prefer to hand these election to Les Républicains than see the National Front come to power. (Some of the Socialist candidates were not so eager to die on their shields: I don't know what they had to do to quell the dissent, but somehow between last night and today, candidates who were at first refusing to pull out decided that it would be the better part of wisdom to accede. I honestly don't know what happened behind the scenes, so I won't pretend that I do.)
Cambadélis' remarks last night — "This sacrifice will not be made in vain. It will show to the French nation that the Socialists rise to the Republic's occasion" — suggests to me both that they're genuinely terrified of the FN and that they hope French voters will conclude from this that they're willing to put the country before power, unlike Sarkozy.
Perhaps they will. Or perhaps Sarkozy's faith in the voters is well-founded.
Le Pen and her party have won nothing yet. No party got close to a first-round victory. So we wait until next Sunday for the second round.