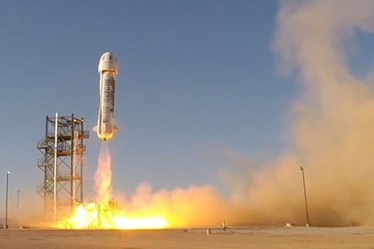 The past couple of weeks have seen some notable developments in spaceflight. Not all of them were necessarily good, but they were useful. If for no other reason, they serve to clarify the government vs. private viewpoints.
First, we had Blue Origin's successful all-up test of its New Shepard tourist spacecraft. Which, you may have heard, stuck the landing. From space. It's a big deal, no matter how much Elon Musk tried to pooh-pooh it.
Musk, for his part, plans to bring his next Falcon 9 booster back for another landing attempt later this month. Perhaps goaded by Bezos's success, this time they intend to fly the thing all the way back to Cape Canaveral instead of aiming for a barge. If successful, that will be an even bigger deal, given that the distances and velocities are roughly double what Blue's booster had to negotiate (the current Blue Origin is designed to reach space; the Falcon 9 put payloads in space so that they stay in orbit; good explanation via XKCD).
Bezos rocked the boat enough. If SpaceX is successful (and they eventually will be), that crashing sound you hear will be "OldSpace" business models collapsing from Los Angeles to Titusville, Florida.
Now, let's contrast this to the latest "news" from NASA. The very same day Blue Origin made history, our space agency announced it would be spending over 1 billion large for a new run of RS-25 engines to power its new "SLS" heavy-lift booster. These are the same engines that powered the Space Shuttle and were designed very nearly 40 years ago. Marvels of technology, probably the most efficient chemical rocket engines ever made. And they will be thrown away every single flight. Complex as they are, at least we got multiple uses out of them on the Shuttles.
Of course NASA insists this all part of their #JourneyToMars, a hashtag campaign that feels like an afterthought in an attempt to glom onto the success of The Martian. (Blast you, Andy Weir! I'm still working my day job and you're getting movie deals from Ridley Scott!)
There's just one catch: they have no plan, a fact which was inconveniently thrown in their faces just yesterday by the NASA Advisory Council. Like so much else in our government, it has become so bloated and inwardly focused that it is incapable of actually doing anything.
But there is hope. Another big event that went largely unnoticed last week was passage of the U.S. Commercial Space Launch Competitiveness Act. Besides granting some much-anticipated regulatory relief (since private spaceflight is nowhere near where we thought it would be ten years ago), the law removed a major barrier to space investment. Namely, it clarifies the question of property rights to resources acquired in space. In other words, you can now stake your claim to an asteroid providing you can get there. Thankfully, people like Bezos and Musk are working on the "getting there" part.
Getting people and stuff into low earth orbit is sufficiently well understood now that it's time to let the private sector take over. Let NASA use what budget it has for the kind of R&D we need to move beyond earth orbit (like advanced propulsion & life support).
In short, it's past time to move beyond a space program and into a space industry. And like physics, we're seeing that market forces will not be denied. The laws of economics may take longer to assert themselves, but they won't be ignored.