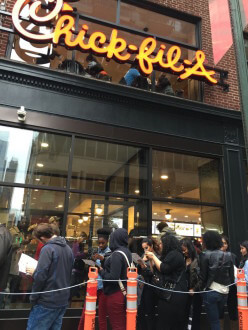 Remember when Chicago Mayor Rahm Emanuel said that Chicago would not welcome a certain chicken sandwich restaurant? Or when Boston Mayor Tom Menino wrote a letter to that same company's president saying that there was "no place for your company" in Boston? Good times. But in spite of liberal outrage over an executive expressing his views on marriage and sexuality, the hateful bigots at Chick-fil-A have opened a restaurant in Manhattan. And each day the line to enter winds down the sidewalk.
Just another success story the Mainstream Media won't tell you.
Your humble correspondent's interviews in line last weekend revealed that patrons were mostly New Yorkers originally from the South, or people who had tried Chick-fil-A previously while in the South. They were loyal, eager, and willing to wait for a few minutes in a line that looked daunting but moved rapidly. All our orders were handled with typical Chick-fil-A courtesy, and we had our order in less than twenty minutes.
The place was full, but not chaotic, and they clearly had a system for handling the volume. When I asked one of the staff if the crowd was typical, he said Saturday is their slow day; they are even busier on weekdays.
So, I imagine the clientele is made up of people who: 1) Don't know they're supposed to be offended by Chick-fil-A; 2) Know but don't care; or 3) Go there on purpose to support the business. Or maybe people just love delicious waffle fries.
The restaurant opened in October, and almost immediately broke the chain's sales records. Chick-fil-A itself outperforms similar restaurants in terms of sales even though it has fewer locations and is only open six days a week.