As you've probably read, here in Paris we've got a few terrorists on the loose and some 195 heads of states from around the world in town to begin 12 days of negotiations to try to reach an agreement on restricting greenhouse gas emissions. I just walked with my brother up to Montparnasse. Everything looked normal enough. We walked back; I dropped him off at my father's apartment, and I walked back to mine. Now, my brother isn't going to believe me, because the part of the city we walked through looked normal, if maybe a bit subdued. It was the stretch back over the Seine and to my apartment that was surreal.
For obvious reasons, I'm not going to say exactly where I live, but it's a neighborhood that usually has a fair share of winos, a few louches hanging out on the corners, maybe a few local petty drug dealers. In the past few years, since what the French call la crise began, it's also been home to a growing number of homeless people and panhandlers. They're harmless. I share what I can with them — when I buy bread, I try to remember to buy an extra loaf, and if I forget to do that, I just give them mine. And I must say, French winos are the best in the world: I'm on friendly terms with all the winos in my neighborhood; we make small talk; and sometimes they want to read to me from some lousy volume of French wino poetry, and sometimes, if I'm feeling indulgent, I'll have a long, serious talk with them about their wino poetry and what it means to them.
I mean, it's France.
But tonight, owing to the terrorists on the loose and the visiting dignitaries, and because what's at stake here, in President Hollande's words, is "the future of the planet, the future of life," Paris has become very strange. In my neighborhood, anyway. Remember when I said France wouldn't have a clue how to become a proper police state? I was so wrong. I crossed the Seine into a really familiar environment, to those of us who've lived in Istanbul: The ratio of cop to civilian was about 1:1, and half the civilians looked like plainclothes. And the normal people were gone. The streets were all blocked. helicopters were circling above; sirens everywhere. I guess this was the route the officials were about to take. I kept making eye contact with the cops to be sure that they grasped that I was just a harmless American; I really didn't want them to get over-excited and mistake me for something else.
It was surreal.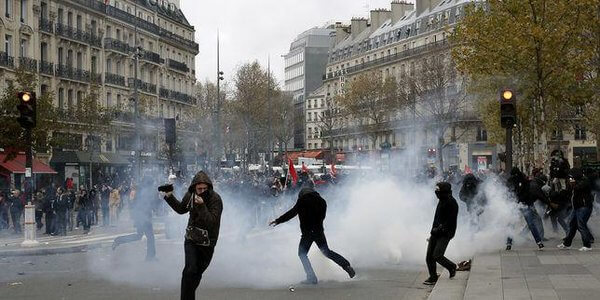 And since we're under a state of emergency, why not put some climate protesters in the pokey? 
Of course, to find out what was actually happening in my own neighborhoood, I had to race home to check the Internet.
But I didn't really find out. Because what I want to know is what they did with my winos. They weren't a threat to anyone. I hope they're okay.
And I'd like them back.
Oh, and this happened, too: