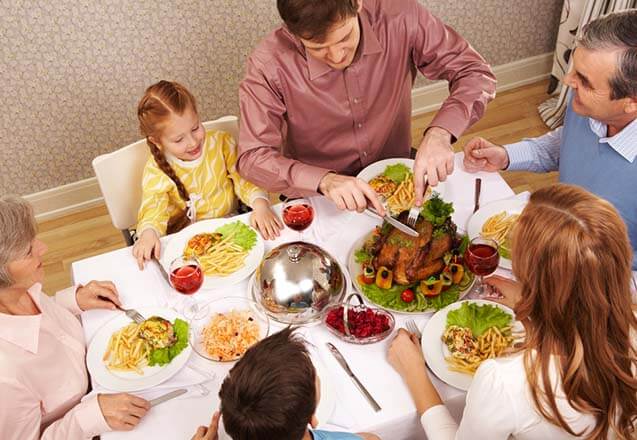 As your family gathers around the table this Thanksgiving, the conversation may get a little heated if a left-wing relative brings up the 2016 race, the attacks by ISIS, or President Obama's failing health reforms. In particular, the Affordable Care Act remains unpopular and misunderstood among the American public — a combination that makes it likely fodder for holiday conflicts.
The liberal website ThinkProgress posted an article titled "How To Talk To Your Tea Party Uncle About Obamacare This Thanksgiving" while Vox published "How to Survive Your Family's Thanksgiving Arguments." So, if your niece is a progressive blogger and starts making wild assertions about the Affordable Care Act, here are some key points that will help keep your conversation on track:
Claim: Obamacare is not causing premiums to skyrocket.
You are excited to see your sister and brother-in-law for the first time in three years. As you welcome them into your home for an overdue celebration, their twenty-something daughter walks by your hug. "We need to talk about the Patient Protection and Affordable Care Act," she says, pulling an iPad from her Netroots Nation tote bag. Her parents offer a resigned look and mention that she just got her Master's in Gender Sustainability.
"Fantastic work," you say, "I always knew you'd do it! You must have got your smarts from…"
"Does your TV have wi-fi?" she interrupts. "The pie charts really pop on a big screen. According to a recent Center for American Progress analysis, the premium rates for individual market in states with federally-run marketplaces will increase by an average of less than four…"
Before she continues, offer her a glass of wine and ask about her favorite classes. This provides a polite excuse to step out out of the living room while allowing your other guests to keep watching football.
Claim: Jonathan Gruber did not expose the "real truth" about the law.
To everyone's relief, your niece's iPad battery is too drained to show her presentation. (She spent the drive over watching a live-streamed #OccupyCapitalism protest at a Puyallup Walmart.) While your spouse plies her with appetizers, you hide all the Apple charger cords from view. But before long, the earnest progressive buttonholes septuagenarian Aunt Judy in an angry screed about "Faux News' biased coverage of GruberGate."
"The debate over Obamacare thoroughly addressed the aspects of the policy that the MIT economist claims lawmakers were hiding," she shouts into Judy's bad ear. "The Congressional Budget Office did score the individual mandate as a mechanism to increase revenue, and President Obama was open about…"
At this point, interrupt with family photos. "Did you know we still have pictures of you as a kid? Let's go to the other room — I bet we can find that photo of Aunt Judy nursing you back to health when you had chicken pox." As you leave, Aunt Judy turns her hearing aid back on so she can enjoy the third quarter.
Claim: Obamacare has successfully lowered the uninsured rate.
Good news! You've successfully refocused your niece and the other guests on funny stories, family memories and plans for the next year. But as everyone sits down to the Thanksgiving feast, Grandpa complains about the troubles he's had scheduling that hip surgery.
Your ThinkProgress niece seizes the opportunity. "Just imagine how bad it would be if you were poor, a person of color, or a woman!" she says. "Did you know that many oppressed communities with preexisting conditions were able to attain coverage for the first time when ACA marketplaces opened? According to data compiled by Commonwealth Fund…"
Now is the time to gently remind her that before she shares research about Medicaid expansion's effect on the low-income transgendered, the family needs to say grace and load up their plates. If she still doesn't get the hint, encourage every guest, one by one, to say what they are most thankful for this year.
Claim: Businesses are not cutting back on workers' hours or coverage because of Obamacare.
Wisely, you made sure your progressive niece is one of the last to share her Thanksgiving story. Everyone talking about close calls avoided, unexpected little miracles and new job opportunities will surely help her focus on the deeper meanings of family and the holidays. Not so fast.
"The fact that Ben and Jennie got new jobs proves that Obamacare is not creating a 'part-time economy' like teatard wingnuts keep claiming!" Your brother-in-law tries to stop her as she hands out white papers from the Urban Institute and the Robert Johnson Wood Foundation.
Since none of your gentle rebukes have worked, it's time to level with your ThinkProgress blogger niece. "Honey, everyone at this table loves you very much. But today isn't about arguing. Thanksgiving is about counting our blessings and sharing just one day with family from around the country. All of us have different views on politics, religion, football and everything else. But today is about setting all that aside and remembering what we have in common: Family. Now, who wants seconds?"
A version of this article was first posted last Thanksgiving.