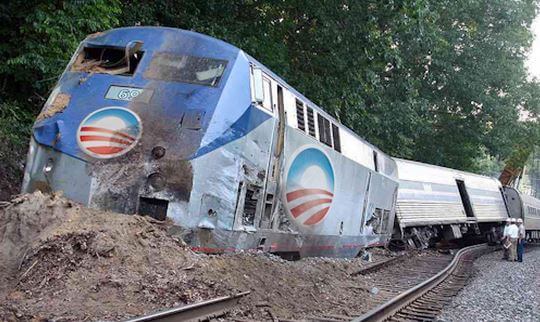 In times of trouble and crisis, one can find solace and stability in first principles. Example: "The Affordable Care Act is working just fine. No need to worry — ever."
So when I read news that, on first take, would seem to possibly suggest — maybe, I dunno — Obamacare is not working just fine and one should worry … well, back to first principles.
This from Wall Street Journal reporters Anna Wilde Mathews and Stephanie Armour:
The biggest U.S. health insurer said it has suffered major losses on policies sold on the Affordable Care Act's exchanges and will consider withdrawing from them, adding to worries about the future of the marketplaces at the heart of the Obama administration's signature health law. The disclosure by UnitedHealth Group Inc., which had just last month sounded optimistic notes about the segment's prospects, is the latest sign that many insurers are finding the new business unprofitable, despite an influx of customers that has helped swell revenues.

UnitedHealth's announcement comes as other insurers have been sounding alarms about their exchange business, though the big insurer went considerably further than its peers in raising concerns about future viability. Aetna Inc. recently said it expects to lose money on its exchange business this year, but it hopes to improve the result in 2016. Humana Inc. and Cigna Corp. also flagged challenges. Even Anthem Inc., which said its exchange business is profitable, was downbeat in its third-quarter earnings call, warning that enrollment is less than expected.

"All the other big insurers are signaling the same problems," said Ana Gupte, an analyst with Leerink Partners LLC. The major exception is companies that focus closely on the Medicaid population, such as Molina Healthcare Inc., she said. These companies have lower-cost networks of health-care providers and also draw many low-income consumers whose coverage is largely subsidized.

A Goldman Sachs Group Inc. analysis of state filings for 30 not-for-profit Blue Cross and Blue Shield insurers found that their overall companywide results were "barely break-even" for the first half of 2015. Goldman analysts projected the group would post an aggregate loss for the full year—the first since the late 1980s. The analysis said the health-law exchanges appeared to be a "key driver" for the faltering corporate results.
Hmm. Costs are higher than expected. Premiums are getting pricier. Consumer choices more limited. Fewer people than expected are signing up with the exchanges. Where might this lead? Again, the WSJ:
Analysts say the danger is that higher rates might discourage enrollment, particularly by the younger, healthier consumers that the marketplaces need to draw in. That is because they are the ones most likely to feel they can go without insurance. Their absence would have the effect of driving premiums even higher in the future, because insurers would need more rate increases to cover the costs of a smaller, sicker pool of enrollees. At its worst, this cycle can feed on itself, creating what the industry calls a "death spiral."

Already, "the risk pool is clearly skewed toward sick people," said Chris Rigg, an analyst with Susquehanna Financial Group. He and other analysts said that a fundamental problem was a shortfall in enrollment, and to make the marketplaces work better, policy makers would need to take steps such as making it harder for consumers to sign up for coverage outside the annual open-enrollment window.
It is only because of first principles that I can outright dismiss the "death spiral" scenario outlined above. Just as returning to first principles allows me to dismiss this conclusion from my AEI colleague Scott Gottlieb:
Meanwhile, it's the Medicaid managed care companies that are growing the number of plans they market on the exchanges. They are also offering the best prices. The plans they sell on the Obamacare exchanges mirror their usual Medicaid fare – both in terms of the doctor networks, the drug formularies, as well as the basic design of the health coverage. In short order, Obamacare is evolving into a Medicaid marketplace. Not only in terms of the design and quality of the narrow-network plans that are being offered, but in the actual carriers that sell those policies. …

These Medicaid carriers are also offering some of the best pricing on the exchanges. Molina's pricing for its Obamacare plans will decline 5% from last year. Cenete cut the price on its "Gold" product by 2%. Unlike the commercial carriers, the Medicaid HMOs have said that they plan to grow their Obamacare footprints. The end result should be a continued erosion toward these Medicaid managed care companies as more of the action, and enrollment, shifts into their orbit.

It's proof anew that Obamacare was always destined to erode into a Medicaid-like benefit. Critics, including myself, have argued this for years. What couldn't be predicted was how quickly it would be the Medicaid-only plans that serviced it.
And finally, Robert Laszewski:
When are Obamacare apologists going to stop spinning the insurance exchange enrollment as some big victory that is running smoothly? Yes, Obamacare has brought the number of those uninsured down — because of the Medicaid expansion in those states that have taken it and because the poorest people eligible for the biggest exchange subsidies and lowest deductibles have found the program attractive. But that Obamacare has been a huge failure among the working class and middle-class — not to mention those who make too much for subsidies and have to pay the full cost for their expensive plans–has once again been confirmed.
Also two interesting columns by Laszewski, one on what reform should look like, the other on the politics.