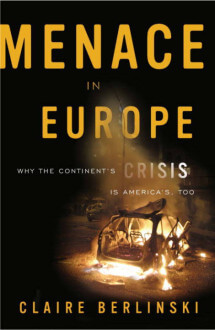 And in doing so, I'll also answer Robert Lux. But I'd like to ask all of Ricochet if we — all of us, me included, and me especially — have this conversation in a way of which Ricochet can be proud. These are deeply emotional issues. They should be.
I feel quite strongly about the future of liberal democracy in the West and Islamic terrorism. I've written books about the issue, some parts of which might surprise those of you who've pegged me as the resident all-heart-no-survival-instinct editor of Ricochet. (Critics roundly denounced that book when it was published ten years ago as the midnight eructations of a ravening Islamophobe. They probably hadn't read it carefully. But no one is criticizing it now — except, perhaps, for me.)
I couldn't be closer to these questions, literally. Had my father not been in the hospital this past week; had he or I or my brother instead gone out for dinner or a drink at one of the places that was attacked, we might now be DNA samples on the pavement over which lachrymose Parisians are lighting candles and singing choked-up versions of the Marseillaise. Everyone I know in Paris has been affected.
And no one in his or her right mind thinks it's over, yet. A few days ago I sent an e-mail to Michael Totten sketching out what I figured would happen next. He ran with the idea in this column, and needless to say, I agree:
… ISIS doesn't need to destroy the French Republic or any other state to inflict an extraordinary amount of damage. Just look at what one guy— Seifeddine Rezgui—did in Tunisia five months ago.

He casually strolled up to a bunch of British tourists on the beach and murdered 38 of them with a Kalashnikov.

The police shot and killed him, of course, and dozens of local Tunisians tried to stop him and even volunteered as human shields, but the damage was already done. Tunisia's tourist economy went the way of the dinosaurs.

… imagine if ISIS decides to attack France that way in the future. Rather than targeting five or six civilian targets simultaneously, they could hit a new one every day for a week. Or a new one every week for a month.

That would cause some serious economic mayhem in France or anywhere else. ISIS might do to France what it did to Tunisia. I certainly don't intend to give them any ideas by mentioning this in public, but figuring it out on their own is no more difficult than reinventing the wheel.
My gut says the logic of this — and thus the odds of this scenario — are high enough that it's reasonable to be concerned by it. That said, I can't know for sure, and can't adjust my life according to fears with no quantifiable basis, and won't adjust my life to terrorists, and besides, my mind these days is on the much more specific fear that my father's cardiac monitor will stop pulsing in front of my eyes. That puts all other fears in perspective.
But my point is that I'm emotional, for reasons I hope everyone will understand. These issues are very personal. They're personal to all of us, each for our own reasons. It's not just that I live here, but that I'm the granddaughter of Jewish refugees from Europe. The fact that I'm alive at all is a statistical fluke. The boats full of desperate refugees sinking in the sea remind me of the S.S. St. Louis, the MV Struma, of Operation Embarrass. Of course these are family memories that shape my views. My grandparents only barely escaped. My grandmother was bitter about this until she died: My grandfather had fought in the French Foreign Legion, but even that wasn't good enough for France; when the war was over, the word went out: Enough with the Jewish refugees.
Then too, my perspective is colored by the decade I spent in Turkey. It is impossible to say to someone who lived as long as I did in the Islamic world that Islam is a singular thing. I have too many Muslim friends to think that, but even if I didn't, I hope I'd have worked that out just on the basis of common sense. But that's not my key point. The key point is the other thing I saw in Turkey, the thing that marked me most permanently. I saw the rise of an authoritarian regime — a real one — and how such regimes take power, step-by-step.
Turkey was of course never a liberal paradise. But I lived through a long, twilight period where the lights grew dimmer and dimmer, even as the rest of the world insisted they were blazing strongly. This didn't happen because Turkey is a Muslim country (and in fact, it is not, technically; it is a secular country with a majority Muslim population). It happened because the safeguards against the authoritarian temptation weren't strong enough.
I've come to believe that absent those safeguards, it's not — as I and many others' hopefully thought in the wake of the fall of the Berlin Wall — mankind's natural disposition to move forward into broad, sunlit uplands of liberal democracy. I no longer believe there's a natural trajectory of history at all. But certain forms of government seem to become popular at various periods of history. The form of government for which the early 21st century will be noted by historians is not liberal democracy, but competitive authoritarianism, Viktor-Orban style.
I'm emotional about all of these things. But let me continue the plea with which I began. Let's discuss this — all of this — with all the patience, respect, calm, warmth, and dignity we can muster. Let's assume our interlocutors' good will as a matter of conversational discipline, even if we have no reason to assume it epistemically. We are all here, presumably, because none of us really wish to truck with the vulgarity and invective of the typical argument on the Internet.
So let's make our cases as carefully and politely as possible, however strongly we feel, not least because what we feel is immaterial — feelings aren't arguments. Let's try, as well, to listen to what others are saying, not jump to conclusions or caricaturize the arguments of others. And while it is right to feel emotion about these subjects, let's attempt to make robust arguments in preference to blackmailing one another with our feelings: It is what civilized men and women do.
***
So, Robert, Viktor Orban seems compelling in that video, doesn't he? If it were all I knew of him, I might nod and say, "I'll hear him out."
I did, in fact.
My response to him falls under three categories. The first treats the specifics of his speech. The second treats him, specifically, and his record in Hungary. The third treats the political philosophy he represents. I'll address them seriatum in the coming three posts.
Before I do, though, I thought it would be helpful for us all to have a transcript of his speech. I couldn't find one on the Internet, so I did it myself. Forgive me if I omitted a word; it's just a transcription error and not deliberate. Nor do I speak Hungarian, so any errors in translation are owed to the translation provided.
I've skipped the first minute and a half, in which he begins by offering his condolences to France.
At 1:33, Orban says,
Until now, we Hungarians were focused on closing the border from the flood from the Middle East and Africa. And so we got our punishment that this is not 'humane.' But here we have before us the question: What is more humane? To close the borders against the illegal border crossers, or to risk the lives of innocent European citizens? The right to life precedes all other rights. Just as the right to self-defense is stronger than anything else. No ideology or economic interest can allow us to put the lives Europeans citizens in danger. Howsoever, we can see that the EU is drifting. It is weak, unsure of itself, and paralyzed. There are conferences and negotiations unto exhaustion. But there are no solutions. We are writhing in a web of ideologies, instead of acting based on common sense and our own personal cultural traditions. The leaders of many European nations still, to this day, are wracking their brains about how to solve the transportation and acceptance of masses of immigrants, instead of finally taking united, practical steps to stop the flood.

In Brussels, they still claim that immigration is a good thing. Despite receiving proof day by day that immigration is a bad thing. This situation is not "win-win," but "lose-lose."

Esteemed House, we feel that Europe's existence is at stake. Brussels, however, keeps sending bad messages, newer invitations to migrants, instead of us finally and honorably sending them the straightforward message that here, what they expect is not at all what awaits them.

Esteemed House, we have repeatedly warned the leaders of the European Union to not invite these people into Europe. Everyone who has, through common sense, considered the likely consequences of unchecked mass immigration must clearly know what dangers lurk in the mass pouring in illegally and unchecked, across our borders.

The European and American security specialists, secret service and intelligence bosses, police leaders, have constantly warned Europe of the growing danger of terrorism. Every politician, all of Europe's leaders, knew of the danger. And the Greeks have said long ago, at the start of the summer, it can no way be ruled out that jihadists arrive along with the masses of migrants. Standing on the ground of common sense and viewing it from there, it was apparent that completely simply, masses must not be allowed inside unchecked. Hundreds of thousands of sorts of people, we know not where they come from, we don't know who they are, and we don't know what they want.

Furthermore, Esteemed House, these are territories where the EU is currently performing military campaigns. Such a thing has never happened before. We are accepting, no, transporting unchecked people in their hundreds of thousands from areas that are at war with the European Union. It has been proven that terrorists are knowingly and in a well-organized way are using mass immigration to melt into the mass of people abandoning their homes in hope of a better life. We don't think that everyone who comes from there is a terrorist. But we don't know, and no one is able to say, how many terrorists have arrived with the migrants so far. How many are already here. And how many are arriving day by day. Even one terrorist is too many. It hurts to even think about how many terrorists may have crossed our homeland. It's time to put an end to this all throughout Europe.

My esteemed representatives, it is clear to every normally-thinking person that Europe cannot sustain this many people. We all know that the European economy cannot tackle such massive pressure. But beyond the financial and economic realities, mass migration possesses three severe dangers, each of which alone are sufficient to clinch the human tide.

First of all, on Friday night, we could experience that mass migration means an exponentially increased threat of terrorism. Moreover, today we aren't referring to the threat of terror anymore, but a fact. Real terrorism.

Secondly, mass immigration increases the danger of crime. It's not "PC," politically correct to talk about this. Moreover, the Western world openly denies these facts. But despite that, it's still a fact. In Europe, where there are many immigrants, there crime has greatly increased, and security has decreased. There are more thefts, robberies, harassment, severe physical assaults, rape, and homicide. Even if we do not talk about it, these will remain facts.

And thirdly, the mass settlement of people arriving from other continents and cultures represents a danger to our culture, our way of life, habits, and traditions.

Now even those, who lived under the failed conception of multiculturalism, and who even wanted to force that mistaken conception on us, they can see where all this leads.

Esteemed President, my esteemed representatives, esteemed House. In the light of these events, we must speak about the obligatory quota question, too. We are still there, where someone from outside Hungary, they want to tell us whom we, Hungarians, need to live with. This is what this quota is about. I recommend to this esteemed house to still not accept this. Let's keep sticking to deciding for ourselves whom we want to let in, whom we want to live with. The obligatory quota system is, completely, simply, not Europe. It stands in sharp contrast to the spirit of Europe. It is pointless, because it does not fix the crisis, but deepens it. It can be easily seen that the obligatory settlement quota does not keep migrants away, but rather acts as an invitation. It does not lessen the pressure, but increases it. And due to the suddenly increased pressure, the European nations will restore their internal EU borders. If this continues, it is only a matter of time. This will mean the end of the Schengen system and freedom of movement.

The obligatory quota, my esteemed representatives, is also unlawful, since the EU leaders don't have the authority to make such a decision in this question. They have no authority to force a single member nation such a measure concerning refugees and migrants that the given nation does not want. In the light of the terror attacks, Brussels can especially no longer deny that member nations have the right to defend themselves.

Namely, the obligatory settlement quota is dangerous because it would disseminate terrorism throughout Europe. Facts and tragic events point out that we need a new kind of European politics. It is not enough to pat and patch and fix up the old. I recommend that we cast aside the dogmas, forget political correctness, let's speak straightforward and open. I recommend that we return from the world of ideologies back to common sense, and to rethink European politics on the basis of four self-evident commandments. First of all, we must protect the external borders of the European Union. Because security begins with protection of borders. Second, we must protect our culture, because the essence of Europe lies in its spiritual and cultural identity. Third, we must protect our economic interests, because we Europeans must remain central to the world economy. And fourth, we must give people the right to be able to influence European decisions, because the Union must stand on democratic ground. Esteemed representatives, the European citizens did not want hundreds of thousands of unknown aliens to illegally and in an uncontrolled manner cross our borders and trample our countries. This sort of power was never given authority or permission by anyone, anywhere. People want to live in safety, and they want to enjoy the advantages of the EU. And for us parliamentary representatives, and to governments across Europe, our job is to hear the voice of the people. Thank you for your gracious attention.
That's all for now. In other news from Paris, police assaults are underway in Saint-Denis; a woman there has blown herself up; Abaaoud and several other suspects are believed to be holed up in an apartment building there, helicopters are flying over the building and police have cordoned off the area, and it seems there are a few more suspects still at large.
Update: two people are dead, as is a police dog.