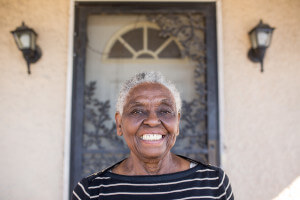 How much power does your local government have over you? Can it tell you that your drapes have to match or force you to put screens on your windows? Can it tell you how many people you may have at a barbeque or where on your property your grill can be? Can it make you take down a basketball hoop in your driveway?
Pagedale, MO, a small city outside of St. Louis, thinks that it can do all these things. As a result, the residents of the town spend time and money struggling to meet the demands of the code enforcement efforts of the city.
Why does the city put its residents through this? The answer is money — the city relies heavily on fines and fees to keep the town afloat. In 2013, Pagedale's total revenue was $2,016,430. Of this amount, $356,601, or 17.68 percent, in revenue came from fines and fees — the second-largest source of income for the city. Pagedale has a little over 3,000 residents, but for fiscal year 2014-15, it budgeted to receive $353,000 in fines and fees.
As a result, the city's municipal court has become a highly efficient machine to wring money from defendants. In 2013, the Pagedale Municipal Court heard 5,781 cases, or an average of 241 cases for each twice-monthly evening session.
Pagedale does not just issue traffic tickets, however, and that is where the city's expansive view of its power to regulate the private homes of its residents comes into play. Missouri limits how much revenue a municipality may derive from traffic tickets, so Pagedale aggressively tickets its residents for harmless conditions and activities around their homes — things like not having drapes, having holes in their screen doors, or having a crack in their driveway. Since 2010, Pagedale has increased the number of non-traffic tickets it has levied against its residents by 495 percent. In all, in 2014, the city issued 2,255 non-traffic-related tickets, or roughly two per household.
These statistics do not convey the harm the city causes. Pagedale residents find themselves being fined for not having met the city's unrealistic standards but cannot fix their homes because they are paying off their fines. As such, they sink deeper and deeper into debt in order to pay an ever-hungry city bureaucracy.
Pagedale's reliance on revenue creates an incentive to ticket, convict, and fine the residents of the town. This violates the Due Process Clause of the US Constitution, which prohibits the government from having a financial interest in the outcome of an enforcement proceeding. That is why a number of residents represented by the Institute for Justice have filed a class-action lawsuit in federal court against Pagedale.
But perhaps more importantly, the city's actions here raise an even more basic question: What are the limits on government power in this country? If the government can reach into someone's private home and tell them what color their blinds have to be or whether they should have drapes on their basement windows, then people are not really free. If what we can do in our own homes is only that which the government lets us do, then very few limits on government power really exist.