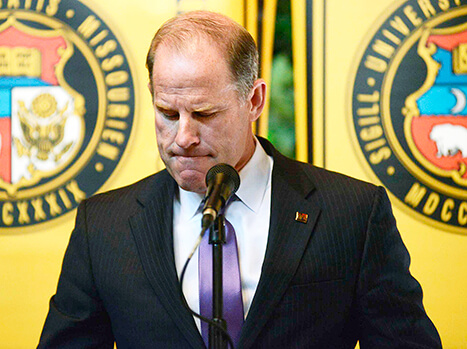 The President of the University of Missouri resigned in a dramatic, televised speech this morning. He must have done something really bad, right? If you're like many people out there, you may be reading the news articles trying to figure out exactly what the bad thing was.
We are told there is a racial controversy at the university. Did the president get caught using the "N" word? Did he fire someone due to her skin color? Was he outed as a grand wizard of the Ku Klux Klan?
Answer: None of the above. Mizzou's ousted president, Tim Wolfe, seems to have been forced out of his half-million dollar per year job — not for what he did, but rather for what he didn't do.
The students who drove him out have been complaining that Wolfe did not respond forcibly enough in the wake of certain racist incidents on campus. The most scandalous of these several incidents involves the student body president, who is black. He says that several months ago someone drove by and insulted him with a racial slur. I also read that someone made a swastika out of feces in a campus bathroom. Black students who organized protests in recent days say they feel "marginalized" on campus.
But what did Tim Wolfe have to do with any of this?
Let me tell you a little story: Some years ago, a professor at Claremont McKenna college in Southern California who identified as Jewish (although she hadn't officially converted) reported that someone had vandalized her car with a bunch of anti-semitic slurs, swastikas, and the like. Students, understandably, were alarmed, scared, and galvanized. There was a huge campus protest — a great show of solidarity — where students gathered by the hundreds, holding hands on the campus quad, and "intolerance" was condemned.
About a week later, this lady was proved to be a fraud. She had faked the hate crime and vandalized her own car. But the worst part of the story was that was revealed that college administrators already knew she was under investigation for lying to police about the incident. In other words, they already knew that, in all likelihood, she had faked her own hate crime. Yet those administrators went along with the anti-intolerance rally, helping to organize it and standing by silently while throngs of tearful students unknowingly battled the fake racism in their midst. Those administrators were happy to set up a theater of white guilt.
And that, my friends, is what Tim Wolfe, apparently was not willing or shrewd enough to do. He apparently didn't take seriously the idea that the University of Missouri was plagued with institutional racism. He didn't realize that one or two anecdotes might be enough to cost him his job if he did not act out his part in the play.
When it comes to race relations, what's important on most American campuses today is not the facts, but rather the narrative of the social justice struggle. If you are perceived as not taking racism seriously enough, it's off with your head. That's why at a big football school like Missouri, where this weekend's game is worth $1 million in revenue to the school, 30 black players could be convinced to go on strike unless Wolfe stepped down — despite the fact that Wolfe, to the best of our knowledge, has never said or done anything that could be construed as racist.
Wolfe did not realize that his job, as president of a prominent university, requires him to participate in the drama of racial grievance that saturates our college campuses — despite the fact that they are, typically, far more insulated from racism than the real world.
If someone called the student body president by the "N" word earlier this fall, that's a bad thing. But that really isn't what the protests (and, yes, even hunger strikes) at Missouri were all about. Wolfe released a few public statements, condemning racism and intolerance. But what he didn't do was show his belief that the University of Missouri was in the midst of a racism crisis.
Perhaps now he wishes he had organized a rally or two. Never mind that the very existence of a black student body president would seem to disprove the idea that the University of Missouri is inhospitable to people of color.
We live in a day in which Harvard requires its staff to refer to an individual transgender student by the plural pronoun "they" if the student says that's how he wants it. And we live in a day in which a university president can lose his job if he does not agree that a couple of racist incidents aimed at apparently unconnected individuals call for a public display of outrage and the acknowledgement of an institutional crisis.
I once heard the civil rights leader Shelby Steele say something that's always stuck with me. "Racism will always exist," he said. And wherever it does exist, it is worthy of our unqualified condemnation.
But what we have witnessed today in Missouri has nothing much to do with racism, at least as it concerns Mr. Wolfe. It has everything to do with his unwillingness to play the leading role in the great theater of white guilt, where our universities are the main stage.