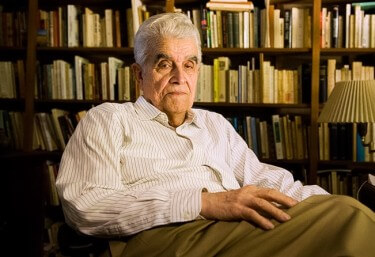 Until his death in yesterday's early hours, René Girard lived across the street from us, and becoming his friend — we used to get together for lunch or coffee — represented one of the signal joys of my life. Born in Avignon on Christmas Day 1923, René studied medieval history in Chartres while modern history, in the form of the German occupation, took place all around him. (Visiting Paris once during those years, he was once stopped by a gendarme, who asked him to produce his papers. When René displayed his passport, the policeman recognized it as a forgery at once. René thought the policeman would arrest him. Instead, he gestured to the other end of the street, where German soldiers stood peering at them, returned the passport, and told René to go back the way he came. " Instead of putting me in jail," René explained, "that man saved my life.")
Traveling to the United States to pursue an academic career — René taught at Indiana University (where he met his wife, Martha, who survives him) and at half a dozen other institutions before settling at Stanford — René began to study myths, anthropology, and theology. In the course of a long career, he produced some thirty erudite, profound volumes. Much of his thought is complex; I've found myself pausing to consider a single paragraph or passage for minutes at a time. Yet, perhaps his best-known insight — certainly the one that has meant the most to me — is quite simple and turns one of the most famous works of comparative religion ever published, Frazer's The Golden Bough, upside down.
In his massive study, Frazer noticed a recurring pattern, common to myths and religions throughout the ancient world: the pattern of the scapegoat; that is, the sacrifice of a sacred leader or king. In the Oedipus myth, for example, order returns to Thebes only after Oedipus has gouged out his own eyes and is driven into exile. Seeing the same pattern in the gospels — Jesus is crucified on a cross bearing the placard "king of the Jews" — Frazer concluded that Christianity represented merely one more ancient myth above which modern man could rise, abandoning "magic," as Frazer often called religion, for science.
René Girard's contribution? To notice a feature that neither Frazer nor his followers had grasped: that, whereas the scapegoats sacrificed in the ancient myths were understood to be guilty — Oedipus really did murder his father and marry his mother — the scapegoat sacrificed in the Christian account is understood to be completely innocent. In condemning Jesus to death, Pontius Pilate, conscious of Christ's innocence, publicly washes his hands, attempting to cleanse himself of what he has done; even the centurion in charge of the execution proclaims of Jesus, "Truly, this was the son of God." Christianity, René asserted, represents not another mere myth within a vast, ancient tradition, but a new and astonishing break with, or rupture from, that tradition. Why did the gospel account prove so singular? For one reason, René came to believe: it was true.
Here's René describing this central insight during my Uncommon Knowledge interview with him six years ago:
France never produced a more thorough Frenchman; when he was elected to the Académie française ten years ago, René took immense pleasure in the green velvet uniform, designed by Napoleon himself, in which he was inducted, and reveled in the notion that he would now become, to use the very French title, "un immortel." The United States, however, never gained a more patriotic immigrant. No matter how often I complained about slipping standards or political bias in American universities, René would defend them, insisting that the modern university represented an immense — and distinctly American — achievement. And the Church never won over a more faithful son. René once had to cancel a lecture because Pope John Paul II, visiting this country, had asked to meet one of his favorite thinkers. And each Sunday, René and Martha would attend the noon mass at St. Thomas Aquinas in Palo Alto, the only mass in Northern California during which a choir sang Gregorian plainsong.
Soon now, that choir will sing René to his rest. And Augustine, and Aquinas, and John Paul II will welcome him to the academy in which every member is truly immortal.
René Noël Théophile Girard, requiescant in pace.