For the first time since July 18, Donald Trump is not the GOP frontrunner. To create their polling average, Real Clear Politics uses the four most recent major national polls and maps the trend over time. As of today, Dr. Ben Carson leads the pack with Trump a very close second.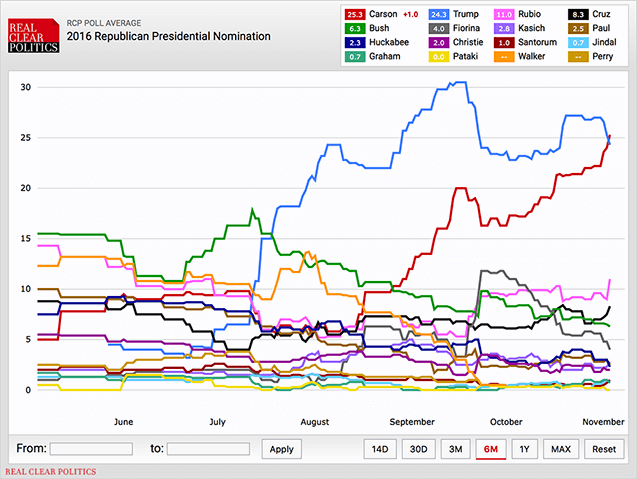 The other sharp post-debate jump belongs to Sen. Marco Rubio, but there is a massive gap between his 11 percent and the two outsiders' 24.3 percent and 25.3 percent. Well, at least the GOP's Trump Fever finally broke and pundits can go back to the boring day-to-day horserace coverage they had planned on before The Donald infected the body politic. Eh, not so fast.
Combine the scores of the outsider candidates (Carson, Trump, and Fiorina) and then combine the scores of the rest of the field. This exercise has the outsiders leading the conventional politicians, 53.6 percent to 37.6 percent. You need to combine Rubio, Cruz and Bush's numbers just to match Dr. Carson's. Yes, Trump has fallen, but he's down a single point — the brash New Yorker can convincingly shrug this off as "loser" pollsters and statistical "blah blah," at least for the time being.
Of course, the real fights are state to state, with the first votes being cast in three months. In Iowa, Carson leads Trump by 3.5 percent and in New Hampshire, Trump leads Carson by 14 percent. If the professional politicians want to catch up to the outsiders, they're going to have a very busy 90 days.