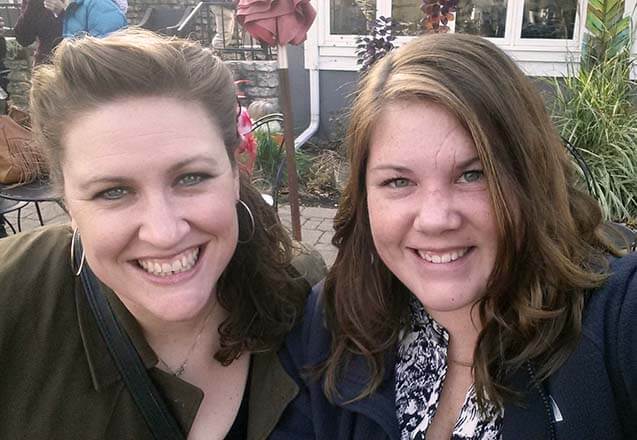 In late August, 26-year-old Melissa Schuster was in the driveway of her childhood home in the Chicago suburb of Willowbrook, IL. While she was loading her car, another car with Indiana license plates drove down her street, backed into her driveway and drove away. Then, the car returned and the driver asked for money for gas to get back to Indiana. Melissa said sorry, but no. She went inside her house and locked the door. The man knocked the door, asked again for money, then forced his way inside.
Once inside, the man attacked Melissa. He viciously stabbed her over 17 times in her neck, head, and almost punctured her kidney and liver. He savagely beat her, leaving her with a fractured nose, broken bones in her cheeks and a massive injury to her orbital socket, which affected her sight. He also sexually assaulted her. After her attack ended, bloodied and naked, Melissa somehow gathered the strength run to a neighbor's house to have them call 911.
This horrific crime shocked the community, and the story was told on all of the local television station and in the newspapers. Sketches of the suspect were shown and 31-year-old Londale Madison was arrested in Indiana a few days later. Madison admitted what he did to Melissa and was extradited to Illinois, where he is currently on trial for his crimes.
After experiencing this unimaginable nightmare, Melissa amazed everyone with her strength and determination. Local TV station WGN had an article on their website entitled "Willowbrook victim has emotional, inspiring words just a week after horrific attack: 'It's only going to get better.'" In the story, Melissa is quoted as saying:
"I beat him. He wasn't going to hold me down and take my life from me or ruin it from me. I want him to see that. I can go back and live a normal life when he made that choice to hurt someone else now he has to pay the consequences for that."
Through my work at NRA News, I am friends with Melissa Schuster's sister, Mary Callison. Mary works with the Illinois chapter of the group One Million Moms Against Gun Control, a name that is pretty self-explanatory. I am also friends with the group's founder and CEO, Heather Marchese. Last week, Heather tweeted this:
.@dloesch @johncardillo @Cameron_Gray #yesallwomen are #worthprotecting #GunSense [email protected] pic.twitter.com/muRxEjfjuB

— Heather Marchese (@Heather1mmagc) October 29, 2015
Wanting to assist in her efforts, I sent Heather a direct message through Twitter and asked if she and Mary wanted to come on NRA News to talk about her request. She said yes and "Cam and Company" host Cam Edwards interviewed them the next day. You can watch it here.
What happened next left Heather at a loss for words, which — she tells me — is hard to do. After Cam's interview, offers of support started flooding in. Firearms instructors offered their services. Self defense instructors offered their services. Manufacturers of products like pepper spray offering discount codes to use online.
Heather sent me some screen shots of the many messages she has been getting from all around the country: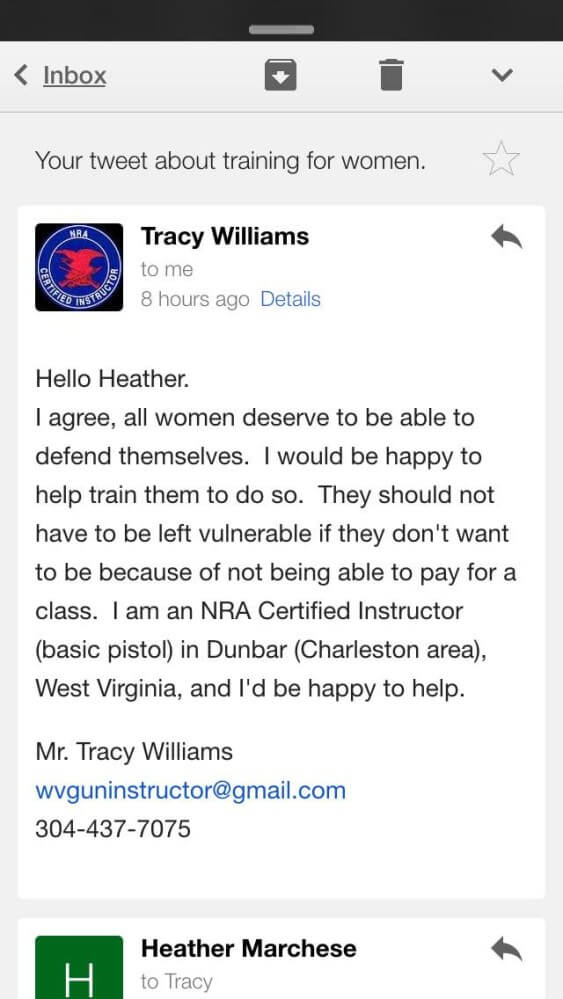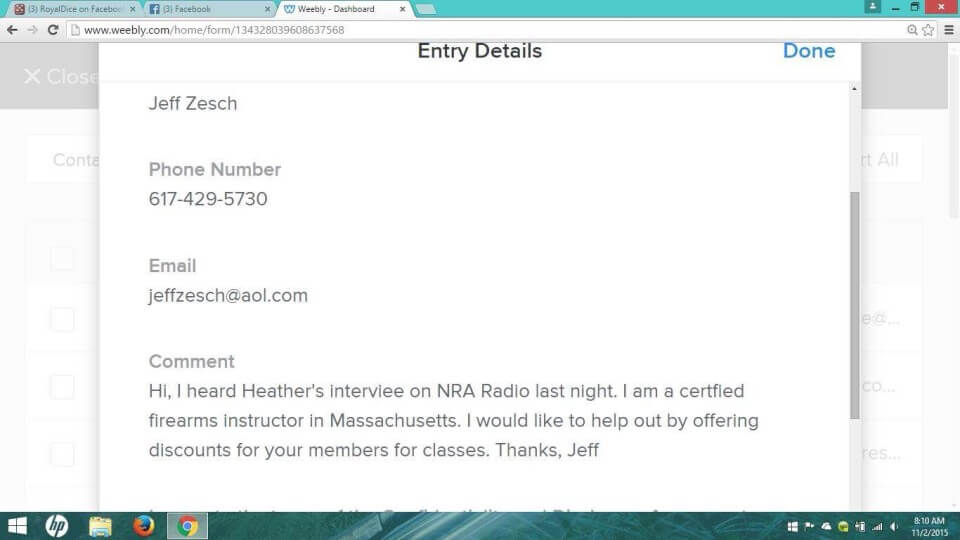 Dana Loesch offered to put them on her show for a follow up. John Cardillo offered his help. Even the New York Times best-selling author Brad Thor saw the tweet, and got in touch with some of his connections in Illinois, who then offered their help.
Heather and Mary are even having trouble keeping up with all of the offers, but have no complaints. I spoke them both by email. I asked Mary how her sister (who she calls Mimi) felt about guns for self-protection before her brutal attack. She said:
Before this happened, I had several conversations with Mimi and the rest of my family about self defense. Mimi was the most paranoid that this would happen, which was scarily premonition-like. We had talked literally two weeks prior to her attack about getting her into a concealed carry course. She was worried about the cost. It was always "I'll get to it later." I wish I had just lent her the money for classes and a firearm. Now, some incredibly generous trainers will take care of that for her.
Mary added, "If women could see what she looked like in the ER, they would be clamoring for a gun. I'm so incredibly close with my family, and she was completely unrecognizable. It was heartbreaking."
In her email to me, Heather said:
After Mimi was attacked, we knew we needed to do something more than hashtag activism to really make a difference. But with limited funds and time, we weren't sure what could be done. We talked about what barriers there were in regards to women being able to protect themselves. It all came down to cost. Anyone can get a gun, but no one wants to blindly operate a firearm. Women want to be trained before making a big decision like that. Add the cost of firearm safety courses and licenses to the cost of the firearm itself, and you can easily reach upwards of $800. Most Americans live on a budget, and most budgets don't leave room for such an expense, so putting it off is just easier. Our goal isn't putting a gun in every hand, our goal is to prevent as many people from having to endure a senseless violent attack as possible, by empowering them with the tools and education they need to defend themselves.
Heather added, "Mimi barely made it through her ordeal alive. It ends here and now, with us."
I am an eternal pessimist, glass half-empty kind of guy, so I really appreciate stories about the kindness and goodness of others. It is truly wonderful that out of such a horrific experience, and a single tweet, comes hope and help. Through the generosity of complete strangers, women who were not able to before, will be able to learn self-defense. All of this works to achieve Heather's goal of ending it "here and now."
If you want to help, email Heather Marchese at [email protected] or visit gofundme.com/1mmagc-empowers.