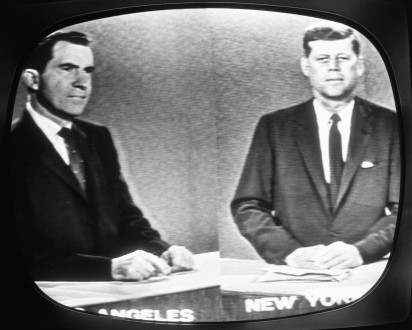 On the "Why Aren't the Debates Debates?" thread, I posted a comment with a link to the first Nixon/Kennedy debate in 1960. Here are links to all four debates. I used what I could get: Only two have video, and one of the videos has Italian subtitles. If you have the four hours, listen to them, and consider that this was a serious time, and that both of these candidates spoke at length, in depth, about issues ranging from foreign policy, economics, agriculture, energy, civil rights, defense strategy, and numerous other topics, without notes and without repeating briefing-book talking points. The correspondents who questioned them asked substantive questions about serious policy points, and the candidates responded in kind.
Update: Thanks to ctlaw in comment #6, here are links to C-SPAN.org videos of the four debates. These videos cannot be embedded here, but are clean kinescopes of the original broadcasts. Click the links to play the videos. (2015-11-01 20:12 UTC)
Debate 1:
Debate 2:
Debate 3 (audio only):
Debate 4 (audio only):
What I take away from these debates is that these were serious statesmen worthy to lead a superpower. They had mastered the issues they would have to face if elected. They fundamentally respected one another. The reporters who questioned them understood the stakes involved and how important it was to make the right decisions. It is simply unimaginable that any correspondent would have asked these men about resembling a cartoon villain or fantasy football. Note both candidates' summoning of detail from memory: budget figures, specific votes over the past eight years, etc. Can any candidate do that now? Would any media figure ask them questions which required them to do so?
I have increasingly come to view the US as an unserious country. By this I do not denigrate the size of its economy or military power, but ask whether its leadership and the means by which those leaders are selected is worthy of its position on the world stage. Watch or listen to these debates. I would have no hesitation pulling the lever for either Nixon or Kennedy for that job. When you put them up against the current contenders for the presidency, at least as seen through the filter of the media and the present "debates," they come across as towering figures.