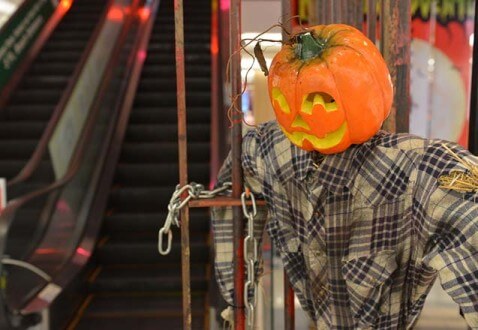 This seems like a new trend, or am I just woefully behind? A friend of mine signed off a text this afternoon by telling me he was heading to the mall with his kids to Trick or Treat.
The mall? The shopping mall?
Apparently, it's a thing: here, and here, and here. And probably other places, too — I just listed the first three results when I Googled "trick or treat at the mall."
The keyword here, from my investigation, is safety. Which just seems so lame to me. I know, I know, Halloween is dangerous and dark and kids get hit by cars. But surely there are better solutions than wandering around a mall, going up to the Cinnabon or the Bodyshop or Limited Express asking for candy.
Why bother to do it at all, if it's so perilous that the only option is to do it at Nordstrom Rack?
Another sign of a country in decline. I don't care if Trump makes America great again. Just make us a little less obsessed with safety. "Fewer Stupid Freak Outs" is a winning campaign slogan, to me, anyway.