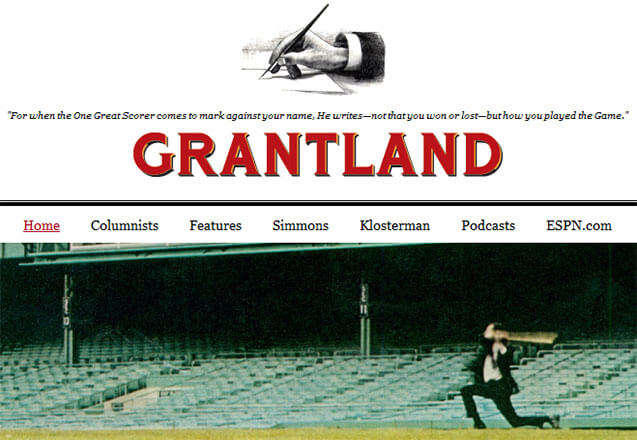 "Sports serves society by providing vivid examples of excellence." — George F. Will
Earlier today, ESPN announced that it is shuttering its sports commentary website, Grantland. Dear friends, I am heartbroken. I will miss the well-written, offbeat sports journalism, but I will get over that. Somehow, someway, the internet will provide me with something else to read in the bathroom. The handful of Grantland contributors whose work I followed religiously will no doubt resurface elsewhere. The sun will rise; the world will turn. But my heart breaks, nonetheless, because I cherished the idea of Grantland.
Sports has been America's great passion since before the invention of the radio. From the beginning, men like Damon Runyon, Ring Lardner, and Grantland Rice told the story of sports in print, describing in often beautiful prose an elegant dance of personality and athleticism for readers with the imagination and attention span to follow sports the way you or I might read a novel. Few fans in those days would ever see a game in person, but they lived and died with their teams through the literary prism of a well-written story.
Even after it was possible to hear the game on the radio or even to see it live on television, sportswriting was the primary way Americans interacted with the teams they loved. But that all changed in 1979. That was the year ESPN began parsing the slowly unfolding drama of a good game into brief bursts of disconnected highlights and passing it off as journalism. Slowly over time, America stopped viewing sports through a literary lens and started seeing it as merely punctuated, fragmented fact. It became crude, individuated, and selfish, where once it had been elegant, almost spiritual.
Grantland founder Bill Simmons believed that even in the modern world of SportsCenter highlights and commodified, brand-aware athletes, there was an audience for sports as it used to be. With the backing of ESPN — the very entity that had done so much to destroy the art form he was trying to preserve — Simmons created a site built around long-form sports commentary. Simmons own rambling take on sports, often very personal and occasionally quite strange and esoteric, served as the template for other writers to build a voice, to tell a story, in the way that Runyon, Lardner, and Rice once told stories.
In May of this year, Simmons was abruptly removed from his editorial duties by ESPN. ESPN insisted Grantland would continue without Simmons, but Grantland has been adrift since his departure and the site has suffered for it. Whether Grantland was a financial success under Simmons or just a vanity project financed by ESPN to buoy its journalistic credibility is unclear. But with its demise and the continued deterioration of Sports Illustrated, sports has lost its last strong link to its literary past.
---
If there is a distinctly human struggle, a cross each of us bears simply by virtue of being born a choicer cut of wild beast, it is the call to reconcile our dark, visceral selves with the better angels of our nature. We are animals, brutal and passionate. We are spirits, rational, and sublime. And the great challenge of our every day is to live out both these selves completely, not in tension with one another, but as a blended unity, a full expression of complex and wonderful human nature.
It is easy to live as one and not the other. It takes nothing to embrace that savage, chthonic self and live as though there is nothing higher in man than his basest impulses. But it is also easy to wall oneself off from the vulgar world and dwell in the cold fluorescence of mere idea, divorced from corrupting, invigorating passion. To live bravely, to be human, is to be not one or the other, but both.
Society is our common tool in the private struggle to remain human. When we begin to lose ourselves, we look to one another for guidance. We gather around the fire at the end of the day and swap stories to recalibrate our souls, to learn from each other how not to forget who we are. It is the wry irony of living, the radicated strangeness that defines the human family, that we require help to be nothing more than who we are. But such is life, our beautiful paradox.
Sports begins in our animal selves. It is an expression of our corporeal nature, an act of human physicality. Sports does not exist without strength and speed, sweat and muscle, born of that lesser, brutal, passionate humanity that isn't always the prettiest side of man, but is an essential side of him, nonetheless. But sports is more than a brutish emanation of the beast within. If it were just man, the creature, who was responsible for sport, it would be indistinguishable from violence. There would be no difference between the boxer in the ring and the brawler in the street, between the runner stealing a base and the criminal stealing a car.
But sports, like the man who plays them, is both animal and spirit. To play is to compete, to harness the will and channel it. The athlete is servant of a discipline, but master of himself. He prepares; he strategizes. He studies and learns and hopes and plans. In team sports, he coordinates with his fellow players in a dance every bit as graceful and intricate as any seen on stage. The athlete plays with honor, wins, and is elevated in glory; he loses, but draws on the deep well of human spirit and resolves to fight again.
Like in every other facet of life, sports is its most human and so its most beautiful when both its visceral and ephemeral elements are fully present and deeply felt. But sports is no different than any other aspect of the great human paradox. Sports can bridge the divide between devil and angel in the human heart, but only when sports is experienced in the shared vernacular of our common human nature.
Sports must be a story around the fire, a touchstone for our humanity, if it is to be more than just crude, fragmented exertions or cold, soulless stats. But a story requires a story teller. And a story teller requires a fire. Today ESPN put out our warmest, brightest fire.