As I mentioned yesterday, two of my kids are already through college, but I'm employing a new strategy with my third. If your children plan to jump straight from high school into college without work experience, let me share the perspective of a parent who has been there, done that, and paid the bills. I don't want you to waste your money or your kids to waste their time.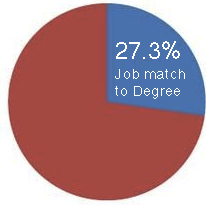 I surveyed some of my peers (50+ age) and only half of them were working in a job related to the degree they got. But back in the '70s, only a quarter of my cohort went to college, which means this smaller group would have been more careful in degree selection and more likely to get it right. It is worse now. A study by the New York Federal Reserve Bank found only 27 percent worked in a job even related to their degree. And, by the way, the study found almost no one with a History or Liberal Arts degree who actually work in their degreed fields.
A separate 2013 CareerBuilder study found 31 percent of all US degree holders have never had a job in their field of study a decade-plus after their degree. If we look only at recent graduates, 51 percent with degrees end up working at a job that doesn't even need a degree! So, of the other 49 percent of recent graduates who actually got a job where a degree is needed, how many are working in the field of their study? The survey did not say, but the trend infers about one out of five. So did the other four out of five choose the wrong degree?

It is easy to understand why this is so screwed up. You can't expect a high school senior to be able to determine what their career will be for the rest of their life. It is ridiculous to expect these children to figure this out, especially when most have never even held a job. Which brings me to my next advice: You should have job experience before college.
This does not necessarily mean post high school graduation jobs. If they have real summer jobs in high school, that counts. And boy does it help ground them in their decisions. A few high school summer jobs can forestall years of wasted college tuition. Every one of my children was forced to work in my company for at least one summer. That experience was formative for all of them.
The first one was clearly skilled and went into the same profession, getting a degree in architecture. The next one wasn't a good candidate for architecture, so — knowing his skills and interests (I am his father, you know) — I set him to work on the website. That completely firmed up his desire and real ability in programming; he now has a degree in computer information systems and is a programmer. Two down, one to go.
The Hard Sell
This is where we go back to my daughter's story. She did her stint in my firm, and was good, but did not want to be an architect. So as I said, by the end of high school, I knew her idea of becoming a graphic artist was but a placeholder. I did not want to pay for a placeholder. So as the college time approached, I went into super-parent mode. I pitched that she should take a gap year between high school and college.
That was the hardest sell I have ever made. She was against it, her mom was against it, her peers were against it, her school counselor was certainly against, the college counselor was against it (yes, she was already accepted to a college). Fortunately I had the support of her two older siblings. I had to do several seminar-level presentations with graphics, spreadsheets, and lists of reasons, and my daughter bravely (and I mean it) decided to follow the less-trodden path. That was a hard decision and the hardest part was telling her school friends and teachers at high school, who she felt would be let down.
Fast-forward three months. She got a bottom-level job at an internationally known design firm and is doing computer tasks in the industrial design department. The experience for her has been incredible and is completely changing her career interests and her self confidence is somewhere in the sky. As of this evening, she wants to be an industrial designer. (Yeah!) So this is my next advice to the young adults: If you are not firm in your degree decision, do not go immediately to college; go to work first. Get paid and save up for college, while you make up your mind. You will learn a lot and will be getting paid to boot.
Tomorrow, Ricochet will post "Time to Rethink College (Part 3): Do-It-Yourself Gap Year"
Read "Time to Rethink College (Part 1): Don't Be a Lemming."