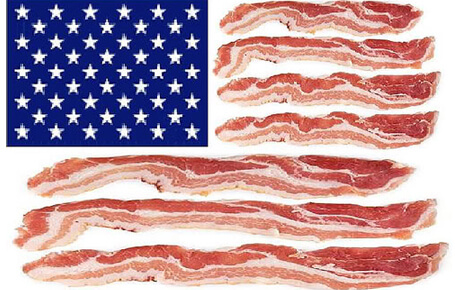 I feel like I'm being trolled. This announcement has all the ingredients to make me furious: it's a "health" message in the New York Times, from a UN-ish Non-Governmental Busybody, aimed at governments around the world who interest themselves with their citizens' eating habits.
In other words, it's the perfect storm of nonsense. Plus, they're trying to take away our bacon.
Eating processed meat, like hot dogs and corned beef, can raise the risk in humans of getting colon cancer, a report by the World Health Organization said on Monday.

There was also some evidence that eating red meat, including beef, pork and lamb, can cause cancer in the colon, prostate or pancreas, the W.H.O.'s International Agency for Research on Cancer said in the report.
File this in the "Not Interested Department." And I don't care about this, either:
The findings, which are meant to help governments make dietary recommendations, linked increased risks of developing certain cancers to the amount of meat consumed.
Okay, joking aside, I still have a hard time wondering why the WHO is spending any money and any brain cycles worrying about this, when there are so many other World Health Crises for the World Health Organization to deal with, like malaria and all sorts of horrible diseases. Those, of course, are in Africa or somewhere else, far from my charcuterie plate, miles and miles from my bacon.
It reminds me of a joke I read last week:
Normal Person: Women as young as 11 are being sold into slavery, sexually abused, and murdered with impunity in the Middle East!

Feminist: Yes, but there aren't enough women on the Facebook board of directors.
They keep missing the forest for the bacon-scented trees.