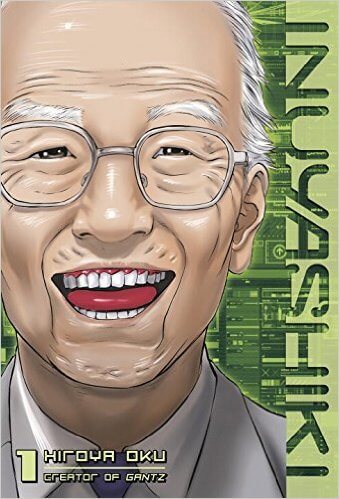 "We hold these truths to be self-evident, that all men are created equal…"
You will not find this quote in newest manga series by creator of Gantz, Hiroya Oku, Inuyashiki, but you will find in the first volume two opposing views on what it means to be human. Does being human require a physical body — and therefore losing your humanity the moment your body ceases to function, or, having lost the experience of having lived in a human body, can you continue on as "human" after your physical death?
One of the things I enjoy about science fiction is how it can create situations that bring the essential differences into focus. Consider the following conversation of unseen beings occurring shortly after bright flashes of light obliterate a small overlook where two strangers have gone, each for their own reasons. The ensuing moral dilemma impacts more than merely the two.
"Any damage?"

"Nothing here. However…we did destroy two of the planet's intelligent life forms…"

"Can we rebuild them?"

"I'm afraid not."

"Then at least recreate their outer appearances, as quickly as you can. Convincing enough that they don't realize we tampered with them."

"But we only have weapon-grade units in stock…"

"Wait, No! They'll destroy this entire planet!!"

"That's not our problem! We need to disengage at once!!"
Two men, one middle-aged (title character Ichiro Inuyashiki) given three months to live "tops" with a fierce case of stomach cancer, the other a high schooler (Hiro Shishigami), have each been killed by an accidental discharge of energy from an alien spacecraft. They are repaired by giving them new mechanical bodies, each of which has untold destructive potential. They each wake up and return to their lives, at first unaware of anything being different.
After a few days, the man discovers there is nothing left of his old body. His new body can open to expose the sphere (apparently where his consciousness now resides) and advanced weaponry. He realizes why he has not been feeling himself. This precipitates a crisis of whether he is still Ichiro Inuyashiki, whether he still has responsibilities to support his unloving family, why does he exist, has he gone insane? Somehow, he remembers the conversation that precipitated his reconstruction and begins to piece what happened together.
But life is not sweet in middle-class Kanagawa, Japan. Bands of delinquent middle schoolers periodically go out to attack and kill society's least able. Using baseball bats and (fictional) fireworks, they gang up to torture and kill — for kicks — a homeless man sleeping in a public park. They record their exploits and later post videos with such titles as "killing the roaches."
Inadvertently, Inuyashiki comes upon one of these attacks, and attempts to protect the man by putting himself between the youths and the man, taking the brunt of the fireworks assault. The youths beat him with their bats until he is unconscious and they leave him for dead. But while Mr. Inuyashiki sleeps and the attackers approach to torture the homeless man, his alien body awakens and goes into automatic protect mode. Not protecting himself/itself, but zeroing in on the homeless man and launching a barrage of non-lethal charges that chase the youths away and save the homeless man from being maimed or worse.
When Mr. Inuyashiki wakes up later, the homeless man sincerely thanks him for having saved his life, even calling him a god. In the aftermath, Mr. Inuyashiki himself is overcome with emotion, recognizing he is human after all, having saved a human life, that he does have a heart, vowing the next day to save as many lives as he can as a way of proving he is human.
Contrast that with the situation of the high schooler, Hiro Shishigami. His life appears completely normal on the outside. On the inside, however, he has convinced himself he is no longer Hiro Shishigami, i.e., he is no longer human. This becomes evident as he declares such to a fellow classmate he is visiting who has been out sick, when he opens his alien body to show he is a machine.
The question of what is human is so difficult for atheists and materialists to define because they look only at the physical side of humanity. It seems impossible for them to comprehend the meaning of being created equal because they only see the assemblage of cells and randomness. Of course looking at "humanity" this way is going to contradict the statement that all men are created equal because physically we are all unique. The great religions that consider the spiritual nature of humanity recognize the non-physical. That recognition is the basis of our founding documents.