In addition to all of my work with political talk radio, and now, political/opinion writing, I've had an equally long career in sports radio. On weekends in the fall, I have a freelance gig, producing national radio broadcasts of NFL games. It's an amazing side job, and I've been able to see most of this beautiful country many times over. Plus, I get paid to watch football. Unbeatable.
This past weekend, I was assigned the Green Bay Packers at the San Francisco 49ers. I was happy to get the assignment, as I had not seen Levi's Stadium, the new home of the 49ers. I also love visiting San Francisco, as it's one of the most beautiful cities in America, if not the world, but I stress "visiting." I could never imagine living in such an anti-freedom, anti-conservative, radically progressive city. I need not detail how bad it is to fellow Ricochet readers. You know.
A few weeks ago, Milwaukee County, WI Sheriff David Clarke tweeted this:
At Pier 14 memorial in San Fran where Kate Steinle was murdered by illegal immigrant. Surreal moment. RIP Kate. pic.twitter.com/JK61iZII4c

— David A. Clarke, Jr. (@SheriffClarke) September 11, 2015
As soon as I saw that, I decided that when I got to San Francisco, I would drive my rental car right to Pier 14 as well.
In case you don't know the story of Kathryn Steinle, from the Washington Times:
A man accused of gunning down a woman Wednesday along a popular San Francisco waterfront is a convicted felon who has been deported several times, government officials said.

Francisco Sanchez, 45, who was arrested in connection with the apparently random slaying of Kathryn Steinle, 32, while she walked along the city's Pier 14 with her father, was last deported in 2009 — the fifth time he had been sent back to Mexico, authorities said.

ICE officials said they had the suspect in custody in March after he served a "felony re-entry" charge, but turned him over to San Francisco authorities on an outstanding drug warrant, Fox reported. Mr. Sanchez had been on on probation for an unspecified conviction, according to a police official.

He was not returned to ICE, despite the agency issuing a detainer to take him back into custody once he was released by the city.

"Here's a jurisdiction that's not even honoring our detainer for someone who clearly is an egregious offender," an ICE official told Fox.

A representative for San Francisco's police department did not respond to Fox's request for comment.

Freya Horne, counsel for the sheriff's office, said Friday that federal detention orders are not a legal basis to hold someone, so Mr. Sanchez was released April 15, the Associated Press reported. San Francisco is a sanctuary city, and local money cannot be spent to cooperate with federal immigration law.
In summary, a five-times-deported illegal alien, allowed to roam the streets of San Francisco because of their sanctuary city policy, allegedly killed Kathryn Steinle. San Francisco is not alone. There are many sanctuary cities across America (I'm writing this article from another one, Alexandria, VA), and these policies are vehemently defended by Democrats, who know that these policies lead to votes. Lives of innocent Americans be damned.
I had been tweeting and writing about sanctuary cities for years, and the killing of Steinle made me even more vocal about them. Sheriff Clarke's tweet made me feel that the least I could do was pay tribute to her myself, in person, after invoking her virtually so many times.
I landed in San Francisco, and thanks to Google Maps, found a parking garage near Pier 14. As I was walking over, I stopped and stared at the clock tower on the San Francisco Ferry Building, located next to Pier 14. I took this picture.
There was something about that clock. I started thinking about the Kathryn and the concept of time. Was it "bad timing?" Was it "her time?" Should her killer have been "spending time" in prison? Then I wondered if she looked at that same clock tower, or if she went inside the Ferry Building Marketplace under the clock tower.
Something, I have no idea what, made me think she might have, so I walked into the marketplace. It is an amazing place, filled with local gourmet shops and restaurants. I saw some of the most fantastic meats, cheeses, breads, and vegetables I've ever seen. I couldn't help but take pictures of everything:

I was hoping that if Kathryn was here before she walked the few feet to Pier 14, or had ever been here before, that she enjoyed the experience as much as I did.
Then, it was time to go to the pier myself. All of the joy of the marketplace turned into a mixture of sadness and anger. Sad about the loss of a beautiful life. Angry that the city of San Francisco and its sanctuary city policy facilitated her murder. Knowing that many of my followers were also interested in the case, I Periscoped the walk.
I was surprised how many people on the app were asking me questions about the case. It was one of those times when you know something, and you can't believe everyone else doesn't know it too. I kept telling people to Google it. Some who did then commented on how awful the whole case is.
Pier 14 is a long, thin slab of concrete that juts out into the San Francisco Bay, with a sort of cul-de-sac at the end. It is very close to the San Francisco-Oakland Bay Bridge, which is an imposing and spectacular sight:
The site of Kathryn's murder, and now her memorial, is about halfway down the pier: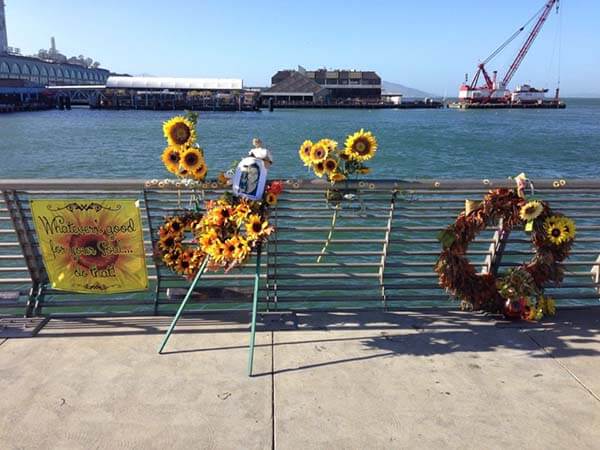 I took it all in. Her photo, the wreaths, the individual flowers taped to the railing. There is a banner attached that says "Whatever's good for your soul … do that." It wasn't until I looked it up afterwards that I found out what the significance was. According to her brother Brad:
The day before Kate died she changed her Facebook cover photo with a saying that said "Whatever's good for your soul……….do that." Please always remember Kate and live your life by these words.
The whole scene is a study in contrasts. You have a memorial to a woman killed in one of the most shocking, senseless, and avoidable acts, surrounded by a vast body of water, with scenic mountains in the distance, and a tribute to man's innovation spanning close by.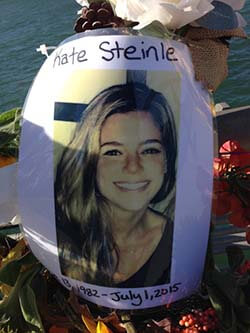 You have a picture of a stunningly gorgeous young woman. But also with a mental picture of the disgusting "human" accused of murdering her. (Don't worry, I won't show him.)
Then there's the other people on Pier 14. There are people walking by without looking over. There are people who look and keep walking. There are people who say "Oh, that's, yeah that girl…" and slow down as they explain to their partner why the memorial is there.
I was an anomaly. I was there for about 20 minutes, and only two other people stopped because they obviously knew the full story of what happened, took pictures, and paid their respects for a few minutes. I wish the people who just walked by, didn't just walk by. You can't force your priorities and interests on others, but I certainly wish that more people knew Kathryn's story.
I took one last look, then I left. I didn't do any of the things I normally like to do when I'm near Fisherman's Wharf with all of its tacky tourist places to visit. I just got the hell out of San Francisco; I only wish Kathryn Steinle's killer had done the same.
RIP Kathryn Steinle, 1982-2015.