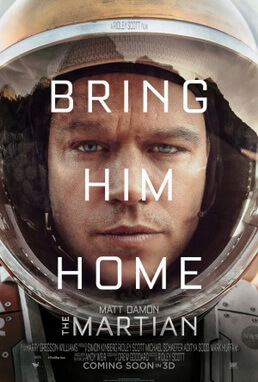 The Martian features Matt Damon as NASA astronaut Mark Watney, who with a six-member crew including commanding officer Jessica Chastain, is on a month-long science mission on the beautifully desolate surface of Mars. Of course, one month is only the planned duration of their stay on the surface; the deep space transit to and from Mars takes several hundred days each way, which becomes important later in the film.
We enter the story partway into the surface mission. The crew is collecting Martian soil samples when NASA sends them an urgent message about an impending storm. The storm is apparently so severe that the rocket which is supposed to lift the crew back into space at the end of their mission won't survive the harsh winds on the ground. So the crew is forced to abort their surface mission and perform a hasty emergency launch. In the rush and confusion, Watney is left behind, presumed dead. All of this introductory material is completed in a very breezy few minutes, plunging us right into the survival story.
Damon is charming, self-deprecating, full of creativity, and despite the all the rational reasons to believe himself doomed, he remains confident in his training and problem-solving abilities. He shows well-earned pride of accomplishment and just the kind of cockiness you'd expect from a flyboy as he conquers the litany of challenges thrown at him by the deserted red planet, including lack of breathing air, food shortages, transportation, weather, and communication. However, the film seems to gloss over his coming-to-grips with his extremely perilous situation. Instead, it jumps ahead several weeks, thereby depriving us of the opportunity to watch Damon experience the full range of emotions you'd expect from a marooned spaceman, including grief, denial, anger, resentment, loneliness, despair, and hopelessness — especially in light of the events that stranded him there. We see a lot of footage of Damon entertaining himself by making smart remarks into a camera, and he is often hilarious. But there is little sense that he feels alone or lonely at all (in contrast with, say, Sam Rockwell's performance in Moon), which reduces the euphoria we should feel when he finally re-establishes communication with NASA. Perhaps it is this unworldly optimism that helped keep him alive.
The Martian has a lot in common with Apollo 13, the film that set the standard in the genre. The story alternates between scenes of the stranded Damon, the rest of his crew in long transit back to Earth, the NASA leadership (featuring a strong tension between the political appointee Jeff Daniels and the canny flight director Sean Bean, with some comic relief from PR head Kristen Wiig), and the crack teams of mostly faceless Jet Propulsion Lab engineers on the ground, pulling out all the stops to keep their man alive and put together a rescue plan, while sending up improvised plans and instructions to Watney so he can stretch his equipment far beyond its design limits.
I wish we could see more of Bean with his more sentimental approach to the problem, and his personal concern for the crew's autonomy and right to be informed. After a while, Daniels' executive style of snap decision-making seems just a way to move the plot forward.
Benedict Wong plays the JPL lead engineer, quite effectively portraying the burden every leader feels as he commits his team to meet the unrealistically short production schedule without compromising technical performance of a resupply craft — this time with an elevated purpose, because Watney's life is on the line. He gives the sense that he is honored to accept the challenge before him, making him one of my favorite characters.
In contrast with Apollo 13, the focus is almost exclusively on the aforementioned people who are working the problem, and we see only a few short glimpses of anyone's families. This doesn't detract from the character development or the audience's attachment to them, though, because there are several endearing scenes portraying the crew-as-family. Michael Peña in particular has a youthful optimism that somehow induces you to cheer for him as an underdog despite his being an extremely skilled astronaut and spacecraft pilot. And in fact, the "family of the crew" is used as part of a very satisfying plot twist.
There are two particularly relatable and inspiring characters. Mackenzie Davis portrays Mindy Park, a young female engineer whose job is to analyze Martian surface imagery for the planning of future missions. After making a discovery that confounds her superiors, she doesn't let their alpha-male personalities steamroll her. She overcomes their skepticism by walking them through her data, after which she earns their respect and becomes an important member of the recovery team.
The second is the scatterbrained young aerospace engineer Rich Purnell, played by Donald Glover. True to the stereotype, he has below-average communication skills and easily gets lost in his work. He has a bolt of inspiration and works out, all on his own, an unorthodox plan to execute a rescue mission that just might fit within their ever-shrinking window of opportunity. Oblivious to protocol or rank, he barges into the office of a higher-up whom he's never met, demands that he hang up the phone, and explains his plan. Then he stages a goofy and highly entertaining demonstration in a conference room, using Daniels and Wiig as human props to illustrate his proposed orbital maneuvers with a flying stapler. Purnell later receives a high compliment that will put a smile on the face of anyone familiar with the (link contains minor spoiler) hotshot jargon of the Apollo era.
From start to finish, the science and engineering of the movie is of a very high quality. It has just the right balance of technical jargon and explanatory dialogue, so it's neither inaccessible nor tedious. The crew convincingly discusses astronautical concepts like orbital rendezvous, gravity assist, and delta-V, while Damon demonstrates some impressive agronomy, inorganic chemistry, and electro-mechanical know-how down on the surface. There were a few times when my engineer's ears perked up upon hearing a quantity expressed in the wrong units, for example, but it wasn't enough to ruin my typically fragile suspension of disbelief.
In terms of the plot, it's a straightforward survival-and-rescue movie, although heavy on engineering rather than backwoods techniques, with only a few unexpected twists and turns. The launch sequences and space rendezvous scenes are gripping and sometimes breathtaking. One of the twists, in my opinion, is poorly executed because it's too telegraphed, but you can be the judge.
The space scenes seem to have used true zero-gravity filming techniques such as the Vomit Comet, with nifty transitions to 1-g as the astronauts "descend" the ladders out to the rim of the spinning section of their interplanetary craft. At the very beginning of the movie there seems to have been an effort to portray the lower Martian gravity (1/3 of Earth's) in the way Damon walks in his spacesuit, but after a while you stop noticing, or they stopped trying to portray it. Either way it's just a nit.
The Martian runs a fast 141 minutes, with no lulls or slow sequences that I can remember. It's a fantastic aerospace showcase that couldn't have had better timing with its release to theaters, given real-world events.
Update: See also John Walker's review of the original book from last year.