Purchasing a defensive firearm is not a (pardon the pun) one-shot deal. You're making the most adult decision you've ever made in your life, namely, taking personal responsibility for the safety of your loved ones. As Marty McFly might say, "that's heavy."
A firearm is not a talisman of self-protection: You don't buy one and then leave it in a place of veneration in your home so it will somehow provide an umbrella of protection to all who dwell within. A pistol has to be readily accessible in order to be effective, and that means having it near you both when you're inside and outside your home.
You'll need to figure out how you are going to carry your gun. For beginners, I recommend carrying a defensive pistol on the waistline, either in an Inside the Waistband (IWB) or Outside the Waistband (OWB) holster. Why these two styles at first, and not something like pocket carry or off-body carry in a purse?
They keep your gun near you at all times: I'm not that big of a fan of carrying a gun in a purse and day planner because doing so makes it easier for a crook to separate you from your firearm, especially when you might need it the most.
They work for almost all sizes and types of pistols and revolvers: There are IWB and OWB holsters out there for almost every gun under the sun, so you start carrying your gun right away and not wait for a custom-tailored holster. Pocket holsters work well, and I use one when I'm carrying a smaller gun, but there's really no way to hide a service pistol like a Glock 17 in a pocket.
They're easy to use: It's a simple thing indeed to swipe away your cover garment, reach down, grab your pistol (with your finger off the trigger, of course), and extend it towards your target. Reaching around for a purse and fumbling with zippers, then drawing out your gun? Not so easy.
So what are the advantages of an outside the waistband holster versus an inside the waistband holster?
Reasons to buy an IWB holster
It's going to conceal more of the gun. This is a no-brainer: The gun is mostly tucked into your pants, so less of it shows on the outside. Also, as it's inside the shape of your pants, your body's natural curves will help disguise the fact you're packing heat.
It's going to be more stable. This one is not-so-obvious. An IWB holster has three points of contact with your body: Two on the belt itself, and one where the holster presses up against your body
Reasons not to buy an IWB Holster
It's harder to grip the gun. Your gun is a lot closer to your body in an IWB holster, which means it's going to take a little more effort to wrap your thumb around the grip of your pistol when you're drawing your gun.
You need new pants. A pistol is about an inch or so thick, revolvers much more so, and I don't need to tell you what adding an inch to waistline means to your wardrobe.
Reasons to buy an OWB holster
Less change in your lifestyle. Aside from your gun belt (and no matter which option you chose, you need a good gun belt), you're ready to roll.
It's easier to grip your gun. Your pistol is further out from your body when it's outside rather than inside your trousers, and therefore it's easier for you to get a good, firm grip on your gun before you draw. This might not seem like much, but a good grip is essential to both accuracy and a fast draw.
Reasons not to buy an OWB holster
There's two points of contact on your body versus three. This means that your gun can move around on your waistband if you don't get a good gun belt to help hold it in place.
It's further from your body, and therefore, harder to conceal. This can be overcome with a holster like a pancake OWB model that hugs the body that hugs the body a little more than other OWB models, so do research to find what works for you.
Which is best, an outside the waistband holster or an inside the waistband holster? I wish I could tell you, but finding the right make and model of holster is a very personal thing. What works for me probably won't work for you, so look at selecting a concealed carry holster as a journey, not a destination. If you need a starting place, here's an example of both holster styles I use on a regular basis.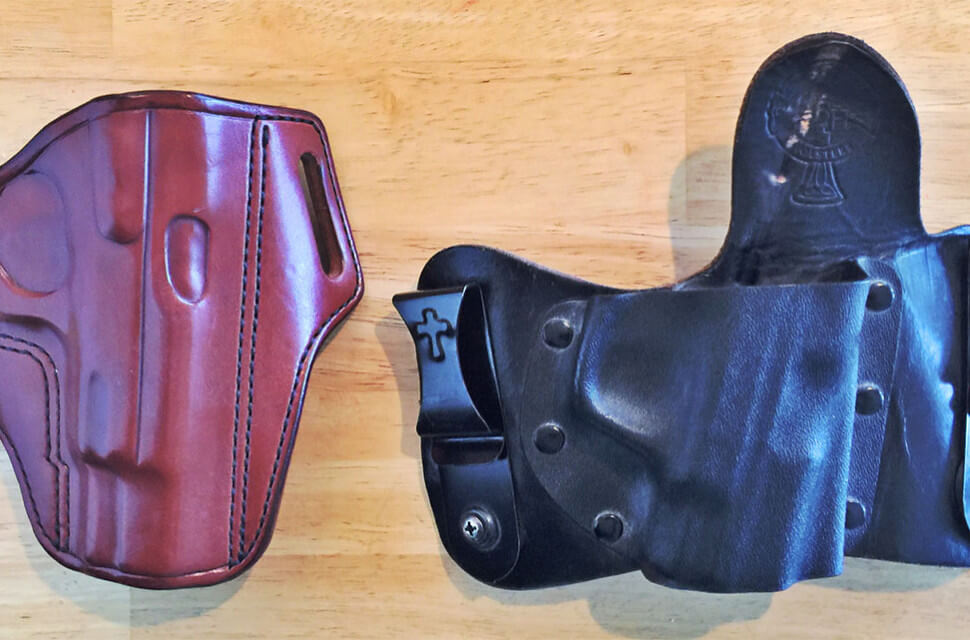 On the left is a leather pancake "Combat Elite" OWB holster from International Handgun Leather for my CZ75. It's a good holster, but after wearing it for a while, I've found it doesn't extend far enough up about the beltline for my liking, so now I'm shopping for something around for yet another holster.
On the right is a hybrid Kydex/leather Minituck IWB holster from Crossbreed holsters for my Smith & Wesson M&P Shield. I'm a big, big fan of their holsters and own three of them. I prefer a hybrid holster for an IWB carry because it keeps the holster open when the gun's not in, making it easier to re-holster when needed.
As you can tell, the process of a finding a holster you'll carry everyday is indeed a journey, but it's a journey with a destination, which is the security you have with the means to defend yourself and your loved ones from deadly force. The journey begins when you chose a defensive firearm, then choose to carry with you every day.