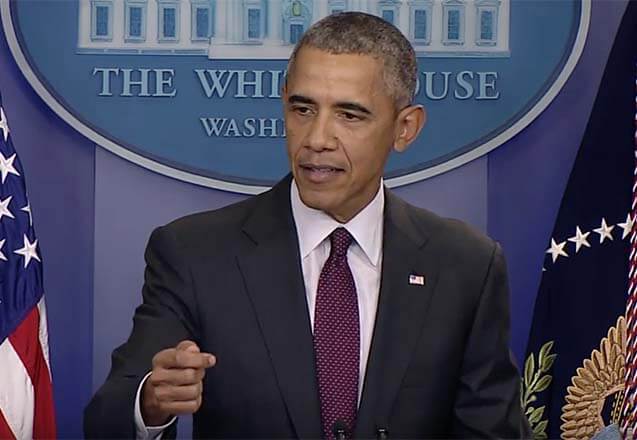 President Obama delivered an angry statement on the Thursday shooting at Umpqua Community College in Roseburg, OR. "Each time we see one of these mass shootings," he said from the White House briefing room podium, "our thoughts and prayers are not enough.
In a 15-minute statement, Obama stressed that the US is "the only advanced country on Earth that sees these kinds of mass shootings every couple of months." He praised the gun control efforts in Australia, a nation that conducted a mass confiscation of firearms from its citizenry.
The President repeatedly complained about the Republican-led Congress and gun rights advocates. "There is a gun for roughly every man, woman, and child in America," he said, "so how can you with a straight face say more guns will make us safer?"
Obama claimed that states with the most gun laws tend to have the fewest gun deaths and repeatedly called for "common-sense" gun safety legislation. "Somebody somewhere will comment and say, 'Obama politicized this issue.' Well, this is something we should politicize," the President said.
Instead of offering a plan of his own, Obama told voters to change American politics on the issue. He even requested that the media make gun control more popular.
"I would ask news organizations — because I won't put these facts forward — have news organizations tally up the number of Americans who've been killed through terrorist attacks over the last decade and the number of Americans who've been killed by gun violence, and post those side-by-side on their news reports. It won't be information coming from me, it'll be coming from you," the President said, pointing to reporters in the room.