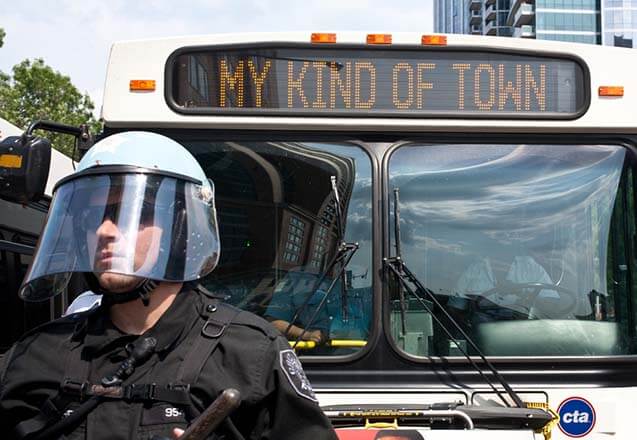 For the second weekend in a row, more than 50 people were shot in Chicago. Gun violence continues to rage in the Windy City, despite regular pleas for peace by community leaders, aldermen, and Mayor Rahm Emanuel. After receiving news about six more killed and eight wounded Monday evening, a somber Emanuel spoke with reporters.
"Wherever you live, you should be able to get out of your car and go to your home," the mayor said. "You can say this happened in the neighborhood of the Back of the Yards, but everybody (who) woke up this morning, or heard it last night, felt a pain of anguish, and it's time that our criminal justice system and the laws as it relates to access to guns and the penalties for using them reflect the values of the people of the city of Chicago."
Of course. More gun control.
Blaming the inanimate object is a bad habit of Democratic mayors. After a bloody Memorial Day weekend, Emanuel insisted to a police group, "it is not just about how many police you have, it is about the quantity of guns that are on the street so we actually have gun laws that back up the men and women we just recognized."
According to the Chicago Tribune, at least 2,300 people have been shot in 2015; about 400 more than at this time last year. Every three hours, a Chicagoan is shot. Every 16 hours, a Chicagoan is murdered. And this is a city famous for its restrictive gun control regime; so restrictive, in fact, the U.S. Supreme Court ruled their draconian rules unconstitutional in 2010.
After Chicago passed its handgun ban in 1982, the percentage of Chicago murders committed with handguns averaged a number approximately 40 percent higher than prior to the law's enactment. Since murders actually trended down after the SCOTUS decision, they cannot be blamed for the increase in violence. But, sadly, beginning last year, gun violence began creeping back up.
It's easier for a politician to call for new gun laws than it is to counter gang activity, improve economic opportunity, and modify policing. But it's obvious that guns are not the cause of Chicago's woes. In 2013, the city had 15.2 murders per 100,000 people. In that same year, the famously gun-happy city of Phoenix had about half that number at 7.9 per 100,000. Arizona has some of the least restrictive firearms laws in the nation, yet experiences nothing close to the violence seen in Chicago.
It's past time for Democratic mayors to stop scapegoating the Second Amendment for their violent cities. Gun control is unconstitutional, ineffective, and will do nothing to improve the crime spree devouring Chicago's most vulnerable.