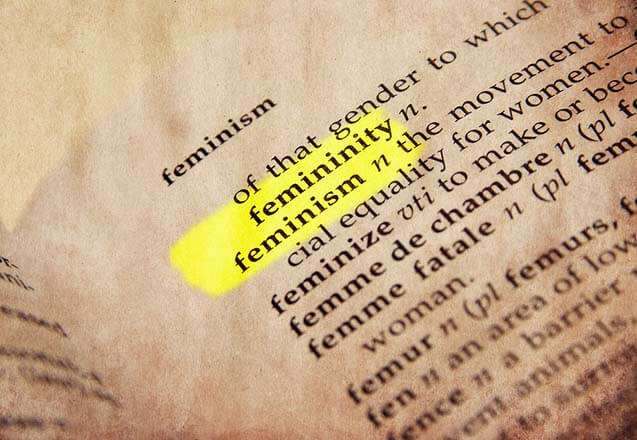 I had long looked on the feminist project with an indulgent eye, feeling, along with Bertie Wooster, that girls will be girls and must be allowed their little enthusiasms. But I had assumed that after accomplishing the legitimate goals of the movement — equality before the law, and equal opportunity in education and employment — they would depart the field and find something else useful to do with their time, perhaps leaving behind a few stout sentries to defend their gains.
That's not what has happened. Modern feminists have set about to remake society to comport with two bedrock, inviolable feminist principles. The first of these is that there are no significant differences between the sexes, that any apparent differences are the result of social conditioning from the earliest ages. To suggest that women might (in general) possess innate differences in some characteristic — greater empathy, let us say — is to mark oneself as a misogynist of the first order. The second principle is that any male-dominated organization or occupation would greatly benefit by increasing its female membership, as women bring a number of innate characteristics — greater empathy, for example — which their male counterparts woefully lack. To question this is to mark oneself as a misogynist of the first order.
In their efforts to align the rest of the world with these principles, feminists have encountered an unexpected obstacle: the wrong sorts of things make people happy. They are in the position of the dog food company of legend that went to enormous trouble and expense to develop and market the world's finest dog food, only to find themselves faced with one minor problem: the dogs wouldn't eat it. Whereas the dog food maker recognized its failure and didn't attempt to breed a new sort of dog with a taste for its product, modern feminists are diligently working to produce a new sort of human more amenable to what they have on offer.
Examples of this are everywhere. An article in Psychology of Women Quarterly decried the fact that gentlemanly behavior (described in the article as "benevolent sexism") makes both men and women happy. As the article puts it, "Additionally, benevolent sexism was indirectly associated with life satisfaction for both women and men through diffuse system justification." We can't have that. The article concludes, "Thus, our findings reinforce the dangerous nature of benevolent sexism and emphasize the need for interventions to reduce its prevalence." Here we have something that makes people happy and so must be stamped out.
A couple of years back a woman named Susan Patton published an article suggesting that female students at Princeton take advantage of a target-rich environment to find husbands. She very sensibly suggested that at no other time would young women be surrounded by so many eligible (and smart) candidates for marriage. She further pointed out that waiting until later to marry is risky, as there are fewer high-quality men to choose from.
Given the rapid declines in fertility for women in their thirties, that sounds like excellent advice for young women who want to marry and have children. She was of course roundly denounced by feminist commentators. The fact is, an overwhelming majority of women do want to get married eventually. Of those, most want to have children. Of those with children, most would prefer to work part-time or not at all. Given that, you would think that if feminists were concerned at all about human happiness they would be urging young women who wish to marry and have children to think about finding a husband and starting a family sooner rather than later. If you think that you would be wrong.
So an effort is afoot to root out sex-based preferences among children, including pressuring toy companies to forgo gender-based marketing, and pressuring schools and daycare centers to stop treating children differently based on sex. (In practice this means trying to get boys to act more like girls).
It won't work of course. Kids will have none of it. Human nature is too strong and the preferences too deeply rooted to be overwhelmed by a few hectoring feminists at the schoolhouse. Other than making school more miserable than it already is for boys and confusing a few of the more vulnerable kids, the modern feminist program will likely have little effect on human preferences.
What it will do is make the search for happiness more difficult for those young women who accept the premises of modern feminism. Let's hope they figure it out before it's too late.