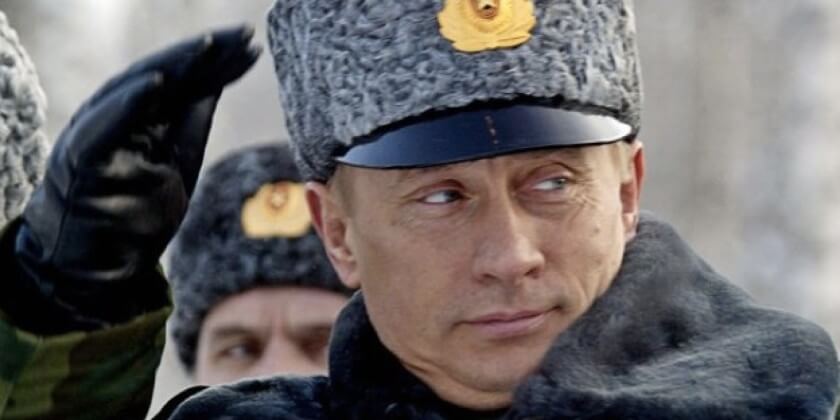 I don't mean to ruin anyone's morale, but I'm going to, anyway. I understand that some of you may be thinking, "Why not let Putin fight ISIS? Better him than us, wouldn't you say? Especially since all we seem to be able to do is make more of them. Right?"
Well, sure, if that's what he were doing. But it's not.
MiG-31 Foxhound interceptor fighter jets, Su-30 fighters, Su-25 attack planes, Su-24 bombers, Su-34 bombers, Su-27 Flanker interceptor fighter jets, an Il-20 spy plane, armored vehicles, and SA-15 and SA-22 surface-to-air missiles? As David Axe puts it (understatedly) that's "not really optimal for attacking lightly armed insurgent fighters." And as he further notes, correctly, "Surface-to-air missiles are only good for destroying enemy aircraft, which Syrian rebels do not possess. And the Su-30s are best suited for tangling with other high-tech forces."
In other words, folks, Putin's there to wage war on us, not ISIS. Get it?
Or at the very least, he's there to make sure there won't be a safe zone along the border from Jarablus to Azaz. Sending interceptor fighter jets to Syria makes no sense unless you're planning to intercept jets. ISIS, Nusra, and Ahrar al-Sham don't have jets to intercept. QED.
It gets worse. David Ropkoth is right about this:
When Iran's president, Hassan Rouhani, met with journalists in New York last Friday, he took pains to note that Iran and Russia were not joining together in a "coalition" in Syria. They were sharing intelligence. They were discussing strategy. They were in constant communication. But a coalition? No.

Two days later, the Iraqi government announced it too was sharing intelligence with Russia, Iran, and Syria. So perhaps Rouhani was being literal in a different way when he disavowed being in a coalition with Russia — because what he was actually involved in was a coalition with Russia, Iraq, and Syria.
And it gets worse still if you imagine what logically comes next. What if Iran decides to openly sprint for a Bomb? What if they just throw off all pretense of compliance and go for it? And why wouldn't they, given that Putin's now declared himself Czar and Protector of the Shia axis? Think even the next president would try to stop that? Direct conflict with Iran and Russia? As Trump might say, "I'm the most militaristic person there is" — but that wouldn't be militaristic, that would be stupid. And suicidal.
And also by the way, that above-linked DHS report is full of cheering news:
Despite a year of U.S. and allied airstrikes, the group has held most of its territory and continues to replenish its ranks with outside recruits. Military officials estimate airstrikes have killed around 10,000 extremists, but new foreign fighters replace them almost as quickly as they are killed. ISIS has also grown from a single terrorist sanctuary to having a direct presence, affiliates, or groups pledging support in 18 countries. The organization is believed to have inspired or directed nearly 60 terrorist plots or attacks against Western countries, including 15 in the United States. Some of these were masterminded by foreign fighters based in Syria, while others were carried out by returnees themselves or homegrown extremists. … When the strikes began, counterterrorism officials estimated the total number of extremists was around 15,000. .. Today the figure stands at 25,000-plus foreign fighters.
Also, as you've probably heard, Kunduz fell to the Taliban. First provincial capital to fall to them since 2001.
And sorry to be just a complete Daisy Downer, but it gets even worse. Because Congress can't pass a budget. (You had one job.) So the military might have to operate under last year's spending plan.
According to Pentagon spokesman Peter Cook, "hope remains that lawmakers will strike a deal to fund the government when the fiscal year ends Sept. 30." He "insisted the situation was not yet dire enough to warn defense employees of the potential fallout." Well, that's what he should say, we hardly want him shrieking hysterically for the whole world to hear, but we can read between the lines, I reckon:
… So, Mr. President, kind of looks to me like we are rapidly approaching a moment of truth both for ourselves as human beings and for the life of our nation. Now, truth is not always a pleasant thing. But it is necessary now to make a choice, to choose between two admittedly regrettable, but nevertheless *distinguishable*, postwar environments: one where you got twenty million people killed, and the other where you got a hundred and fifty million people killed. … Mr. President, I'm not saying we wouldn't get our hair mussed. But I do say no more than ten to twenty million killed, tops. Uh, depending on the breaks. …
If you think I'm being unduly pessimistic, feel free to correct me. I'd love to feel better about this, but I just can't see why I should.