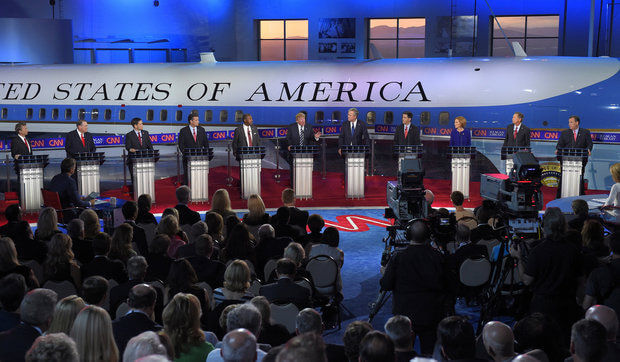 This won't be another debate recap post. An army of pundits (Please note: Worst. Army. Ever.) has already dissected last night's proceedings and the emerging consensus seems about right to me: Carly Fiorina dominated, Marco Rubio and Chris Christie both had some pretty good moments, and Donald Trump's pilot light kept shutting off. Everyone else was basically treading water. In the undercard debate, Bobby Jindal and Lindsey Graham both looked serviceable, but c'mon — it's not that big of a deal to win the NIT.
So let's play the story forward: after last night, what dynamics play out over the six weeks until the next GOP debate takes place in Boulder, Colorado? (Seriously, RNC? Boulder? Was George Soros' penthouse booked that night?) Here are some of the trends I'll be watching for:
Carly in the Crosshairs
Last night, the country learned what those of us who've been watching this race closely discovered months ago: Carly Fiorina can stick a knife between your ribs and get you to thank her for it. Her exchange with Donald Trump over the infamous "Look at that face" comment marked the first instance in this cycle of someone coming out of a scrum with The Donald an unambiguous winner. Not only did she manage the magnificent trick of appearing simultaneously dignified and condescending, she actually made Trump look like a beta as he uncomfortably walked back his criticisms. I'm not going to lie: I enjoyed seeing the inspiration for the "cuckservative" epithet get horsewhipped by a girl.
All things considered, last night was a huge triumph for Carly (some especially insightful wags may have seen this coming), but it's going to bring her a host of new challenges (this is what political philosophers refer to as the "Mo' Money, Mo' Problems" Principle).
Now that she's a serious contender in this race, the scrutiny of her tenure at Hewlett-Packard and the concerns over her lack of electoral experience are going to become much more pronounced. Carly's succeeded thus far by taking a very clear, poised message to progressively bigger stages. Now we get to see what happens when the process becomes interactive and she has to thrust and parry with the other campaigns. Based on last night, she'll probably be up to that challenge, but having your breakout moment four-and-a-half months prior to voters going to the polls gives your opponents plenty of time to probe you for weaknesses.
Your Nearest Exit May Be Behind You
I think a lot of people would have lost money (I know I would have) on the proposition that Rick Perry would be out of this race before the second debate. I expect we'll see more before the third, especially with the talk that we may have already had our last undercard forum.
Let's start with the low-hanging fruit. Jim Gilmore didn't even cross the polling threshold for the kids' table last night. There's a non-negligible chance that more people are backing me for president than him (Senik 2016: "Padlocking Buildings Throughout the Washington Metropolitan Area"). Save yourself some dignity, Jim, and take up gardening.
The same likely goes for last night's entire undercard cast. If you didn't have a breakout moment early, as Carly did, it's probably over. Bobby Jindal needs to start working on his vision for the Department of Health and Human Services. Lindsey Graham has a kid in Dallas to drone. Rick Santorum isn't a viable presidential candidate in any field that doesn't include Mitt Romney and at least one pizza salesman. And George Pataki likely doesn't have the support of a majority of voters in his own home.
Look, you've had your fun. You got a trip to Southern California to offset having to shoot your way out of Cleveland last month. But it's time to go home.
The Lifeboat Caucus
Among the top-tier here's who should be nervous right now: Rand Paul, Mike Huckabee, Chris Christie, and, believe it or not, Scott Walker.
Paul needed this election to be held in 2014, before we all remembered that national security is a thing that presidents actually do. In the ISIS-Ayatollah-Putin era, a guy whose foreign policy arguments tend to be prefaced with "Look, I'm not an actual isolationist" isn't going to be many peoples' first pick.
Huckabee doesn't have much of a lane. The success he had in 2008 was largely fueled by social conservatives but, like Santorum, he's boxed out with that demographic this time around by the likes of Ben Carson and Ted Cruz. Mike is a very genial guy who's spent the last few years being extremely well-paid to be a very genial guy. Don't upset that apple cart. Stick with the job that bankrolls your ability to build monstrosities like this on the Florida coast.
Because he's been so marginalized over the last few years, a lot of people have forgotten just how good Chris Christie is in front of a camera. (Our own Rob Long recently referred to the YouTube videos of Christie's New Jersey smackdowns as "Chris Christie porn," which has to be the most disgusting combination of three words imaginable in the English language). Last night provided a few reminders of those talents. But the cash value of that skill set? Probably nil. Christie, charming as he can be, just represents too much of a compromise for too many voters. And when there are 16 candidates to choose from, you can afford to be picky. Add him to the long list of Republicans who missed their one serious shot at the presidency in 2012.
As for Walker, his decline has to rank right up there with the Trump boomlet as one of the biggest surprises of this cycle. Yes, he's been getting back to basics lately with some serious policy ideas, but the damage may have already been done. The core problem is that Walker has spent the past few months chasing the news cycle and trying to be wherever he thought the conservative base wanted him, which has undercut his core value proposition: that he's a guy who fights on principle and focuses on the big issues. And it doesn't help matters any that his modus operandi at the debates seems to be to give as brief an answer as possible and hope that the moderators will move on. Mr. "Unintimidated" seems to be playing scared. I don't expect his campaign to pick up any steam until they can get over that contradiction.
The Contenders
A quick rundown of the guys who are still in this:
— I'll be honest: Ted Cruz's appeal is lost on me. And that's saying something, because I don't have much in the way of policy differences with him. I'm just inherently nervous about any candidate whose cadence makes me think I'm about to get ripped off on a trim package. Cruz seems to have settled on a strategy of drafting off of Trump right now. Maybe that works, maybe it doesn't. But I'm always skeptical of campaigns where the strategy largely centers around a series of contingencies breaking in just the right way.
— We can agree on this much: Ben Carson wins Mr. Congeniality. And my guess is that's what his supporters are rewarding him for night now. Carson has all the hallmarks of an October front-runner: someone everyone likes when nothing's on the line. I don't want Ben Carson to be president. I want Ben Carson to sit down with the country every night over a cup of tea and tell us how his day went. We'll see how many people come to the same conclusion as this campaign rolls on.
— Every debate brings with it a stream of press accolades for John Kasich. I don't get it. Kasich strikes me as a less self-important Jon Huntsman: a guy whose primary constituency is the media because his primary sensibility is a slight sense of guilt at being a Republican. This feels like it blows up on the runway.
— I continue to believe that we're underestimating how big of a sinkhole the Jeb Bush campaign is. Jeb has been running this campaign, officially or otherwise, for the better part of a year now. Last night is the first time I can remember him getting a genuine applause line — and it was for his brother. The Bush campaign looks increasingly like the Clinton effort: one that's stumbling because it assumed that supply creates its own demand.
— To hear Team Jeb! tell it, they're taking the slow and steady approach. Well … one out of two ain't bad. Marco Rubio, however, may actually be executing that strategy to perfection. Rubio is well-liked, always impressive at these debates, scratches a key demographic itch for the party, and has a wide range of Republicans who are willing to give him a look. That's a pretty good hand to play. And while he hasn't had any huge moments yet, he's consistently good, the cumulative value of which shouldn't be underestimated. Based on the number of erstwhile Rubio-Fiorina supporters who I'm now hearing say that they may have gotten the ticket upside down, however, he's going to have to step it up a notch or risk taking the lead in the vice presidential sweepstakes.
— As we watched the first debate here at Ricochet last month, a lot of people thought that the hostile questioning of Donald Trump would be his undoing. I never bought that. Did they make him look like a buffoon? Yes. But, people … buffoon is the brand.
Last night, however, may have actually changed something, because Trump committed the cardinal sin of an entertainer: he was boring. The bull got into the china shop … and proceeded to take a nap. Trump seems to have begun thinking that to be president he may actually have to act like a presidential candidate — which undercuts everything that makes him compelling/repellent.
I said a few months ago that I thought the eventual undoing of the Trump campaign would be when the novelty started to wear off. We're not there yet. We may not even be close. But last night was the first time it felt like we could at least be seeing the beginning of the end.