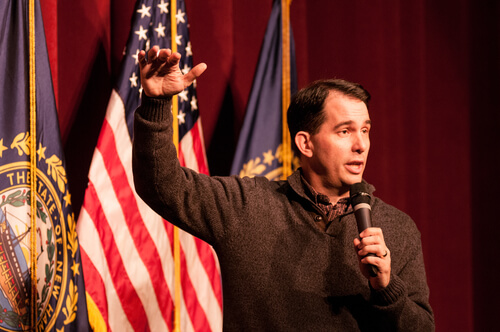 One of the central questions of the current Republican presidential campaign is when potential candidates will talk about important issues of political economy. That talk has thus far been in short supply because of the intellectual oxygen that is sucked out of the room every time Donald Trump walks into it. The recent remarks by Wisconsin Governor Scott Walker in union-dominated Las Vegas, however, have begun to change that. They represent his effort to breathe some life into his faltering campaign by harking back to his successful effort to take on public unions in Wisconsin.
High-stakes gambles like this usually lose. Indeed, to everyone's surprise, Walker seems to have become a long-shot at this point. Nonetheless, even if his latest proposals don't revive his candidacy, other Republicans should take up this cause. The union movement is powerful and united, but it is also vulnerable to political attack. The forces that led to the adoption of right-to-work laws in Wisconsin, Indiana, and Michigan are good evidence that many voters, including union members, realize that powerful unions are as bad for working people as they are for employers in the long run
Walker is not a theoretical type, so his speech does not offer the intellectual justifications for curbing the union power that has pervaded American life since the passage of the National Labor Relations Act of 1935. The major problem with unions is that they are monopolies. Employment markets need to be competitive, with ease of entry and exit by both firms and individuals. If you keep tabs on employer efforts to monopolize through the antitrust laws and otherwise leave the process free to function, the interplay of market forces will give both workers and employers the opportunity to work together to maximize their joint welfare by figuring ways to expand the pie and then divide the proceeds.
Unionization stops all those gains by imposing a third party whose first mission is to secure dues and seniority protection for its key operatives. Worse still, the collective bargaining process creates enormous delays and more-than-occasional failures, so when one firm is shut down by a labor dispute others that are dependent upon it suffer collateral harms for which they get no legal protection. The efforts to keep this inefficient structure alive are made through huge union expenditures to elect favorite candidates to public office, where they can be counted on to do the bidding of organized labor.
All of these pressures are apparent at the federal level. President Obama has issued all sorts of directives designed to help labor unions in the short-run, including the requirement of paid sick leave for workers of government contractors. The Administration has also taken steps to reclassify independent contractors as employers in order to increase the scope of regulation. Walker is right to pledge that as of day one he "will repeal all of President Obama's regulations that have reduced employee freedom and have made it harder to create jobs." "Employee" freedom is no typo. Any time restrictions are imposed on what employers can offer, restrictions are imposed on what workers can receive.
Walker also wants to stop the ability of unions to exact compulsory dues from their members. My own view is that this is too modest a reform. What he has to do is make it clear that no union is given the power to bind individual workers who do not want its representation. The goal should be to reject the claim that workers have to participate in elections in order to preserve their freedom. They should be allowed to simply say no to union requests. This proposal will break union monopoly power, which is all to the good.
Walker is right as well to think that the National Labor Relations Board has become hopelessly partisan. How could one expect otherwise if the members are chosen for their political affiliation, with the fifth vote going to a member of the president's party? The recent decision of the NLRB in the Browning Ferris matter regarding franchise employees broke sharply along partisan lines, when the Democratic majority held that indirect control is enough to make someone an employer even if that person has no power to hire and fire the workers. A court should be used to decide all these legal issues so as to avoid the stacked deck—which is as true in Republican administrations as Democratic ones. The NLRB has no expertise on the many questions of statutory construction that come before it. There is every risk of open bias.
Walker is also correct to invoke Franklin D. Roosevelt's opposition to public unions. The allegiance of all public officials should be to the public. They are not acting in accordance with their obligations when they cut special deals for unions — deals that give public sector workers preferential packages on wages, pensions, and working conditions. The effort to eliminate public unions in all areas of life is a worthy goal.
Union leaders and their many academic and political supporters can always be counted on to assiduously resist reform. When they dig in their heels, they should be forced to explain why the United States should adhere to a labor policy that generates huge administrative costs in order to impose major market misallocations. The public loses both ways.
This issue is too important to be kept on the sidelines. The weak economic recovery is in large measure a response to heavy regulation of labor markets, which stifles innovation and entry. The Walker proposals would put an end to that. Whether he wins or loses the nomination, his proposals set forward a sensible template for serious labor market and union reform.