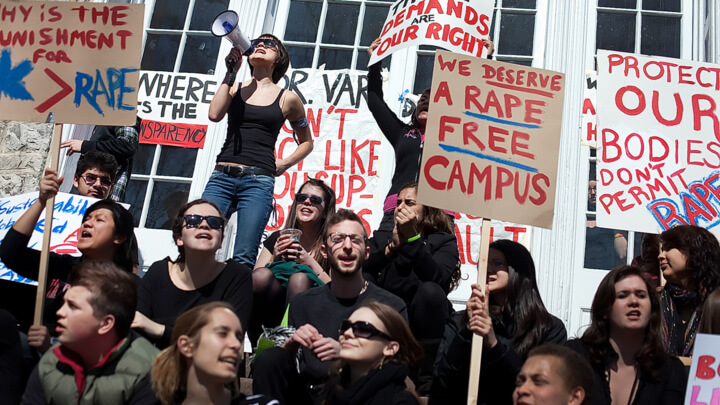 Last year, George Will got into a heap of trouble for a column in which he wrote that colleges and universities are learning that "when they say campus victimizations are ubiquitous … and that when they make victimhood a coveted status that confers privileges, victims proliferate."
It wasn't a particularly great column by the author's standards: It was a little unfocused and too easily allowed for ungenerous readings that implied Will was downplaying sexual assault. (It would almost certainly have fared better had it been published after the exposure of the Rolling Stone/University of Virginia hoax). The resulting outrage was enough to get Will disinvited from a speaking gig at Scripps College, a women's college in Claremont, California. Will's position gets some support, however, from a new paper by sociologists Bradley Campbell and Jason Manning, summarized at length by Jonathan Haidt at his The Righteous Mind blog.
The study posits that the West is in the process of a third major cultural shift. In brief, it argues that we began as an honor-based society characterized by a low tolerance for slights and a strong preference for seeking personal redress (think of the characters of the Iliad or duelists in the early American Republic). Over the past few centuries, we've shifted to a culture based more on personal dignity, which encouraged people to shrug off all but the worst slights as being beneath their notice and to appeal to third-party authorities for redress of the most intolerable wrongs.
Today, the paper argues, we're seeing the emergence of a victim-based society that combines the honor society's obsession with meeting every personal slight with the dignity-based society's demand for appeals to others for redress. In other words, the obsession with grievances — and the ever-ratcheting definition of what counts as one — that we're seeing on college campuses is both a symptom and a cause of something much, much bigger.
That's a very brief and partial summary. I commend the whole thing to you.
One of the more interesting things about a grievance culture — and one that I don't think has been discussed a great deal — is how it inverts the usual narrative of injustice. Rather than citing an injustice as a way to pull down one's oppressor by exposing his immoral or dishonorable behavior, it is often used as a means of elevating oneself.
Indeed, identifying the culprit — something important in both honor- and dignity-based societies — often becomes an afterthought, if not a distraction. It's the victim that matters, not the malefactor. The so-called guilty party need not be conscious of his action and can be forgiven more easily by repenting and acknowledging his wrong than by taking any meaningful action.
This is among the reasons why hoaxes — especially those that cite unidentifiable or improbable oppressors — are so powerful and appealing. Consider, for example, how quickly "Jackie's" story of being gang-raped at the University of Virginia would have collapsed had her refusal to name her attackers not been indulged for so long and by so many. Look also to the example of Scripps College's neighbor, Claremont McKenna College (my alma mater), a decade earlier, when a visiting professor faked a hate crime against herself in order to force the administration to respond to a series of minor incidents on campus that she felt had been ignored. (She was subsequently caught, pled guilty to insurance fraud, and spent a year in prison). Or, lest the temptation be thought of as something unique to the left, consider Princeton student Francisco Nava sending threatening letters to fellow campus conservatives and then beating himself up and blaming it on a gang of masked liberals (seriously).
These hoaxes weren't committed for material gain, to frame a specific enemy, or even to make the perpetrators look brave in the face of adversity (notice that Nava didn't claim that he fought off his attackers) so much as to confer status on the supposed victim himself. The point is less to punish the criminals than to laud the victims. Couple some people's dishonesty with the relative anonymity available in the digital age, and the only wonder is that these things don't happen more often.
No society is perfect and any system has its trade-offs. It's easy to see, for instance, how a dignity-based society's dismissal of real — albeit small and unintentional — slights might sow the seeds for a victim-based one, just as the personal squabbles and violence that typify honor-societies led to the adoption of a dignity-based society. But whereas that change was almost certainly an improvement over what preceded it, it's hard to see how a culture that encourages victimhood will lead to anything like a brighter future.